Today I'm reviewing the book The Random Walk Guide to Investing by Burton Malkiel.
Don't confuse this book with the classic book A Random Walk Down Wall Street by the same author. I also recommend the other book, but this one is much easier to read, while retaining the gist of the classic book. It comes as a small 200-page paperback, packed with pretty much all you need to know about investing. If you want to cut to the chase and read the bullet points, this book is for you. If you want to read the elaborate proof and explanations, and you don't mind the extra pages, go for the larger A Random Walk Down Wall Street.
Mr. Malkiel condensed everything about investing into three Basic Points and ten Rules. If you know these, you can invest your money and move on with your other life pursuits. Here's what Mr. Malkiel said when introducing the ten rules for financial success:
"There is no magic potion in the investment world because the truth is that one doesn't exist. … … If an investment idea seems too good to be true, it is too good to be true."
You knew that, didn't you? Andrew Tobias wrote the same thing in his book The Only Investment Guide You'll Ever Need.
So what are those three basic points and ten rules? I'm not going to reproduce them here. You can browse the book's table of contents through Amazon.
The ten rules are both simple and practical. Anybody can easily apply them. The book includes model portfolios for people in different age groups. If you are not sure what to do, use a model portfolio and you are all set.
Bottom line, this is the best $15 one can spend on an investment book. No gimmicks. Just practical advice. It's one of my favorite books on my Recommended Reading List.
Rating: ***** (Excellent).
See a list of my other book reviews.
Learn the Nuts and Bolts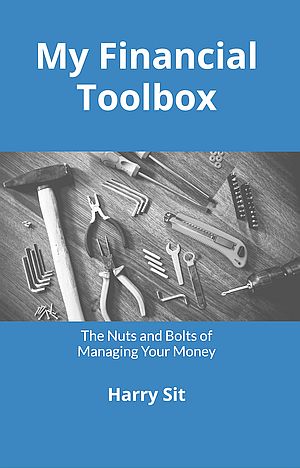 I put everything I use to manage my money in a book. My Financial Toolbox guides you to a clear course of action.