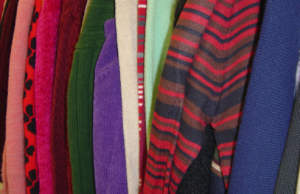 If you donate clothing and other household items to places like Salvation Army or Goodwill, the tax law says you can deduct the fair market value of your donated items. The IRS places the responsibility for coming up with a fair market value on you, the taxpayer. The places that accept your non-cash donations only give you a receipt for what you donated. They don't tell you how much the items are worth.
If you use the standard deduction, you don't have this headache. Charitable donations are included in the standard deduction. You don't have to separately track and value your donations. If you use itemized deductions because you have more deductions than what the standard deduction allows (state income tax, mortgage interest, property tax, etc.), or because you are subject to the AMT, you must estimate the value for your donations.
The two major tax preparation software TurboTax and TaxCut both bundle a deduction estimate module that attempt to solve this problem. The program for TurboTax is called ItsDeductible. The one for TaxCut is called DeductionPro. They both do pretty much the same thing: they put an estimated value on your donated stuff based on price information they gathered from various sources. When you say you donated a sweater, they tell you how much it's worth.
Most people probably don't realize you can use these programs online completely free of charge. You don't have to use the associated tax software by the same vendor. You can mix and match if you want. It's just fine if you use ItsDeductible with TaxCut or use DeductionPro with TurboTax. You can use either program even if you use TaxACT or do your taxes with pen and paper. Both programs ask you to register but you don't have to give your real name or address. Here are the links:
Do they give the same values for the same items? No. I tested with a hypothetical list of items (all in medium/average quality) and here's what they came up with:
| | | |
| --- | --- | --- |
| | ItsDeductible | DeductionPro |
| a pullover sweater | $9 | $4.42 |
| a pair of adult athletic shoes | $11 | $4.37 |
| an adult short winter coat | $17 | $10.51 |
| a 20″ tube color TV | $18 | $23.56 |
| a 17″ CRT monitor | $9 | $15.45 |
| Total | $64 | $58.31 |
For the test batch, ItsDeductible gave a higher value. It may be the opposite for your items. If you donated a lot of stuff, I don't see why you can't enter them into both programs and see which one gives you a higher value. In terms of usability, I like DeductionPro better. After you are done entering your donations in DeductionPro, you can print an itemized list of what you donated and the value of each item. In ItsDeductible, you can also print an itemized list but the list doesn't include the value for any item. Or you can print a summary of the total value for your donations, but without itemization. It's weird. I don't know why ItsDeductible does it that way.
These programs are meant to be used throughout the year. As soon as you make a donation, you enter it into the program. That way you don't forget about what you donated. While the value estimates are not perfect, using the values provided by these programs probably beats pulling a wild guess out of air.
Say No To Management Fees
If you are paying an advisor a percentage of your assets, you are paying 5-10x too much. Learn how to find an independent advisor, pay for advice, and only the advice.