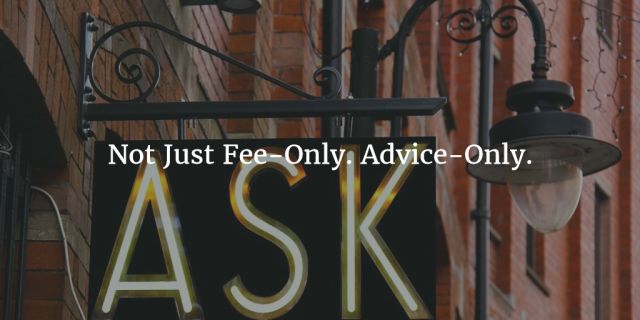 I believe the best way to get personal financial advice is to work with an advisor who adheres to the Advice-Only model.
What Is Advice-Only
Advice-Only is above and beyond Fee-Only. Advice-Only means:
The advisor's firm is a Registered Investment Adviser (RIA) registered with the SEC or at the state level.
The advisor acts as a fiduciary and puts your interest first.
The advisor has Certified Financial Planner (CFP®) certification or other professional credential.
The advisor does NOT sell products that pay the advisor a commission (cash-value life insurance, annuities, load funds, individual muni bonds, non-traded REITs, limited partnerships, …).
The advisor does NOT up-sell you on managing your money for a recurring fee either as a percentage of your asset value or on a monthly or annual retainer.
The advisor does NOT, for a kickback, refer you to someone else who will manage your money for a recurring fee. Recommending unaffiliated financial institutions is OK.
The advisor strictly offers his or her advice for a fee. The advisor treats you as a competent adult able to follow the advice. Assistance in opening accounts or filling out forms is OK. Accepting prepayment for follow-ups or incidental questions that come up is OK.
That's the way how seeing a doctor works, and honestly the way it should be. You get the evaluation and the advice and you follow the advice. For more on why you should demand Advice-Only, see Advice-Only: The Best Model For Financial Advice People Need And Want.
Scouting Service
Many say such advisors on the straight and narrow are very hard to find. Indeed. Most advisors are going after the holy grail of selling you products for commissions or managing your money for a recurring fee year after year. They don't offer one-off advice. Many other advisors offer service billed hourly or by project only as a hook for the "full service" ongoing management. This leaves a tiny percentage of advisors who offer the good honest Advice-Only services.
Having advocated for the Advice-Only model, I'm offering to be your personal scout to search and screen for advisors in your area who adhere to the Advice-Only model. For a payment of $200, I will find 3 such advisors within one-hour drive from you. If I can't find them locally, I will find advisors who offer meetings remotely by phone or video conferencing.
I will weed out advisors who are not Advice-Only. I will visit their website, read their documents, and contact them by email or by phone to evaluate their services. I know what to look for and I know what questions to ask. In doing the search for you, I only work for you. I do NOT take kickbacks from the advisors.
I narrow it down to 3 names and I give you my research results. You decide whom you will work with, if any at all, after you meet with the candidates. Most advisors offer a free get-to-know-each-other meeting.
If you are interested in having me do the search and screening for you, please fill out the form below.
I promise to look for the best match for you.
Because it takes a lot of time to do the search and screening, my bandwidth is limited. After I receive your request, I will only ask for payment if I can deliver the results to you within 30 days.
For Advisors
If you are a financial advisor who meet the Advice-Only criteria and you would like to be considered in my searches, please use this form to let me know about your services. Because I evaluate objectively on my own I can't promise to include you in my reports.