This is a sponsored post written by me on behalf of Chase Mortgage Banking . All opinions are 100% mine.
The economy is getting better. So is the real estate market. A co-worker is in the market to buy a home in the San Francisco Bay Area for the first time. Her family is renting a 2-bedroom apartment right now. The rent goes for $3,600 a month! She said she was motivated to buy primarily due to the high rent and the large rent increases in recent years.
She's not alone. According to a nationwide survey conducted by Chase Mortgage Banking, 3 in 10 surveyed said they planned to buy a home in the next 18 months. 2 in 10 said the high cost of rent was their number one reason to buy instead of continuing to rent. Of existing homeowners surveyed, 2 in 10 said their number one reason for buying was to make an upgrade.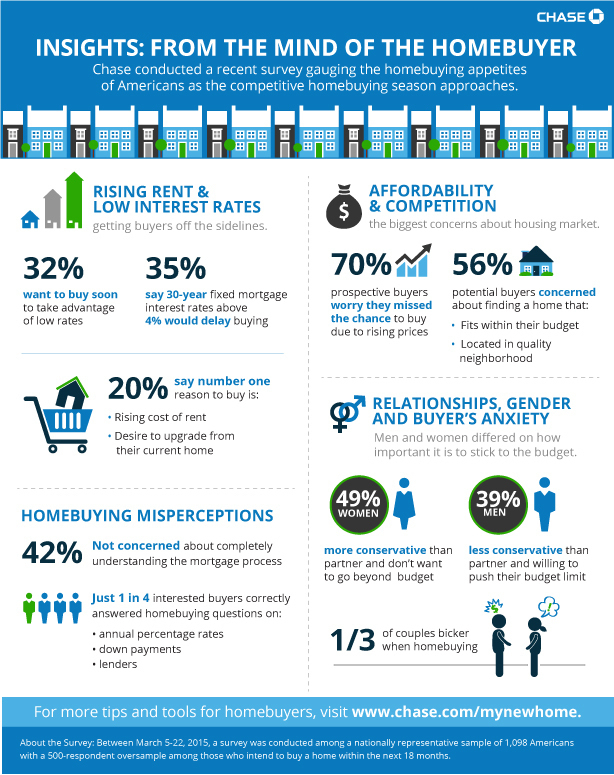 Those are the right reasons to buy a home. My co-worker and others in the survey are seeing the home as first and foremost housing consumption. At the right price relative to rent, buying can be more cost-effective than renting.
Rising home prices is another major factor in driving people toward buying, but I'm afraid that's a wrong reason to buy a home. Almost 70% of interested buyers in the survey feared that they may have already missed the best time to buy. Of course with perfect hindsight everybody now thinks they should've bought a few years ago when prices were lower. But who knew back then that prices wouldn't continue to fall?
Fortunately interest rates are still low. The average 30-year fixed mortgage rate is under 4%. The average 15-year fixed mortgage rate is only slightly above 3%. It's unclear whether these rates will go up when the Fed eventually raises the short-term interest rate.
32% of people in the survey said they wanted to buy soon before interest rates go up. 35% said they would delay buying if 30-year fixed mortgage rate goes above 4%. I'm not sure it's a good idea to buy or not buy only because of interest rates. If the rate is low but you are rushing before you are ready, it can be a mistake when you buy a home in the wrong neighborhood. If you are ready but you hold off only because the rate is now above 4%, it can also be a mistake because the rate may not fall back below 4% again.
This shows that prospective homebuyers still have a lot to learn when it comes to buying a home. As much as 42% in the survey said they weren't concerned that they didn't completely understand the mortgage process. Only 1 in 4 in the survey were able to answer correctly questions on APR, down payments, and lenders.
The My New Home YouTube channel from Chase has over 60 videos. The videos are divided into playlists Getting Started, Finding a Home, Financing a Home, and Closing on a Home. Prospective homebuyers, especially first-time buyers, can really learn a lot from watching these free short videos. I didn't have resources like these when I was buying my home back in the days. You can also visit Chase Mortgage Banking for additional information about homebuying.
Say No To Management Fees
If you are paying an advisor a percentage of your assets, you are paying 5-10x too much. Learn how to find an independent advisor, pay for advice, and only the advice.