Social Security has a flat 6.2% tax rate, up to the maximum wages covered by Social Security ($142,800 in 2021). Social Security benefits bear some positive relationship with your covered wages and the amount of taxes you paid on those wages. The higher your covered wages, and the higher the 6.2% Social Security taxes you paid, the higher your benefits.
Social Security calculates benefits using your average earnings over 35 years. If you work less than 35 years, the rest of the years will be filled with zero. Therefore, up to 35 years, the more years you work, the higher your average earnings. Retiring early before you have 35 years of working history means that your Social Security benefits will be lower.
However, it's not a straight line. You get more credit for your earnings at the lower end than you do at the higher end. The points at which the crediting percentage changes are called bend points.
There are two bend points. The first one is set low ($996/month in 2021). For most people, the second point is the more meaningful one ($6,002/month in 2021). After your average earnings over 35 years reaches the second bend point, for each dollar in additional average earnings, you get less than half as much in Social Security benefits as before (15% vs 32%).
Think of these bend points similar to tax brackets. If your extra income gets into a 70% tax bracket as there once existed, you don't have much incentive to earn the extra income. Similarly, if your earnings history already put you beyond the second bend point, you are not getting as much bang for your additional years of work as far as your Social Security benefits are concerned. If you think of your Social Security tax as forced savings for your own retirement, which it isn't, after you reach the second bend point, you are definitely paying for other people's retirement for the most part.
If you stop working after you reach the second bend point, even if your future earnings are zero, you are not losing much in Social Security benefits. If you retire before you reach the second bend point, you are losing twice as much in Social Security benefits.
So the question is when you will reach the second bend point.
my Social Security Account
To make that calculation, you first need your Social Security earnings history. You can create a my Social Security account with Social Security Administration. You will need a valid email address. If you give a mobile phone number, the system will send a text message with a temporary code for additional security when you log in. If you are married, each of you must set up your own separate my Social Security account.
When you create your account, the system will use information from Equifax to verify your identity. If you froze your credit with Equifax and you have problems passing the identity verification steps, you may want to temporarily unfreeze it. The soft inquiry from Social Security Administration will not affect your credit score.
After you log in successfully, you will see a summary.

The "Estimated Benefit at Full Retirement age" number assumes you will continue working and earn the same amount as your last reported earnings until you reach your full retirement age. If that's not your plan, you will need a different estimate. To see your earnings record for each year so far, click on View Earnings Record.
Your earnings record provides to key to see where you are with regard to the bending points and what your estimated benefits will be if you don't earn the same as last year until you reach your full retirement age.
ssa.tools
Now open a new tab in your browser and go to ssa.tools. This website runs completely locally in your browser. The data you enter do not go to anyone else. It has an area to copy and paste your earnings record from your my Social Security account.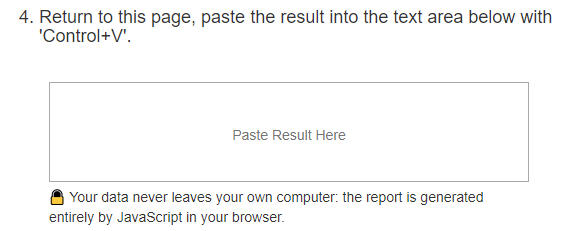 After you paste your earning record, scroll up to the top. You will see a question "Is this the same table you copied from ssa.gov?" with a Yes and a No button. When you have many years of earnings history, you may not see the question unless you scroll up to the top. After you click on Yes to confirm it's correct, you will be asked to select your birth date. Then it will do the calculation. You will see two sliders:

If you'd like to see where you are now, just leave them at the default positions. Further down, you will see a familiar graph: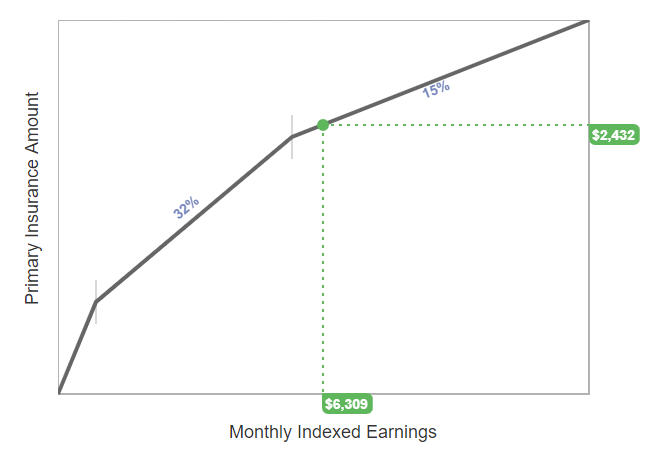 It shows I already passed the second bend point. Earning more will still increase my Social Security benefits but it will do so at the slowest pace. I passed the second bend point after about 20 years of full-time work. If you had higher income than I did, you reach that point sooner.
If you haven't yet passed the second bend point but you'd like to see when you will, move the two sliders to say how many more years will work and how much you will earn per year. If you already passed it, you can also see how much your benefits will increase as you work additional years.
The number shown on the vertical axis is your Primary Insurance Amount. This is the critical input when you need to come up with a strategy for when to file for Social Security benefits. Feed it into the other great tool Open Social Security. See previous post Social Security Claiming Strategy Calculators Compared.
Say No To Management Fees
If you are paying an advisor a percentage of your assets, you are paying 5-10x too much. Learn how to find an independent advisor, pay for advice, and only the advice.