One reason that Vanguard received large in-flows of new investments in recent years is because of ETFs. Investors can buy Vanguard ETFs in their existing accounts at minimal commission, which is now zero at all major brokers for retail investors. Not having to open new accounts at Vanguard and still being able to buy Vanguard ETFs at zero commission gives investors the best of both worlds when they choose their investments and their accounts separately.
However, ETFs still have some inconveniences compared to index funds. If you'd like to put $3,000 into the Vanguard Total Stock Market ETF (VTI), when it's $171.42 per share, you can buy 17 shares for $2,914.14 or you can buy 18 shares for $3,085.56, but not $3,000 exactly, unless you use a fintech startup. If you'd like to buy $500 worth of the ETF each month, it's also not possible to automate the purchases on a preset schedule. You will have to remember to place the orders individually. If you buy an index fund instead, you can buy in dollars and the fund will give you the corresponding number of shares based on the days' closing price, including fractional shares to three decimal places. You can also set up automatic purchases to buy on a schedule.
Charles Schwab mentioned in October 2019 they were working on supporting trading in fractional shares, but only in individual stocks, not ETFs. While Schwab is still working on this upcoming feature, Fidelity beat them to it by making the feature available to the general public sooner, and by including both individual stocks and ETFs.
Fidelity's new feature is currently limited to its mobile app. Here's how it looks in my Android app: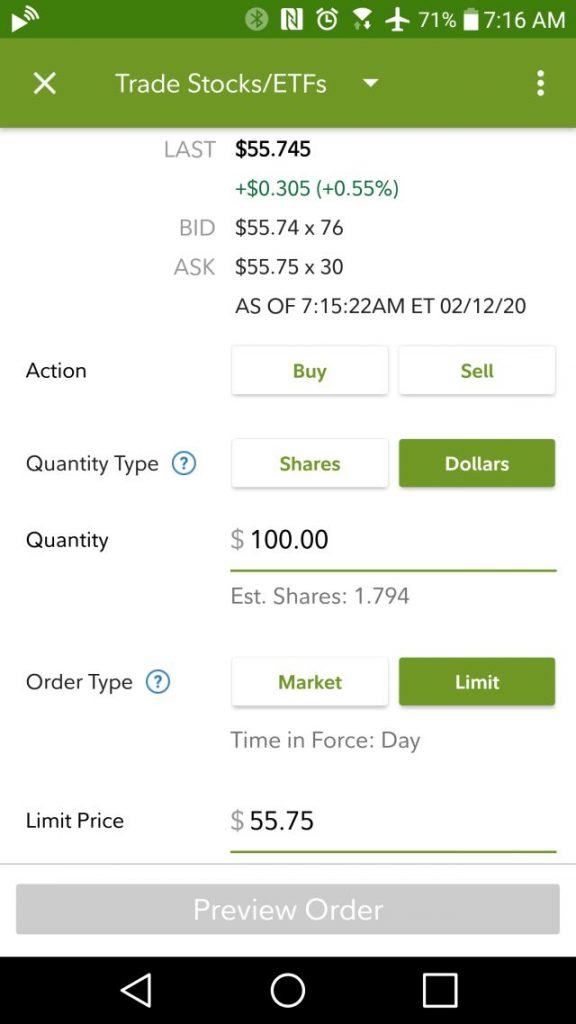 You can place either a market order or a limit order. If you choose to buy or sell in dollars, the system will figure out how many shares it would be, rounded to the nearest 0.001 shares.
Because investors think more in dollars than in shares, it makes sense to place orders in dollars. I will use this feature when I buy or sell an ETF next time. While the feature is only in Fidelity's mobile app right now, when the underlying system already supports it, making the feature available in the online interface shouldn't be too hard. Supporting it in the underlying system also creates the foundation for supporting automatic investing in ETFs on a preset schedule.
I expect more brokers will support trading ETFs in dollars and automatic investing in ETFs in the near future.
Say No To Management Fees
If you are paying an advisor a percentage of your assets, you are paying 5-10x too much. Learn how to find an independent advisor, pay for advice, and only the advice.