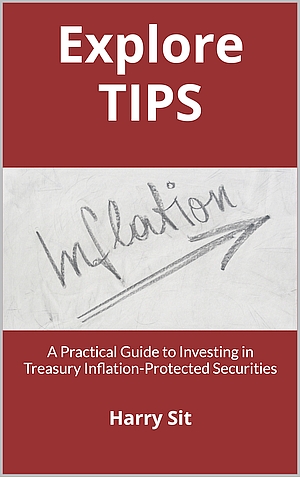 Long-time readers know I have a special interest in TIPS, the inflation-indexed bonds. At one of my annual reader surveys, a reader asked why I wrote about TIPS all the time. I like TIPS because they have guaranteed inflation protection.
I wrote everything I know about TIPS into a book called Explore TIPS. I published the book this month.
The book is a practical guide to investing in TIPS. Everything in the book comes from my actual experience in investing in TIPS myself. It takes a beginner from knowing nothing about TIPS to knowing everything necessary for investing in TIPS. If you are a regular reader of this blog, you know my style. I leave no stone unturned. You won't find this level of detail anywhere else. Please click here for a detailed table of contents.
The book is available at Amazon.com in both print and Kindle formats.
If you noticed I posted less frequently to this blog in the last few months, it's because I had been working on this book. I can tell you from this experience that writing a book is a lot of work. If I do it only for money, it's totally not worth it. I wrote the book because I really want others to understand TIPS.
If you buy the book, thank you. I would also really appreciate it if you write an honest review on Amazon, whether you end up liking the book or not. If you read the book and you still have questions, let me know via my contact form or leave them in the comments. There's always room to address the questions and comments in the next revision.
Say No To Management Fees
If you are paying an advisor a percentage of your assets, you are paying 5-10x too much. Learn how to find an independent advisor, pay for advice, and only the advice.