Long time readers know I have a special interest in TIPS, the inflation indexed bonds. At one of my annual reader surveys, a reader asked why I wrote about TIPS all the time. I like TIPS because they are truly unique – the only investment with a guaranteed return above inflation.
I wrote everything I know about TIPS into a book called Explore TIPS: A Practical Guide to Investing in Treasury Inflation-Protected Securities. I published the book this month.
The book is exactly what the title says: a practical guide to investing in TIPS. Everything in the book comes from my actual experience in investing in TIPS myself. It takes a beginner who knows nothing about TIPS to knowing everything necessary for investing in TIPS. If you are a regular reader of this blog, you know my style. I leave no stone unturned. You will not find that level of details anywhere else. Please click here for a detailed table of contents.
The book is available at Amazon.com for $14.95. It's eligible for free shipping if you combine it with other items and make your order over $25. I also sell it in PDF format for $9.95. A PDF is handy for uploading to an e-book reader such as Kindle.
If you noticed I posted less frequently to this blog in the last few months, it's because I had been working on this book. I can tell you from this experience that writing a book is a lot of work. If I do it only for money, it's totally not worth it. I wrote the book because I really want others to understand TIPS.
If you buy the book, thank you. I would also really appreciate it if you write an honest review on Amazon, whether you end up liking the book or not. If you read the book and you still have questions, let me know via my contact form or leave them in the comments to this post. There's always room to address the questions and comments in the next revision.
Learn the Nuts and Bolts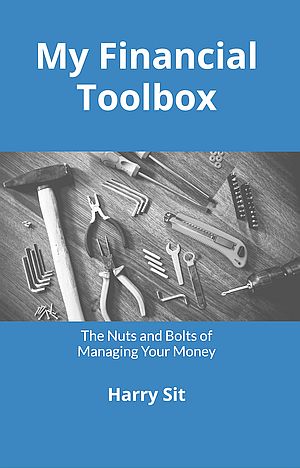 I put everything I use to manage my money in a book. My Financial Toolbox guides you to a clear course of action.