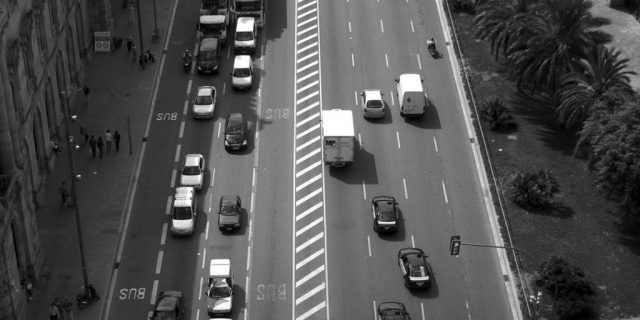 I had a small adventure on Sunday. When I tried to go out, my car didn't have any battery power. When I turned the key, nothing happened. I had no radio, no light, nothing. I thought I somehow drained the battery by forgetting to turn off a light. Or maybe I didn't close a door completely and that made a light stay on.
I jump started the car. Next I thought I would charge the battery by taking the car out for a ride. I was maybe two miles out when the car died in the middle of the road! It caused a traffic situation because other cars had to go around me. In a panic I put the car in Park. A few people offered to help me push the car to the side of the road but without power the shift lock prevented me from shifting to neutral. Only quite a while later a nice guy figured out how to override the shift lock by prying off a small cover and sticking in a flathead screwdriver.
Then I had to wait two hours for a tow truck. A tow truck was coming but then it got diverted by a police call. After the tow truck finally took me home, the tow truck driver pointed out to me that my battery cable connection to a battery terminal was loose. I wasn't able to charge the battery with a loose connection. That made the car die in the middle of the road.
The whole ordeal was caused by a loose connection. If I suddenly lost battery power on the freeway it would've been very dangerous. Who installed the car battery and connected the battery cables last time? I did.
Replacing a battery looks very easy, but I never knew what the consequences would be if I didn't keep the cable connections super tight. Those of you who are more familiar with cars will probably say it's only too obvious. It wasn't to me even though I replaced a battery a few times before. I had to learn it the hard way.
Back to our personal finance and investing world, some things are OK to experiment and nothing bad will happen even if you didn't do it quite right. The worst can happen when you buy T-Bills is probably you earned a tiny bit less than leaving the money in a money market fund. Some other things are more complex and you can create a mess if something unexpected happened.
Wise people know their limits. They don't put themselves in a situation that can potentially become a mess to begin with. They give up on some seemingly obvious edges such as the cost savings of assembling one's own target date funds. They don't chase moves that look smart. They stay away from tilts, factors, gold, commodities, MLPs, closed-end funds, covered calls, P2P lending, or real estate crowdfunding, not because those are necessarily bad investments. They simply stay away from overconfidence and trying to be clever, which they know can cause great harm.
I bought a car battery charger for $35. Trying to charge the battery by driving was a very bad idea. I simply didn't know better.
Say No To Management Fees
If you are paying an advisor a percentage of your assets, you are paying 5-10x too much. Learn how to find an independent advisor, pay for advice, and only the advice.