This is a sponsored post written by me on behalf of Green Dot. All opinions are 100% mine.
One day I was at a retail store picking up an online order. A young woman in front of me approached the counter. She pulled out $8 from her pocket, and she asked the customer service person to add it to her prepaid debit card. Apparently, she needed the $8 on the card so she could use the card to pay for something she couldn't do as easily with her $8 in cash. Apparently the $8 would make a difference. It's a different way of managing one's money.
When you always have a large cushion in your bank account, traditional banking is very convenient. You have debit cards, credit cards, online bill pay, checks, and direct debit. However, when every dollar counts and every day counts, some of those conveniences get in the way. You don't have control over when things clear and you don't know exactly how much money you have available at any moment. A small miss means a $35 overdraft fee. A few misses in a month means you are out $100 or more.
A prepaid debit card helps avoid overdraft fees. It offers finality, which is very important when you must keep a very close eye to your money. When you pay for something you want that money gone right away so you know how much is still left. With a prepaid debit card you can still have many of the same conveniences of a traditional bank account, but with clear visibility of your money and without overdraft fees.
Green Dot is a pioneer in prepaid debit cards. They sent me a Green Dot Bank Cash-Back Visa Debit Card to try it out.
The card came in a very secure and visually attractive clam shell package. You can buy this card for a small fee at a retail store or you can request one online at greendot.com.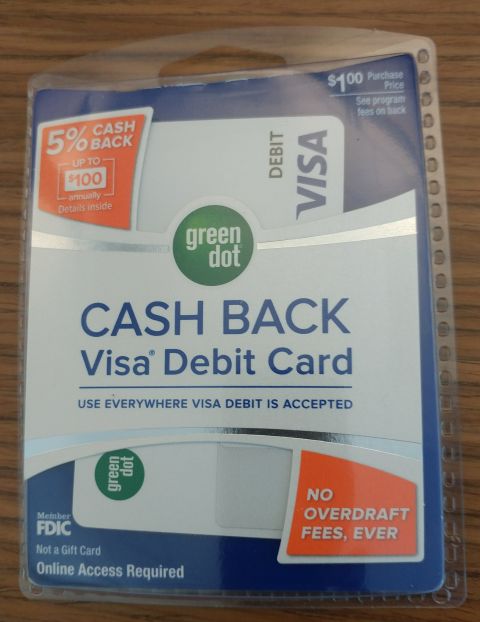 * Cards issued by Green Dot Bank, Member FDIC, pursuant to a license from Visa U.S.A. Inc.
The money on the card is FDIC-insured. The first thing I did was to register the card to my name. I will receive a personalized card with my name on it in the mail. Some features are only available to the personalized card with your name, but the card without your name is ready to use right away. Registering doesn't require a credit check.
Because it's a Visa debit card, I can use the card almost anywhere. With online access or through the Green Dot mobile app, I can see the activities and the remaining balance in minutes (carrier message and data rates apply). I used it to buy lunch, mail a package at the post office, and I used it pay a utility bill online. It worked smoothly.

The remaining balance is always displayed clearly in large font:

To put money on the card, you get a bank routing number and account number for direct deposit. For depositing a paper check, you can use the Green Dot mobile app. After you get your personalized card, you can activate bill payment. Just like online bill pay in a traditional bank account, you can pay bills through the prepaid debit card.
One unique feature of this Green Dot Bank Cash-Back Visa Debit Card is you earn 5% cash-back up to $100/year on everything you buy. Although the card charges a $9.95 monthly fee (other fees and limits apply), you get up to $100 in cash-back after one year. That makes the net cost of using the Green Dot Bank Cash-Back Visa Debit Card much less, compared to just one overdraft fee from a traditional bank account, for those who must keep close tabs on their money.
Bank Smart. Get Rewarded. Get a Green Dot card today!
Disclosures: Carrier message and data rates apply to mobile alerts and using the mobile app. Bill pay and mobile deposits are available only on personalized cards; limits apply. Other fees and limits apply.
Say No To Management Fees
If you are paying an advisor a percentage of your assets, you are paying 5-10x too much. Learn how to find an independent advisor, pay for advice, and only the advice.