Only until a reader asked me about the mechanics of how to do a Roth IRA conversion did I realize Roth IRA "conversion" is such a misnomer. It doesn't actually convert your IRA.
I drew some graphical illustrations to show what happens when you convert an IRA. Please note these only show the mechanics. Whether you should convert, when you should convert, and how much you should convert are out of scope in this discussion.
Container vs Content
If you have an IRA you know an IRA is just a container. You hold content inside the IRA container — stocks, bonds, mutual funds, ETFs, CDs, etc. The label on the container says what type of IRA it is: traditional IRA, Roth IRA, SEP IRA, or SIMPLE IRA. The assets in the IRA do not know or care what label is on the container. Here we have three objects in a box with a label on the box: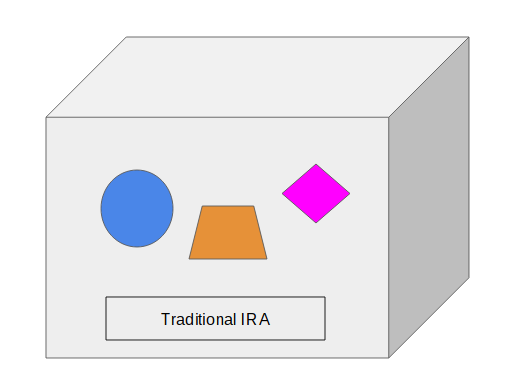 Change Label vs Move Content
Converting an IRA only goes one way: from traditional, SEP, or SIMPLE IRA to Roth IRA. When you convert the IRA, you do NOT change the label on the container like this: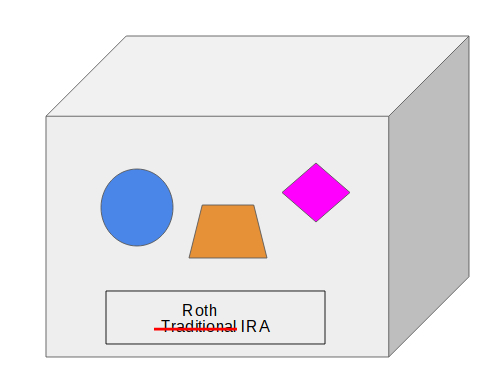 Instead, you move some or all the content in the IRA to a new or existing Roth IRA.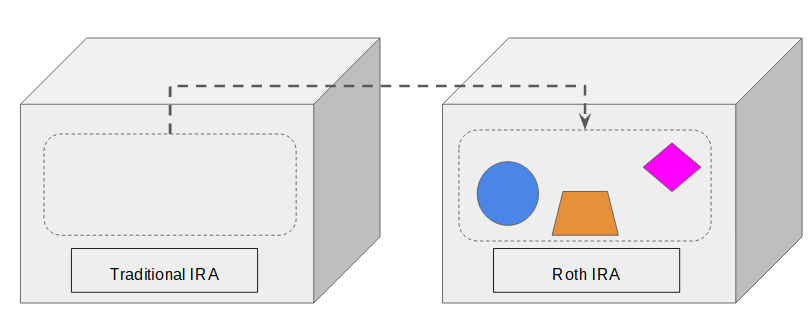 Converting a traditional IRA into a Roth IRA doesn't really "convert" the traditional IRA. The traditional IRA is still there afterwards. It's still the same type. It just loses some or all of its content.
You do it at the same custodian by filling out a form, either online or paper. If you don't already have a Roth IRA with them you will open a new one. If you already have a Roth IRA with them you can choose to move the assets into the existing Roth IRA or a new one. You don't have to sell the assets to cash unless you want to make a change in conjunction with the move. Whatever form the assets are in — stocks, bonds, mutual funds, ETFs, CDs — they can move in their current form.
Full vs Partial
If you move all the content from your traditional IRA to a Roth IRA, your traditional IRA will be empty after you are done, but it's still there. You can put more money into it in the future.
You can also choose to move only part of the content. The traditional IRA still holds the remaining assets. It's one more reason you don't "convert" the IRA itself. Only the assets move.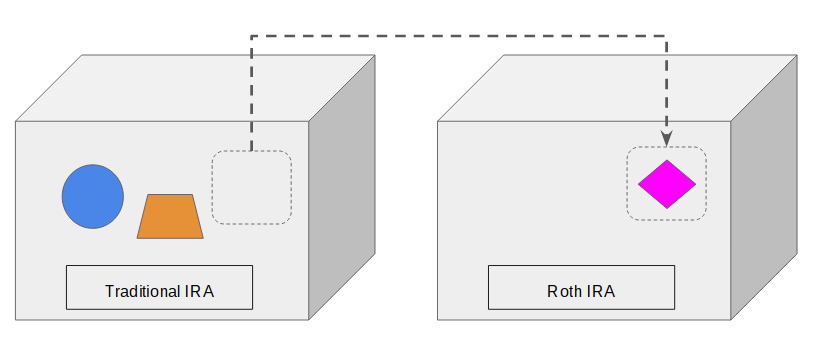 Say No To Management Fees
If you are paying an advisor a percentage of your assets, you are paying 5-10x too much. Learn how to find an independent advisor, pay for advice, and only the advice.