I knew Dr. Jim Dahle for a long time although we have never met in person. He's an emergency room doctor who also runs The White Coat Investor blog. I often include his blog posts in my weekly digests.
Jim is a much more productive blogger than I am. Besides his blog, he also has a book, a column in a professional journal, a podcast, a YouTube channel, and a conference. He recently created an online course for personal finance education called Fire Your Financial Advisor! (not an affiliate link, I won't get a cut if you buy it).
Jim kindly invited me to take this course for free. Although I consider myself fairly knowledgeable in personal finance, I only scored 19/25 in the pre-test. It goes to show there is always something new to learn.
What's In the Course
Despite the title, the course isn't just for people who already have a financial advisor. Nor is it about the mechanics of how to fire a financial advisor. It's more about understanding the personal finance topics well enough so that you know what to do on your own or how to hire the right help.
The course covers a wide array of topics:
How much financial advisors cost (millions of dollars if you use the wrong type)
Insurance: life, disability, liability, health, …
Housing
Student loans
Budget and spending
Setting financial goals
Investing accounts: retirement plans, IRAs, HSA, regular taxable accounts
Asset allocation and implementation
Estate planning
Asset protection
How to deal with changes in the financial markets
I see these as basically everything someone needs to know in order to manage one's finance well in the accumulation phase. It's especially helpful for someone who is new to personal finance. It's also helpful to bring a spouse or significant other up to speed even when you are already familiar with the subjects.
Course Format
The course is primarily short video lectures. Jim teaches the subjects, sometimes with slide presentations, sometimes with live navigation of computer screens. Each section leads you to write a section of your financial plan, with examples and templates. There are quizzes and explanations for the correct answers to the quiz questions.
Altogether I'd say there are over 10 hours of materials. It took me that long to finish it.
You can take the course, stop at any point, or jump ahead. The course remembers where you stopped and which parts you already went through. Once you enroll, there is no time limit to finish it or how many times you can repeat it.
After you go through the course, you will have a financial plan for your own situation. I wish I had it when I first started working.
What If You Aren't A Doctor
Jim is a doctor; I'm not. He mentions some terms specific to a doctor (resident, attending) and some situations more prevalent to a doctor (huge student loans). I don't think those make the course any less valuable to someone who isn't a doctor. Everyone needs a financial plan. It helps if the person taking the course has a healthy income. If someone only makes $30k a year, it's not very realistic to maximize 401k and IRA contributions.
Cost and Value
The course costs $499. It provides a fast track to jump to a level where any additional personal finance topics would start to make sense. Different people learn differently. Some people prefer to read. Some people prefer to listen and watch, even if the same words in a book are being communicated verbally.
Learning, and learning the right materials from the right source, are the most important. A $499 course is much more expensive than a book, but a book that doesn't get read isn't as effective. I also don't know a book that covers everything in the course. Relative to being ignorant of personal finance topics and getting misled by salespeople, $499 is much less expensive by several magnitudes. On the other hand, if you are already well versed in personal finance, you don't need the course because you already have a good foundation of knowledge. In that case, I see the course as a good tool to help bring a spouse or significant other up to speed. It can be especially good for a son or a daughter who will get into the real world for the first time.
Jim offers a 7-day no-questions-asked refund policy. If you don't like it ask for a refund in 7 days. There's really no risk. If you do decide to buy the course, please click on the image below. I won't get a cut if you buy it.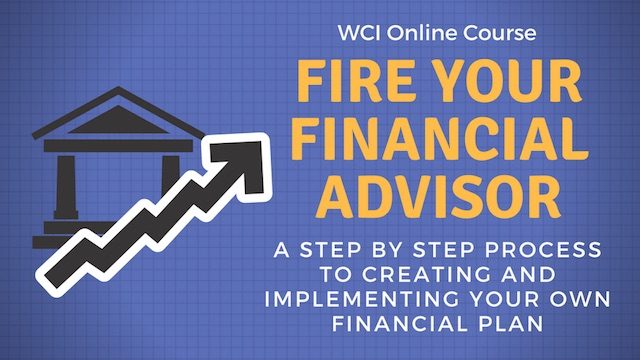 Say No To Management Fees
If you are paying an advisor a percentage of your assets, you are paying 5-10x too much. Learn how to find an independent advisor, pay for advice, and only the advice.