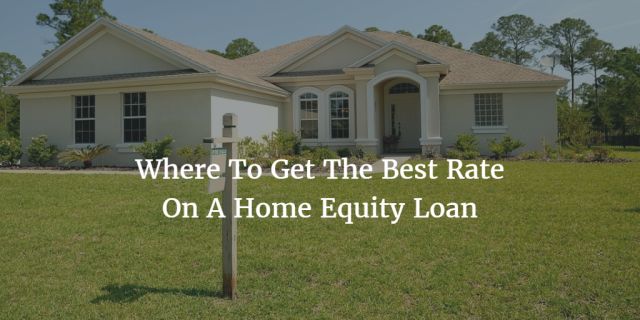 A friend asked me where he can get the best rate on a home equity loan.
I assume he knew the difference between a Home Equity Line Of Credit (HELOC) and a home equity loan and he already decided he wanted a home equity loan. In case you don't know, a HELOC works like a credit card without the grace period. You can keep it open until you want to borrow, and you can borrow and repay repeatedly. A home equity loan works like a car loan. You borrow one lump sum up front and you repay over a set period of time. A HELOC typically has a variable rate, priced at the Prime Rate plus or minus a margin. A home equity loan typically has a fixed rate, although there are also adjustable rate home equity loans.
When you get a mortgage, the bank typically ends up selling the mortgage to Fannie Mae, Freddie Mac, or the like. The bank gets paid a markup on top of the wholesale price for interacting with you and doing the paperwork. As a result, the mortgage rates from different banks and credit unions usually don't differ by more than 0.5%. If the best rate you can find everywhere is 3.25%, you won't get charged more than 3.75% for the same loan if you just walk into a random bank. Usually they are within 0.25% of each other.
Home equity loans, on the other hand, are typically retained by the bank. The rate can be quite different from bank to bank. The best rates are usually from credit unions. Some banks don't even offer home equity loans; they only do home equity lines of credit.
I checked with a few banks and credit unions. The rates below are for a $50k 5-year fixed rate home equity loan with maximum 80% loan-to-value ratio and the best credit scores.
| Bank or Credit Union | Rate |
| --- | --- |
| Digital Federal Credit Union (DCU) | 3.49% |
| Pentagon Federal Credit Union (PenFed) | 3.74% |
| U.S. Bank | 4.24% |
| Northwest Federal Credit Union | 4.25% |
| Andrews Federal Credit Union | 4.49% |
| Alliant Credit Union | 5.50% |
| Citibank | 6.24% |
Between the best rate from DCU and the worst rate from Citibank, the difference is 2.75%! Not all large banks are bad though. U.S. Bank comes in better than several credit unions.
DCU and PenFed are my go-to places for best rates on loans. If you can find a better rate locally, great. Otherwise just go with either DCU or PenFed. Both have open membership nationwide. You join by paying a small membership fee to a supported organization.
Cash Out Refi
If the rate on your primary mortgage is still high, doing a cash out refinance as an alternative to getting a home equity loan can kill two birds with one stone. You lower the rate on your mortgage and you get some cash out for home improvement. Especially when you refinance to a 15-year loan, the rate you get is quite a bit lower than the best rates on a home equity loan.
The downside is there is going to be more paperwork and it's going to take longer than just getting a home equity loan. But if you are refinancing your primary mortgage anyway, there isn't much incremental effort. You still have to make sure you are still getting the best rate when you make it a cash-out refinance versus no cash-out. When I did it a few years ago, cash-out versus no cashout made no difference up to 60% loan-to-value. Beyond that you would pay a higher rate on a cash-out refinance. I don't know whether it's still the same limit today.
Say No To Management Fees
If you are paying an advisor a percentage of your assets, you are paying 5-10x too much. Learn how to find an independent advisor, pay for advice, and only the advice.