After many years of low interest rates, savers finally got some reprieve in 2018. But it didn't last long. Interest rates headed back down in 2019. Other than in some periods in 2012-2013 and 2016, the 10-year Treasury yield now is near the lowest in the last 10 years!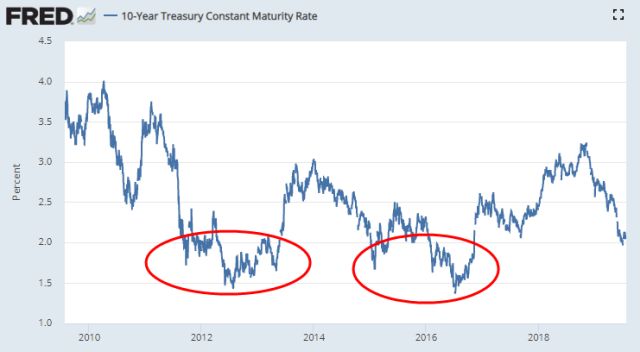 The Fed was raising short-term interest rates but now it's expected to lower rates. That's bad news for the money you will add to your savings in the future. An add-on CD is a good tool for hedging that possibility.
An add-on CD is a CD that allows additional deposits in the future. You open the CD now with an initial deposit. The CD has a stated interest rate and a fixed maturity date. Between now and its maturity date, you can deposit more money to it. The new money will earn the same original interest rate. The entire sum in the CD will mature on the original maturity date.
Some add-on CDs limit the frequency or the size of the additional deposits. You may be able to make one or two additional deposits or you may be able to only add up to a maximum amount. Some add-on CDs don't have any limits.
Most CDs don't have the add-on feature. The ones that allow additional deposits usually pay a slightly lower interest rate than those that don't have the add-on feature. However, if interest rates go down, the slightly lower rate today may look like a steal in the future. Then you will still have the option to add more money to the CD and earn a rate that's no longer available elsewhere. If interest rates don't go down, you don't add more money to the CD and only your initial deposit is earning a slightly lower rate than otherwise.
For example, a Florida-based credit union GTE Financial offers a 5-year add-on CD at 3%. Membership is open to anyone who pays one-time $10 to a non-profit. You can open the add-on CD with $500 minimum deposit. The add-on CD has no limit on the additional deposits. The 3% rate is lower than the 3.5% rate currently offered by Navy Federal Credit Union. On only $500 minimum deposit though, the opportunity cost is only $2.50/year, before tax.
You will lock in the 3% rate and have it available to you in the next 5 years. Moving forward one year, if the best rate elsewhere on a 4-year CD is higher than 3%, you go for the best rate elsewhere. If the best rate is lower than 3%, you add your new money to the add-on CD.
Specific offers come and go. Other banks and credit unions besides GTE Financial also offer add-on CDs.
Interest rates go up and down. As savers, while we all hope rates will go up, we can't rule out the possibility that rates will go down, and possibly stay down for an extended period of time. Having an add-on option will be very valuable in those cases while acquiring that option costs nearly nothing.
Say No To Management Fees
If you are paying an advisor a percentage of your assets, you are paying 5-10x too much. Learn how to find an independent advisor, pay for advice, and only the advice.