Congress passed the CARES Act to mitigate the negative economic impact brought by the coronavirus pandemic. The most publicized part for individuals is the economic impact payment of $1,200 per adult plus $500 per child. If you're under the income limit, the payment is coming. If the IRS has your direct deposit information, they will send the money there. If not, they will set up a website soon where you can give your direct deposit information.
CARES Act also provided funds to help small businesses and the self-employed. Many businesses were ordered to close. Even if they weren't, many small business had huge declines in revenue and profit. Many independent contractors lost their jobs. Even my 100%-online business is seeing a large drop. Advertising revenue from my blog dropped 50% in March compared to March last year. Nearly half of my clients canceled their requests for finding a financial advisor. I expect it will be worse yet in April. When the economic outlook is uncertain, everyone tightens up.
CARES Act created two loan programs for small businesses and the self-employed: Economic Injury Disaster Loan (EIDL) and Paycheck Protection Program (PPP). Because the two programs are so new, detailed rules and procedures are still being created and published. Many lawyers and CPAs are reading the law and the information coming out of the government agencies. They are trying to explain how these programs are supposed to work: who's eligible, what counts and what doesn't, how much you will be able to borrow, and how much of the loan can be forgiven. I like this take by retired CPA Peter Reilly:
SBA has to come up with what the rules are and let the banks know. Then the banks have to implement procedures. As far as you are concerned what matters is what the bank you go to thinks.

Peter J. Reilly, Paycheck Protection Program Looks Like A Very Sweet Deal For Employers
I will take it one step further. What matters is finding a bank that takes your application and actually processes it. It's all moot if you can't get your application in or your loan application only sits in a big pile and nobody looks at it. The finer details of the loan programs don't change your immediate action items.
If you are self-employed, here's what you need to do, now:
Economic Injury Disaster Loan (EIDL)
The federal Small Business Administration (SBA) runs the Economic Injury Disaster Loan (EIDL) program directly. The interest rate for the EIDL will be 3.75%. A part of the loan may be forgiven.
You apply online at covid19relief.sba.gov. It doesn't cost anything to apply. You answer the questions in the application truthfully to the best you can. You check the box to be considered for an advance before your loan is finalized. You give a bank routing number and account number for them to deposit the loan advance.
The SBA will determine how much loan advance they will give you, and when they will send the loan advance. If you receive a loan advance, the advance won't have to be repaid. The loan advance may be $10,000, or it may be less. Nothing happens until you apply. So just apply now and worry about the rest at a later time. Even the SBA says:
When in doubt, apply!
After you receive the loan advance, to continue the loan processing, you will be asked to submit some documents. Go with the flow and do what you are asked. If the SBA approves your application, they will offer you the complete loan terms. Just take the loan. If the economy becomes worse, you may be offered additional relief down the road. If the economy returns to normal and you don't need the loan anymore, you can repay the loan without any prepayment penalty.
Paycheck Protection Program (PPP)
The primary purpose of the Paycheck Protection Program is to cover payroll. For a self-employed person, payroll includes paying yourself for services you perform. The PPP loan will be a two-year loan at 1% interest rate. Up to 100% of the PPP loan may be forgiven.
The government runs this program through participating banks and credit unions. It's probably easier if you go through the institution where you already have a business checking account. I for one don't have a business checking account, because I use the business account from Fidelity Investments and Fidelity isn't a bank. Many independent contractors only use a separate personal checking account, not one officially designated as a business checking account. In that case you may have difficulty in finding a bank that takes your application.
For example, Bank of America at first required that you must have a business checking account and a business lending relationship with them since February 15, 2020. Only opening accounts now doesn't work. After people protested, now they still require a business checking account since February 15, 2020 and you don't have a business credit card or business lending relationship elsewhere. That means if you have a business credit card with Chase, Bank of America doesn't take you; they want you to go to Chase. Meanwhile Chase requires that you have a Chase Business checking account that's been active since February 15, 2020. If you have your business checking account with Bank of America and your business credit card with Chase, neither bank takes you.
What if you are like me and you also don't have a business checking account, or the bank that has your business checking account doesn't take your application? If you go to SBA's website and find their district offices near you, you will see that each district office has a website.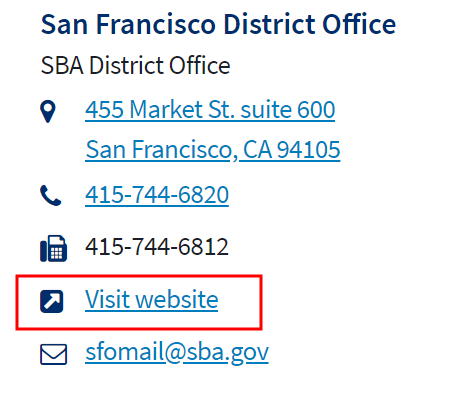 Each SBA District Office has a Resource Guide for its district.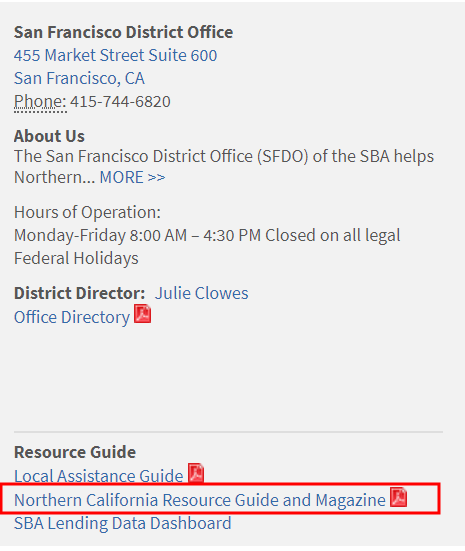 In the middle of each Resource Guide, there is a list of local SBA lenders in the district. For example, the list for Northern California is on page 30 of the 52-page Resource Guide. Start calling and visiting those lenders' websites and see which bank or credit union will take your application for the Paycheck Protection Program. Start with credit unions and banks that you have never heard of. They are more likely to take you than mega banks with a huge volume to existing customers.
Using the Resource Guide for my district, I found a local credit union that has an online application for PPP loans. I completed and signed the application online. I attached Schedule SEs from our 2019 tax return as evidence for our payroll. If this credit union accepts my application, I will happily open accounts there.
If you are willing to go beyond your local area, you can try Sunrise Banks in Minneapolis. According to its website, "Sunrise Banks is accepting applications from all eligible borrowers, no matter who they bank with."
After you find a bank that takes your application, you will follow the bank's procedures and give them whatever information and documents they ask from you. The bank will determine how much they will lend to you under the program.
After you take the loan and you use the loan for eligible purposes, you can apply for loan forgiveness. The bank will determine how much of the loan will be forgiven. It may be 100% of the loan amount, or it may be less. Right now you first need to find a bank, put your application in, and hope they will process it soon. You worry about loan forgiveness later. You won't have any amount forgiven if you don't get the loan in the first place.
Reference
COVID-19 Relief for Small Business, U.S. Small Business Administration
Say No To Management Fees
If you are paying an advisor a percentage of your assets, you are paying 5-10x too much. Learn how to find an independent advisor, pay for advice, and only the advice.