Fidelity started accepting ETF orders in dollars with fractional shares back in February but it was available only in their mobile app (see Fidelity Accepts ETF Orders in Dollars with Fractional Shares). Now Fidelity extended the same functionality to online trading on their website.
When you buy or sell an ETF at most other brokers, you have to do it in whole shares. If you'd like to invest $3,000 in an ETF and the price of the ETF is $53.69 per share, you have to calculate first how many shares it is. Then you place an order for either 55 shares or 56 shares, which will cost you either $2,952.95 or $3,006.64, but not $3,000 exactly. When you place an order in dollars to buy $3,000 worth of this ETF at Fidelity, you don't have to care what the price is per share. Fidelity will do the math and give you 55.876 shares. You will pay $2,999.98, with two cents left from your $3,000. Buying or selling in dollars is more natural than in shares.
There are two paths to access the screen for placing an order in dollars.
Pull-Down Menu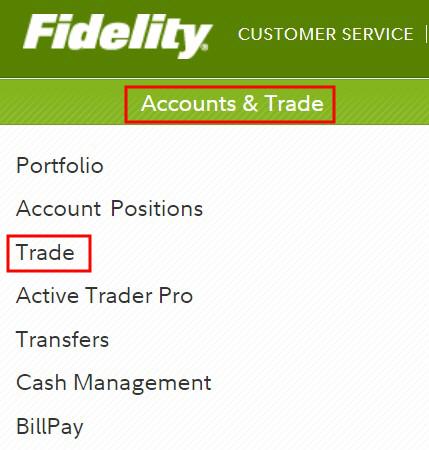 If you use the pull-down menu, click on Accounts & Trade, and then Trade.

If you haven't seen the Simplified Ticket before, you will see a banner message saying fractional shares trading is available on the Simplified Ticket. After you click on the link for the Simplified Ticket once, it will default to the Simplified Ticket next time.

On the Simplified Ticket, you can choose to place orders either in shares or in dollars, as a market order or a limit order. If you choose to place the order in dollars as a limit order, the limit order is only valid for one day. The order will expire if it can't be filled before the end of the day. Other order types such as Good 'Til Canceled (GTC), On the Open, On the Close, etc. aren't available for an order in dollars.
Trade Pop-up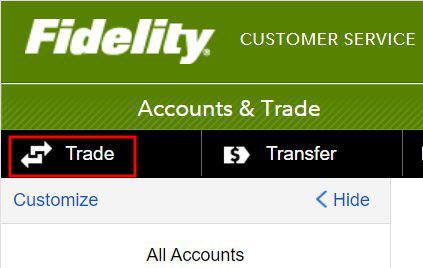 If you use the Trade quick action link below the Accounts & Trade menu, you get a small pop-up for entering trades.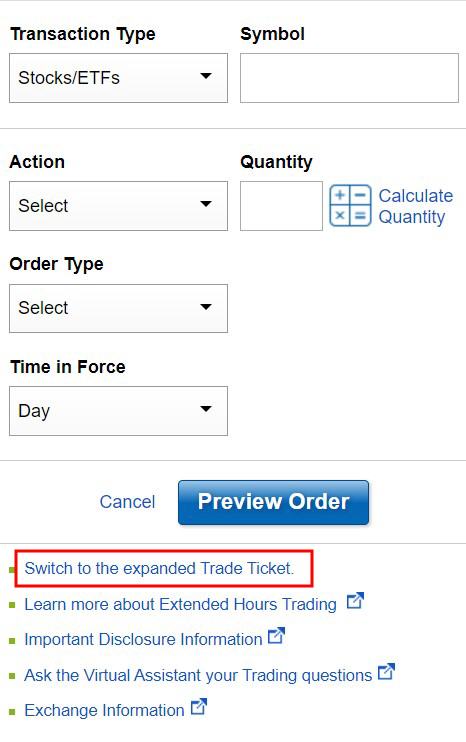 This pop-up only accepts orders in shares. Click on the "Switch to the expanded Trade Ticket" link at the bottom. It actually sends you to the Simplified Ticket, where you can place orders in dollars.

Sell All Shares
Before you can buy and hold fractional shares, it used to be that when you'd like to sell all shares in a holding, you enter an order to sell all the whole shares, and the remaining fractional share will be sold automatically. For example, if you have 55.876 shares in an ETF and you'd like to sell all your shares, you enter an order to sell 55 shares. When this order settles, your 0.876 shares will also be sold at the same price. There's no way to hold less than one share. This is still the case at some other brokers.
Now that Fidelity lets you buy and sell in dollars, which can leave you with less than one share, they don't automatically sell your fractional share anymore. If you have 55.876 shares and you enter an order to sell 55 shares, you will still hold the remaining 0.876 shares. If you'd like to sell all your shares in a holding, you can explicitly choose the "Sell All Shares" option.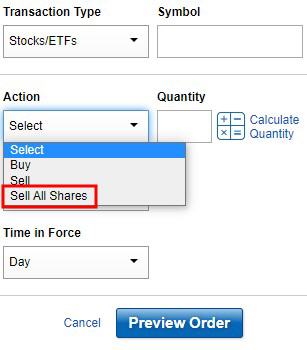 Say No To Management Fees
If you are paying an advisor a percentage of your assets, you are paying 5-10x too much. Learn how to find an independent advisor, pay for advice, and only the advice.