The purpose of my recent absence was to look into a Continuing Care Retirement Community (CCRC) for my aging mom. In a CCRC, residents start with independent living, and as their need for assistance progresses, they will receive increasing levels of care, from assisted living to skilled nursing care.
The cost of course is part of the decision, along with the quality of the facilities and the services. My mom retired many years ago. So far her monthly social insurance covered all her expenses. As a result, her savings had actually grown. If she goes into a CCRC, however, her expenses will exceed her monthly social insurance plus the income generated by her savings. She didn't like dipping into the principal of her savings. She'd like to keep a reserve in case she needs expensive long term care for an extended period of time. So she thought she couldn't afford the CCRC.
However, only looking at her social insurance and tinkering with her savings misses a much larger asset. The value of her home is worth several times more than her savings. This is very common. You must have seen reports on how people didn't have enough saved in their retirement accounts. Those numbers don't include home equity. Many people have home equity worth several times more than their liquid savings.
Selling the home and becoming a renter is an option theoretically but my mom doesn't want to do it. After having her own place for many years she doesn't want to be subjected to the whim of a landlord. Selling and moving to a different city where homes are less expensive also gives her stress she doesn't need at her age. If the CCRC doesn't work out, she'd like to return to her own home, where she feels safe and familiar. She sees her home as her roots. She doesn't want to cut off her roots. I don't blame her.
Still, the value of her home can be unlocked to provide additional money for her spending through a reverse mortgage. In a reverse mortgage, the homeowner receives money from a bank as a loan, on which the bank charges interest. The loan balance increases over time and accrues against the home. After the borrower dies, the proceeds from selling the home will pay off the loan with interest.
Before understanding the reverse mortgage, my mom thought her home only provided a place for her to live. How much the home is worth made no difference to her. She said "It's just a number. You can't eat your house." After I explained it to her, she feels much more at ease in spending from her savings. She knows even if she exhausts all her savings, she still has much more spending power from tapping the home equity. She doesn't have to actually use the reverse mortgage. Just the possibility of using it gives her peace of mind.
One common misunderstanding about the reverse mortgage is that the bank will get the home on the cheap after the borrower dies. Some people also think the bank will get all of the home's future appreciation. Neither is true. Whatever amount is loaned, with interest, is still just a loan. The bank doesn't get 100% of the value of the home. Whatever value the home appreciates to belongs to the homeowner. After paying off the accrued loan balance, the remainder still goes to the heirs.
It's true if my mom uses a reverse mortgage, her heirs won't be able to inherit 100% of the value of the home. I told Mom the home is first and foremost her asset. It should be used for her benefit. She should not feel obliged to preserve the home for inheritance while limiting her own spending to her social insurance and her cash savings.
If the heirs want to inherit the home unencumbered, they can fund mom in the same way the bank does. They will be paid back when they inherit the home. This way the heirs will effectively earn all the interest and fees the bank would charge, tax free.
Many older residents in the San Francisco Bay Area, where I live, are also sitting on large home equity. The modest homes they bought years ago for $100k are now worth over $1 million and in some cases over $2 million or $3 million. Their paid-off home is a huge asset that can be unleashed for their retirement. In the early years of retirement they can just sell and move. In the late years if they feel like staying put they can get a reverse mortgage for additional spending.
A reverse mortgage isn't the only way to use the home equity for cash spending. If the homeowner's income can qualify, they can also get a regular HELOC or a cash-out refinance. The point is they shouldn't feel constrained to their Social Security and cash investments while they sit on large home equity.
The image below shows home value estimates in a neighborhood not too far from where I live. These homes were built in the 1950s. Most of them are under 1,500 square feet. Some are under 1,200 square feet. Now they are all worth over $2 million. If anything, the estimates shown may be too low. That $1.98 million one in the bottom left sold for $2.5 million two months ago.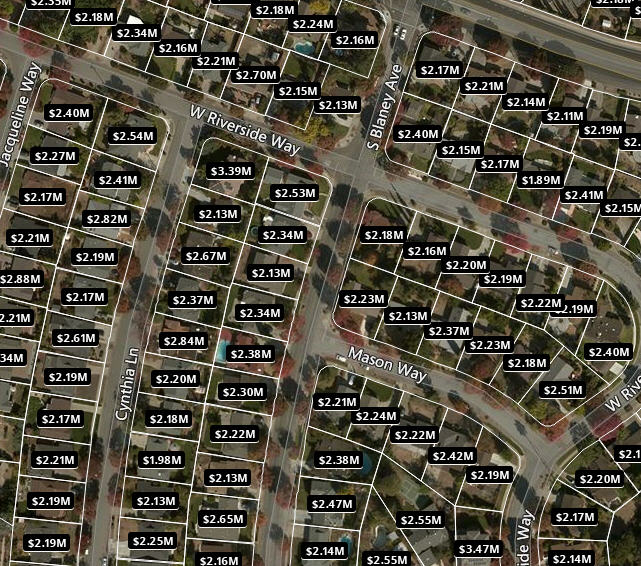 Sometimes I see people ask whether the equity of their primary residence should be included in their net worth. The answer is absolutely yes. If you have $2 million in home equity, even if you stay put, you don't have to limit your spending to Social Security plus safe withdrawals from your liquid portfolio. That's the difference. You can eat your house.
For further reading: Is Home Equity An Underutilized Retirement Asset? by Steven A. Sass, Center for Retirement Research at Boston College
Say No To Management Fees
If you are paying an advisor a percentage of your assets, you are paying 5-10x too much. Learn how to find an independent advisor, pay for advice, and only the advice.