The HSA provider my employer chose isn't very good. The interest rate is very low if I leave the money in cash. The investment options are very expensive, with no index funds. I still use it because contributions through the employer are exempt from Social Security and Medicare taxes.
I take the money out once a year and put it into the HSA account I prefer for a better interest rate and better investment options. Here's how I did it. If you are looking for a better HSA, see Best HSA Provider for Investing HSA Money.
Request Withdrawal
I logged on to the website of my employer's HSA provider. I requested a withdrawal to my personal checking account. Leave a few dollars behind if you don't want them to close the account. If you don't want this account anymore, you can withdraw everything and call to close the account after the rollover is done.
You don't need to give a reason for the withdrawal or submit receipts. Some HSA providers make you add details for a provider name and dates of service as if you're reimbursing yourself for healthcare expenses. Just use a provider name to the effect of "HSA Rollover" or "Rollover to XXXX" with some random dates of service.
Deposit to New HSA Provider
I mailed a personal check together with a rollover contribution form to my preferred HSA provider. If your preferred HSA provider accepts deposits by electronic fund transfer from a linked bank account, that works only if you can mark the deposit as a rollover, not a normal contribution.
Ask the receiving HSA provider for the rollover contribution form if you can't find it on its website. If your preferred HSA provider is Fidelity Investments, fill out the deposit slip and mark the box for "60-Day Rollover."
That was it. If you have a checkbook for the current HSA, you can also write a check and send it to the new HSA together with the rollover contribution form.
One Rollover Every Rolling 12 Months
The amount rolled over isn't taxable. You can do this DIY rollover only once every rolling 12-month period. The clock starts on the date you take the money out of an HSA, not January 1. You have 60 days to deposit it to a new HSA.
Start your next withdrawal request 13 months after the deposit is cleared in the new HSA to stay clear of the frequency restriction.
Trustee-to-trustee transfers aren't limited in frequency but HSA providers usually charge a fee to the tune of $20 to $30. It's not worth it if your HSA provider charges a fee for trustee-to-trustee transfers. Just do the rollover on your own.
Form 1099-SA
After the end of the year, the HSA provider that sent you the money will send you a Form 1099-SA showing the distribution. In May each year, the receiving HSA provider will send you a Form 5498-SA, which confirms the normal contributions and the rollover received in the previous year. Save the 1099-SA and the 5498-SA in your tax files to show that you did a rollover.
Report Rollover in Tax Software
You will report the rollover in your tax software. Here's how to do it in TurboTax download software: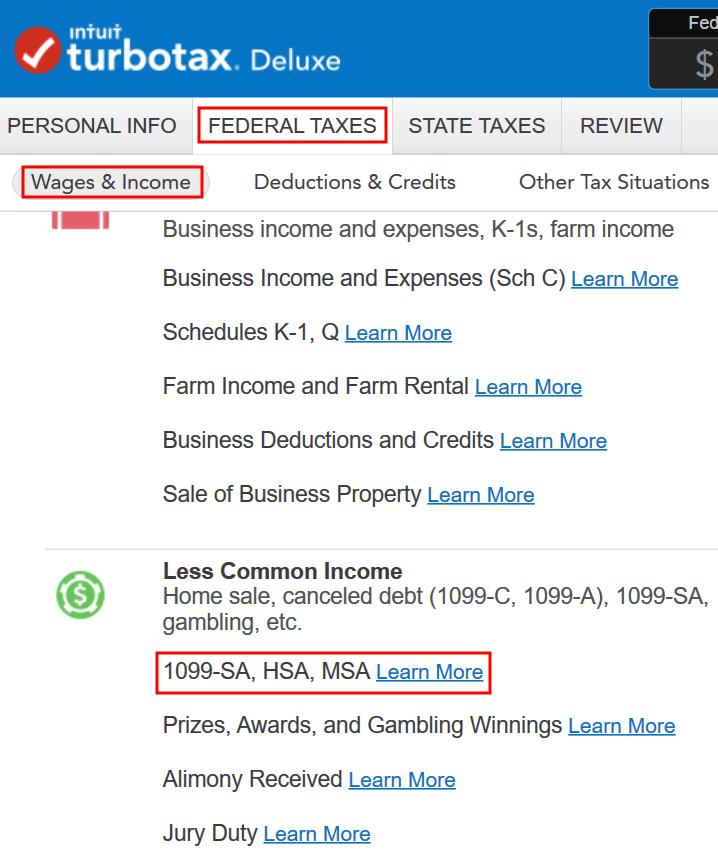 Click on "Federal Taxes" and then "Wages & Income." Scroll down to the heading "Less Common Income" to find "1099-SA, HSA, MSA."

When it asks you whether you used your HSA to pay for anything, answer Yes even though you only did a rollover and didn't use it to pay for anything.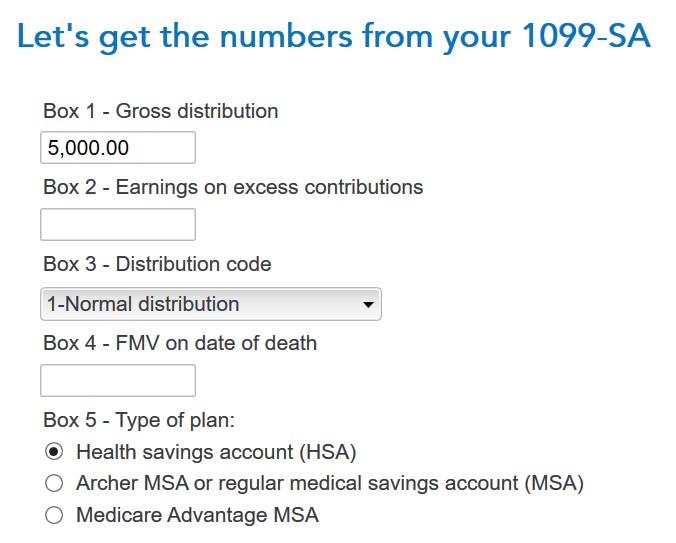 Enter the numbers from your 1099-SA form. Suppose you took out $5,000 from your HSA last year.

If you only did a rollover and didn't spend any HSA money on healthcare expenses, answer No and enter the amount you rolled over.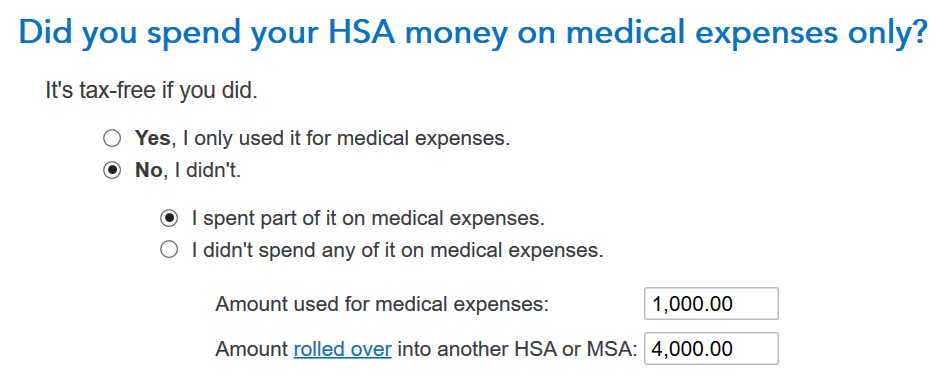 If you withdrew some money from the HSA to cover healthcare expenses in addition to a rollover, choose the option "I spent part of it" and enter the split accordingly.
To confirm that your withdrawal is tax-free, click on Forms and look at Form 8889.

You will see the withdrawal on Line 14a and the rollover on Line 14b. Line 16 shows that the taxable amount is zero.
***
My payroll deductions and my employer's contributions are still going to the provider chosen by my employer. I'm going to roll over the balance in the account again next year after I clear the one-year mark from this rollover.
Say No To Management Fees
If you are paying an advisor a percentage of your assets, you are paying 5-10x too much. Learn how to find an independent advisor, pay for advice, and only the advice.