[Updated on January 14, 2021. The online registration is open now.]
Due to many hacks and breaches of personal information, having a tax return filed fraudulently in your name has become a problem in recent years. Criminals gather enough information about you to file a tax return and request a refund from the IRS or the state. By the time you file your tax return, you are told they already have a return in your name. Now you have to show yours is legit and the other one isn't. If you are due a refund, your refund may be delayed. It'll be a problem if you're planning to use your tax refund to buy additional I Bonds. Even if you owe, the fraud still creates more work for you to deal with the headache.
This happens because the whole tax return system wasn't designed with security in mind. Unlike with any other financial institution, you are not required to have an "account" with the IRS.
When you move, you are not required to notify the IRS. When a tax return next year comes in with a new address, it can be legit. The IRS is expected to trust that address and send a check there if so requested.
You are not required to notify the IRS when you marry or divorce. If you always filed a joint return and the next return comes in as single, who knows, maybe you are no longer married.
You are not required to link a bank account with the IRS. If a tax return requests the refund to a new bank account or even a prepaid card, it also can be legit. There's no way to tell whether you just want your refund in a new way or it's someone else doing it fraudulently.
You have multiple channels to file a tax return. You can't say "I always file on paper. Don't accept any e-filed returns." or "I only file through this service. Don't accept any return on paper or from any other service."
On top of all these, the IRS is expected to process refunds fast. "Don't ask questions. Just give me my money."
When so much money is at stake, not having a tighter connection between the two parties is just amazing.
Because the lack of a direct relationship with the taxpayers is a root cause, the IRS tries to address it through its Identity Protection PIN (IP PIN) program. When you sign up for the IP PIN program, the IRS will issue you a 6-digit PIN. You put the PIN on your tax return. Any e-filed tax return without the correct PIN will be rejected. Any paper return without the correct PIN will be subject to extra scrutiny.
A specific PIN is valid for only one year. After you sign up once to participate in the program, you log in to the IRS account each year to retrieve a new PIN before the tax season starts. You always use your most current PIN. You don't need a PIN when you amend your previous tax returns.
This adds an extra step but I think it's a good measure for security. The IRS IP PIN program is optional. You have to sign up for it. After running it as a pilot for several years, the IRS opened up the program to everyone in 2021. It used to be limited to residents in certain states. Now everyone can sign up. You sign up directly with the IRS online. If you are married, sign up separately for each spouse. The PIN is specific to each person.
The IRS uses your credit card or loan account number to verify your identity during the signup process. If you froze your credit report with Experian, you need to lift the freeze temporarily. See Secure Access: How to Register for Certain Online Self-Help Tools from the IRS.
My wife and I have used the IP PINs with our tax returns for several years now. They work very well. We received our PINs for 2021 already. If you file on paper, there's a place for them on the signature line.

If you use tax software, you tell the software you have a PIN. In TurboTax, it's under Federal Taxes, Other Tax Situations, Other Return Info, Identity protection PIN.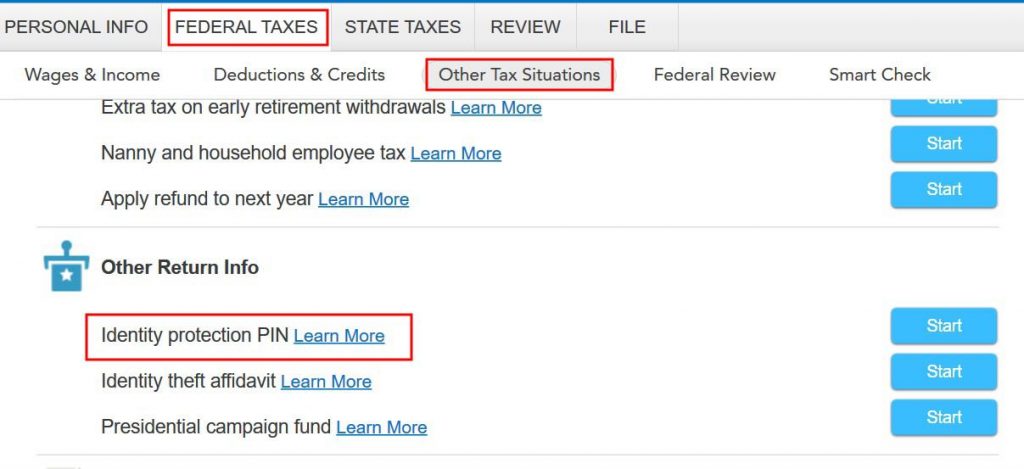 In H&R Block tax software, it's under Federal, Miscellaneous, Miscellaneous Home.


More info: FAQs about the Identity Protection Personal Identification Number (IP PIN) from the IRS.
Say No To Management Fees
If you are paying an advisor a percentage of your assets, you are paying 5-10x too much. Learn how to find an independent advisor, pay for advice, and only the advice.