I Bonds are the best bonds you can buy at the moment, if only you can buy more of them.
In addition to buying I Bonds on the government website TreasuryDirect (see How to Buy I Bonds: Soup to Nuts), you can buy another $5,000 per year indirectly, but only if you're due at least that much in tax refund and you tell the IRS to use part of your tax refund to buy I Bonds. You can't send a check with your tax return and ask them to buy I Bonds for you.
If you normally don't have a tax refund that large, you can increase your tax refund by overpaying ahead of time. Because I'm self-employed and I pay quarterly estimated taxes, I just pay extra for the fourth quarter.
IRS Direct Pay
If you don't pay quarterly estimated taxes, you can make a one-time payment through IRS Direct Pay. After a year is over, you can still pay toward the previous year's taxes with an automatic extension. When you say your payment is for an extension, the payment automatically files the extension. You don't need to fill out another form.
You get extra time with an extension but you don't have to use it. You can still file your tax return on time before April 15.

When you pay extra, don't make your refund exactly $5,000. Make it a small odd amount above $5,000 so that you'll still have a small refund after buying I Bonds. For example, if you're expecting a refund of $2,136, pay $3,000 with your automatic extension. Now your expected refund is $5,136. When you see $136 deposited to your bank account, you'll know the other $5,000 is sent to buy I Bonds.
TurboTax
After you pay extra with an automatic extension, make sure to account for it on your tax return. In TurboTax, it's under Federal Taxes, Deductions & Credits, Estimates and Other Taxes Paid, Other Income Taxes.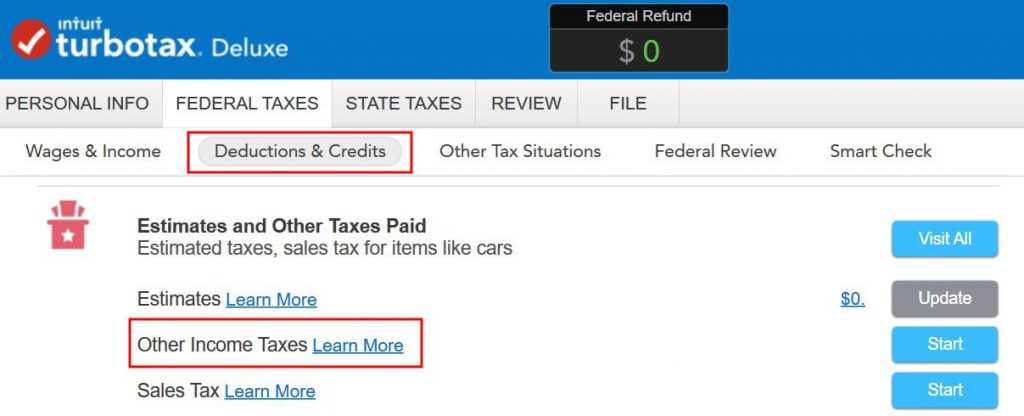 Then choose payment with the federal extension for the previous year.

When it comes to buying I Bonds, it's in the final steps before filing your return when TurboTax asks you whether you'd like to receive your refund by direct deposit or by check. You check a box at the bottom to say you want to split your tax refund and use part of it to buy I Bonds.

Then you will say how much you'd like to buy and whose name(s) should be on the bonds.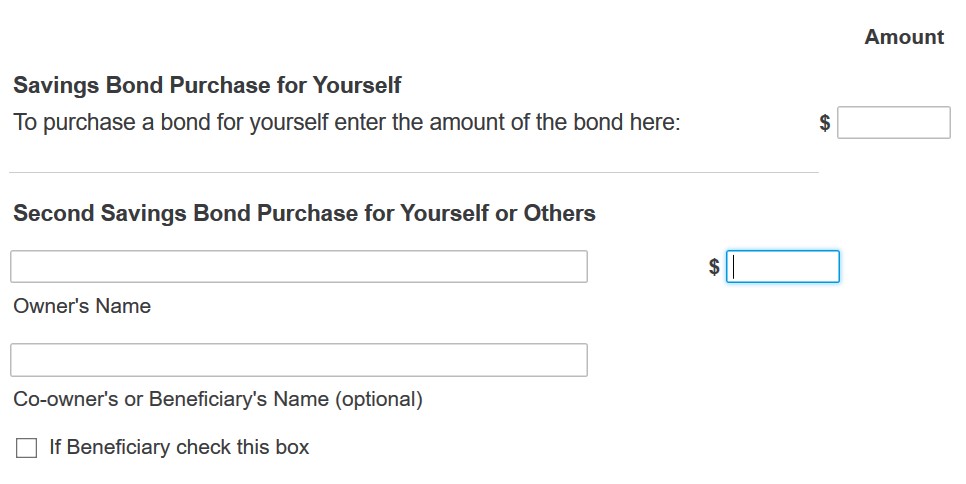 H&R Block Software
It works similarly in H&R Block tax software. The payment with extension is under Federal, Taxes, Federal Tax Payments.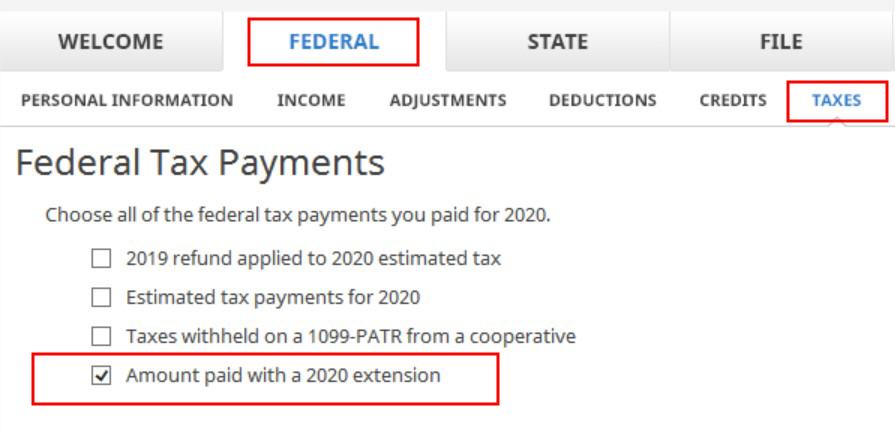 In the final steps before filing the return, when it asks you for the bank information for direct deposit, there's a small link about U.S. Savings Bonds.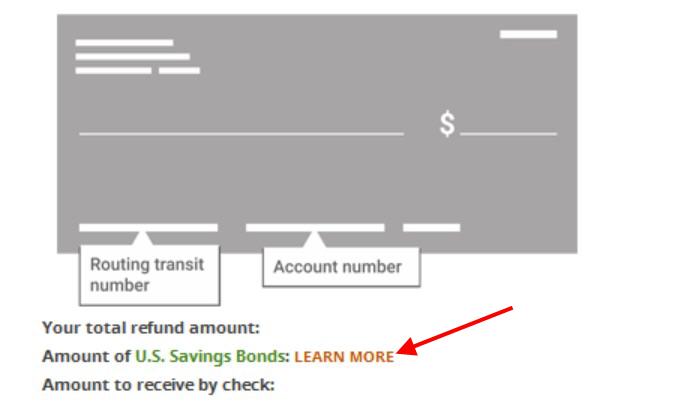 Clicking on the "learn more" link opens a pop-up that tells you how to find the necessary Form 8888.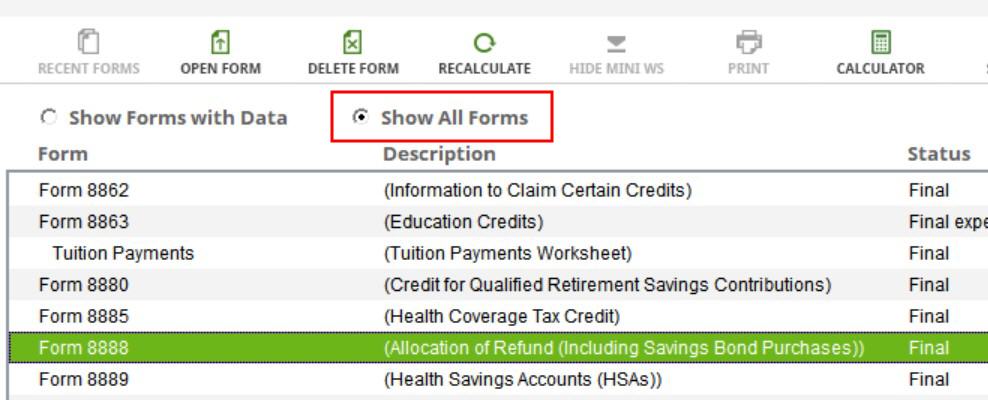 You enter the amount you'd like to buy and the names that should appear on the bonds in Form 8888.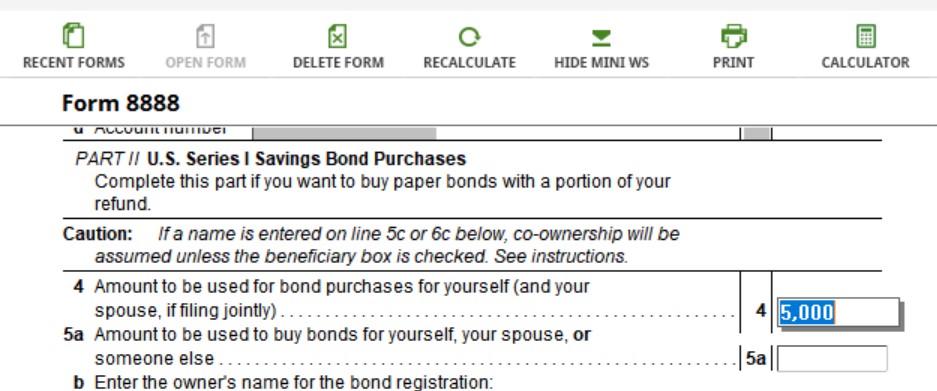 12 Envelopes
After you file your tax return, if everything goes well, the I Bonds will come by mail in multiple denominations. They will issue the first $250 in $50 bonds, and the remaining amount in the fewest number of bonds. As a result, if you buy the full $5,000, you will receive:
$1,000 bond x 4
$500 bond x 1
$200 bond x 1
$50 bond x 6
That's a total of 12 bonds. Each bond will come in a separate envelope. Because the bonds have your name and address printed on them, it's just easier for them to put each one into a separate window envelope. Collating multiple bonds into the same envelope increases the risk of a mix-up. So expect 12 individual envelopes to come in the mail when you buy the full $5,000.
Sometimes the bonds don't come in one batch. If you receive fewer bonds than you're expecting, just wait. More likely additional bonds will show up in the mail in a few days.
You can keep these bonds in paper form if you'd like. Put them in a safe deposit box. When you'd like to cash out, you can take them to your bank or credit union or a major national bank such as Bank of America or Chase. They will look up the current values in their system and deposit the money to your account or give you cash.
Convert Paper I Bonds to Electronic
If you'd like to consolidate these paper bonds with the bonds in your TreasuryDirect online account, you can mail them to the Treasury Department and deposit them into your account. Please read How To Deposit Paper I Bonds to TreasuryDirect Online Account.
If only they ask for your TreasuryDirect account number on the tax return, they won't have to mail you the bonds and you won't have to mail them back in. While it is possible to direct deposit part of your tax refund into your TreasuryDirect account using a special routing number, when you use the money to buy I Bonds, you use up part of your $10,000/year quota, which defeats the whole purpose of overpaying taxes to buy additional I Bonds. Again, the government has no incentive to make it easy. If you want more I Bonds, you'll have to tolerate their process.
When Something Goes Wrong
Sometimes instead of receiving I bonds, you get 100% of your tax refund deposited into your bank account. It's not clear why this happens to some people.
You can't do anything about it. Once you receive your tax refund, it's not possible to have the IRS take it back and buy I Bonds for you. Try your luck again next year. It may help if you make your tax refund not exactly $5,000. Make it say $5,081 and ask for $5,000 in I Bonds and $81 as a direct deposit to your bank account.
Say No To Management Fees
If you are paying an advisor a percentage of your assets, you are paying 5-10x too much. Learn how to find an independent advisor, pay for advice, and only the advice.