The U.S. government sells billions of dollars in Treasury bonds to institutional investors every year. Right now those institutional investors are willing to pay such a high price for good credit quality to end up with a negative return after inflation. The real yield on Treasury Inflation Protected Securities (TIPS) is negative across all maturities.
| Maturity | Real Yield |
| --- | --- |
| 5-year | -1.58% |
| 10-year | -0.93% |
| 20-year | -0.46% |
| 30-year | -0.21% |
Source: Daily Treasury Real Yield Curve Rates as of January 8, 2021, Treasury Department
A -0.93% real yield on 10-year TIPS means when this bond matures after 10 years, the purchasing power will be 9% less than today. Investors are willing to lose purchasing power because they're afraid they'll lose even more if they buy something else.
The U.S. government also sells savings bonds directly to individual investors in small denominations. Series I Savings Bonds ("I Bonds") are like a variable-rate flexible term CD. The interest rate goes up and down with inflation, but you're guaranteed to match the rate of inflation, not lose to it. You can choose to redeem your I Bonds any time between one year and 30 years after purchase. Matching inflation with a flexible term is a much better deal than losing to inflation after committing to 10 years.
TreasuryDirect
Such a good deal is reserved only for small investors. The government doesn't let you buy as much as you want. Each person is allowed to buy $10,000 per calendar year. You can only buy it directly on a government website called TreausryDirect, not through a broker such as Vanguard or Fidelity. That means you can't buy it with money in an IRA or a retirement plan account.
The TreasuryDirect website isn't the easiest to use, because the government doesn't have much incentive to make it easier when it's already offering a much better deal than what institutional investors are willing to pay. However, if you persevere and follow the instructions in this guided tour, you'll make it work in the end.
If you're married, the two of you have to open an account with TreasuryDirect separately. TreasuryDirect doesn't have the concept of a joint account, although you can choose to put a co-owner on the I Bonds you buy. The two accounts can link to the same bank account. The government will debit purchases from your bank account and credit redemptions to your bank account. You pay federal income tax on the accumulated interest only when you sell. The interest is exempt from state income tax.
IRS Direct Pay
After you max out the $10,000 per person per year at TreasuryDirect, you can buy another $5,000 per year indirectly, but only if you're due at least that much in tax refund and you tell the IRS to use part of your tax refund to buy I Bonds. You can't send a check with your tax return and ask them to buy I Bonds for you. If you normally don't have a tax refund that large, you can increase your tax refund by overpaying ahead of time. Because I'm self-employed and I pay quarterly estimated taxes, I just pay extra for the fourth quarter.
If you don't pay quarterly estimated taxes, you can make a one-time payment through IRS Direct Pay. After a year is over, you can still pay toward the previous year's taxes with an automatic extension. When you say your payment is for an extension, the payment automatically files the extension. You don't need to fill out another form. You get extra time with an extension but you don't have to use it. You can still file your tax return on time before April 15.

TurboTax
After you pay extra with an automatic extension, make sure to account for it on your tax return. In TurboTax, it's under Federal Taxes, Deductions & Credits, Estimates and Other Taxes Paid, Other Income Taxes.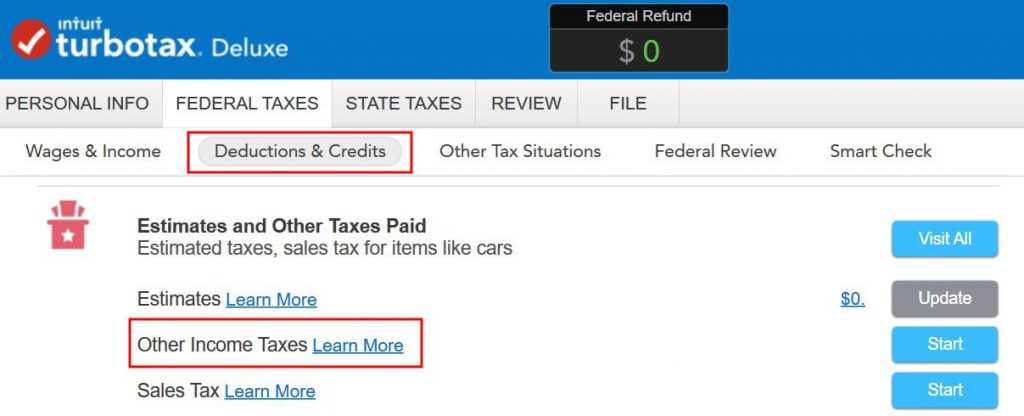 Then choose payment with the federal extension for the previous year.

When it comes to buying I Bonds, it's in the final steps before filing your return when TurboTax asks you whether you'd like to receive your refund by direct deposit or by check. You check a box at the bottom to say you want to split your tax refund and use part of it to buy I Bonds.

Then you will say how much you'd like to buy and whose name(s) should be on the bonds.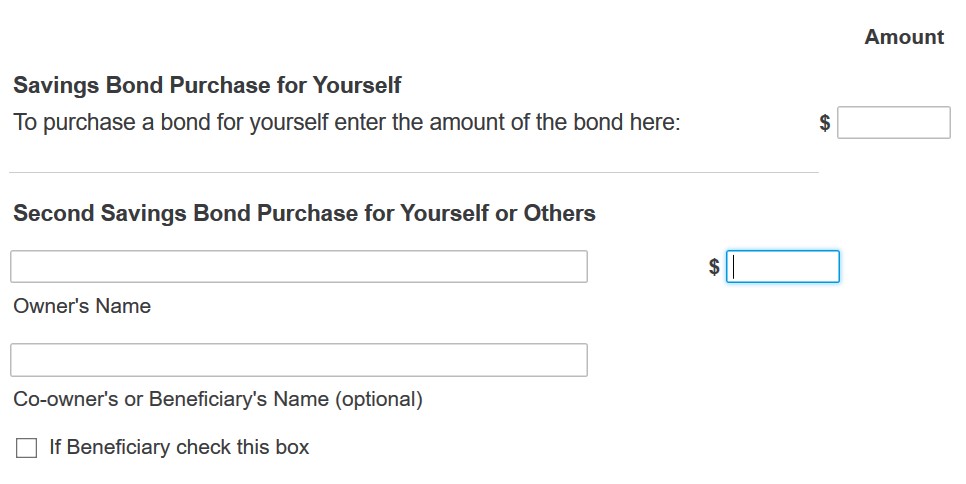 H&R Block Software
It works similarly in H&R Block tax software. The payment with extension is under Federal, Taxes, Federal Tax Payments.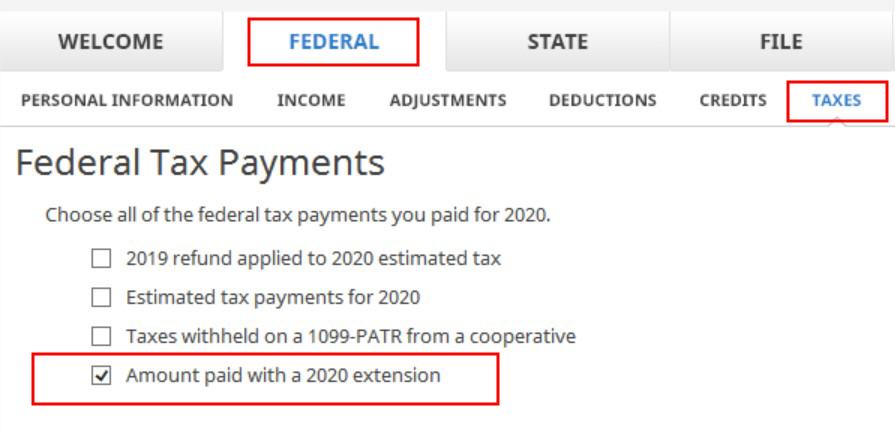 In the final steps before filing the return, when it asks you for the bank information for direct deposit, there's a small link about U.S. Savings Bonds.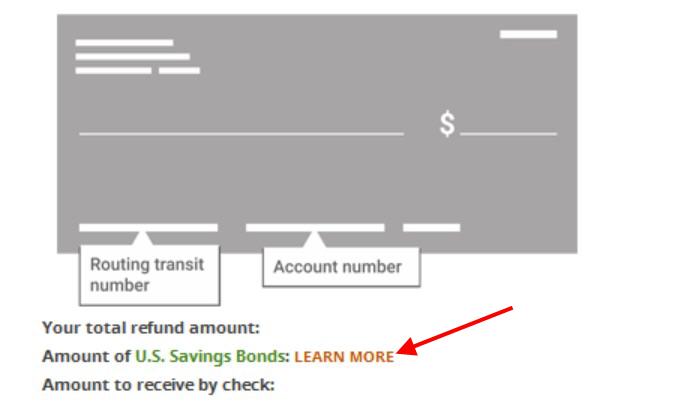 Clicking on the "learn more" link opens a pop-up that tells you how to find the necessary Form 8888.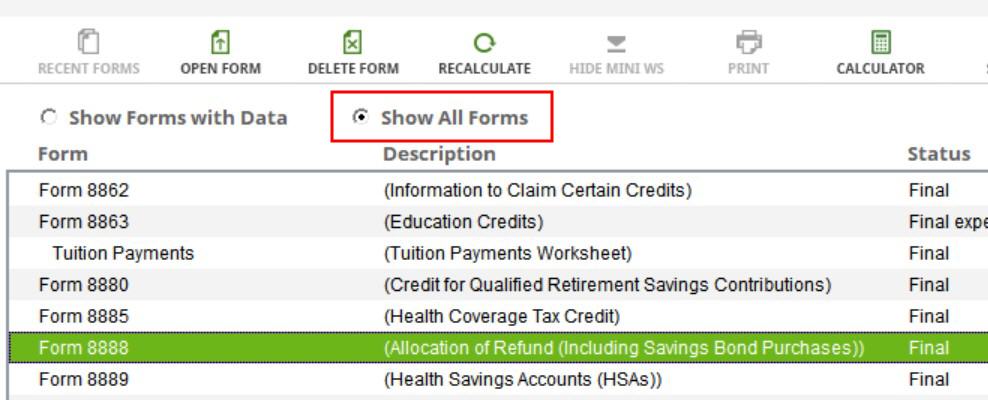 You enter the amount you'd like to buy and the names that should appear on the bonds in Form 8888.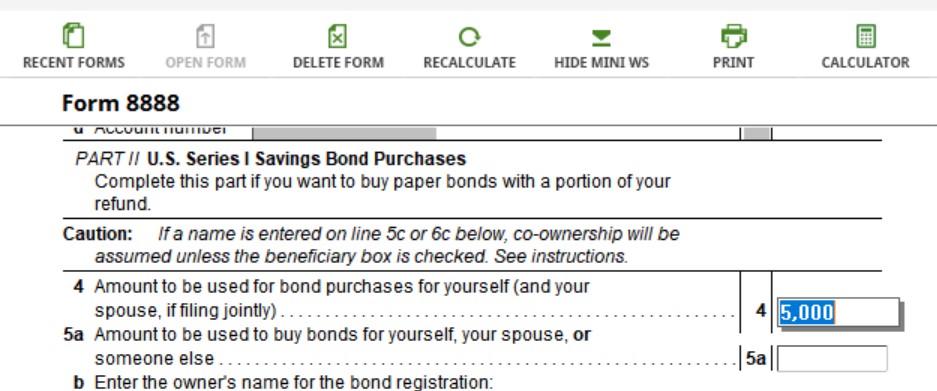 Convert Paper I Bonds to Electronic
After you file your tax return, if everything goes well, the I Bonds will come in paper form by mail in multiple denominations. If you buy $5,000, you will receive four $1,000 bonds, one $500 bond, two $100 bonds, and six $50 bonds. If you'd like to consolidate these paper bonds with the electronic bonds in your TreasuryDirect account, you can mail them to the Treasury Department and have them converted to electronic bonds. Please read the detailed instructions from TreasuryDirect.
If only they ask for your TreasuryDirect account number on the tax return, they won't have to print the bonds and you won't have to mail them back in. Again, the government has no incentive to make it easy. If you want I Bonds, you'll have to tolerate their process.
Say No To Management Fees
If you are paying an advisor a percentage of your assets, you are paying 5-10x too much. Learn how to find an independent advisor, pay for advice, and only the advice.