I've been writing about I Bonds for many years. I only realized now I've been writing as if everyone already knew what they were and how they worked. The annualized interest rate on I Bonds is currently 3.54% in the first six months. If that's not high enough to entice you, maybe you'll be more interested when the rate in the next six months possibly goes to 7%. If you're new to I Bonds, this post walks you through from soup to nuts.
What Are I Bonds?
I Bonds are short for Series I Savings Bonds. They are bonds issued by the U.S. government directly to retail investors. Currently, I Bonds carry favorable interest rates over other CDs and bonds. This makes I Bonds the best bonds you can buy at the moment.
How I Bonds Work
Think of I Bonds as flexible-term variable-rate CDs.
You're required to hold them for at least one year. After that, you can cash out at any time you'd like, or you can choose to hold them for up to 30 years from the original time of purchase. If you cash out within five years, you forfeit interest earned in the previous three months, whereas the early withdrawal penalty on a typical commercial CD is often six months or 12 months of interest. The flexibility to cash out after one year with a low early withdrawal penalty or to hang on for as long as 30 years makes I Bonds good for both short-term and long-term investing.
Similar to a CD, the value of I Bonds never goes down. Unlike a typical CD with a fixed interest rate for the entire term, the interest rate on your I Bonds changes in six-month cycles. You stay on the current rate for the full six months and then you go on a new rate for another six months, and the new rate after that for another six months, and so on.
The interest rate is guaranteed to at least match inflation. If inflation goes up, the interest rate on your I Bonds automatically goes up. Some older I Bonds earn a positive rate above inflation. The I Bonds you buy now only match inflation. Even merely matching inflation makes I Bonds attractive when other CDs and bonds don't keep up with inflation.
Tax Treatment
The interest on I Bonds is credited monthly and automatically reinvested. You get all the accumulated interest when you cash out. You don't get a separate payout monthly or quarterly.
You pay tax on the interest from I Bonds only when you decide to cash out, whereas you must pay taxes on the interest from CDs and bond funds every year even if you reinvest the interest. The interest from I Bonds is exempt from state and local income taxes. I Bonds are more appealing than other CDs and bonds because you have the tax deferral and the exemption from state and local income taxes.
Where to Buy I Bonds
There are two ways to buy I Bonds:
On a government website TreasuryDirect.gov
Use money from tax refund when you file your tax return (see details in Overpay Your Taxes to Buy I Bonds)
You can only use regular after-tax money to buy I Bonds. They are not available in any tax-advantaged accounts such as 401k-type plans, IRAs, or HSAs. Nor are they available through any brokerage firms such as Fidelity, Charles Schwab, or Vanguard.
Purchase Limit
I Bonds are such a great deal that the government puts a limit on how much you can buy each year. At current rates, you should get your full quota before you buy any other CDs or bond funds.
When you buy on the government website TreasuryDirect.gov, the limit is $10,000 each calendar year per Social Security Number as the primary owner in a personal account. When you buy using money from your tax refund, the limit is $5,000 per tax return (not per person when you file jointly).
If you have a trust, you're allowed to buy another $10,000 each calendar year in a trust account. If you have a business, the business can also buy $10,000 each calendar year.
A married couple each with a revocable living trust and a self-employment business can buy up to $65,000 each calendar year:
$10,000 in Person A's personal account with Person B as the second owner
$10,000 in Person B's personal account with Person A as the second owner
$10,000 in an account for Person A's revocable living trust
$10,000 in an account for Person B's revocable living trust
$10,000 in an account for Person A's business
$10,000 in an account for Person B's business
$5,000 using money from their tax refund
We had only one trust before. We created a second trust with software to buy another $10,000. For buying I Bonds in a trust account in general, please read Buy More I Bonds at TreasuryDirect in a Revocable Living Trust.
Open Account
If you never bought I Bonds before, you need to open an account at the government website treasurydirect.gov. You can buy more in the same account in subsequent years. Find the Open Account link on the top right.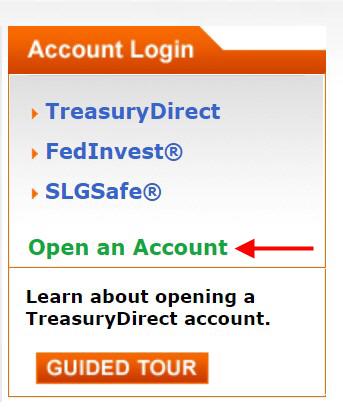 Choose the first option for Individual/Personal. Go here for a trust account or a small business account as well.

Now you can choose an individual, business, or trust account.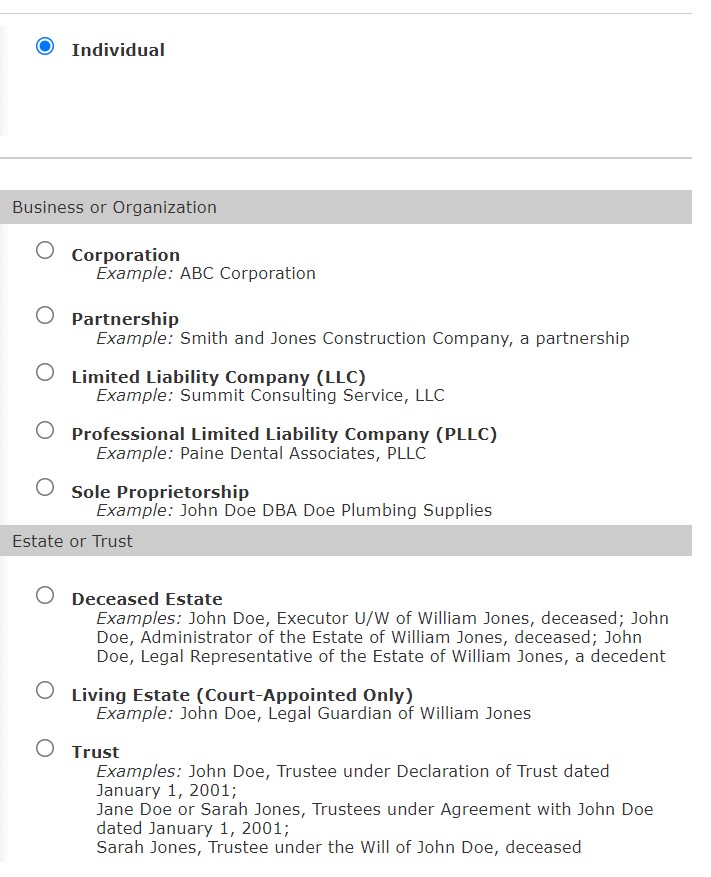 Next, fill out the required information and choose a security image, a password (not case sensitive), and security questions. If you're opening a trust account, see Buy More I Bonds at TreasuryDirect in a Revocable Living Trust for what to use as the name of your account.
The application also asks you to link a bank account. Important: Please choose a bank account you will keep using forever. Adding the bank account at the time of account application is super easy, but changing the bank account in the future may be quite difficult. Also, make sure you enter the bank routing number and account number correctly. They don't send any random deposits to verify the bank account. If you enter a wrong number now, it may be difficult to change it in the future.
You will receive your account number by email. Important: save your account number. You'll need it to log in.
Schedule Purchase
Log in with the account number. The system will email you a one-time password (OTP). Important: Don't use the back button in the browser when you use the TreasuryDirect.gov website.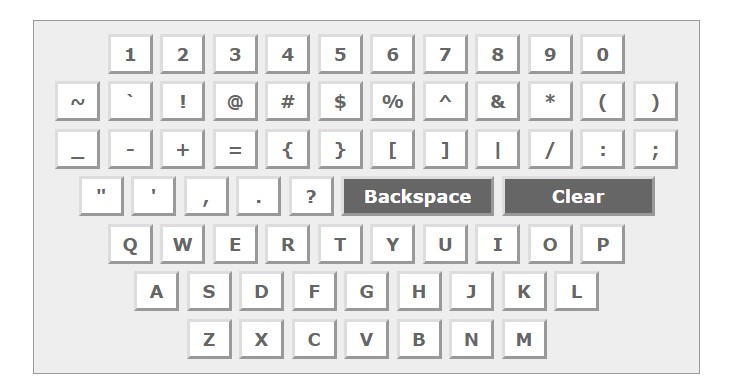 You enter the password you set when you opened the account on this virtual keyboard. It doesn't have lower case letters. That's why the password isn't case-sensitive.
After you log in, go to BuyDirect in the menu.

Although we use TreasuryDirect only to buy I Bonds, the account can be used for other products as well. Choose Series I near the bottom of the list.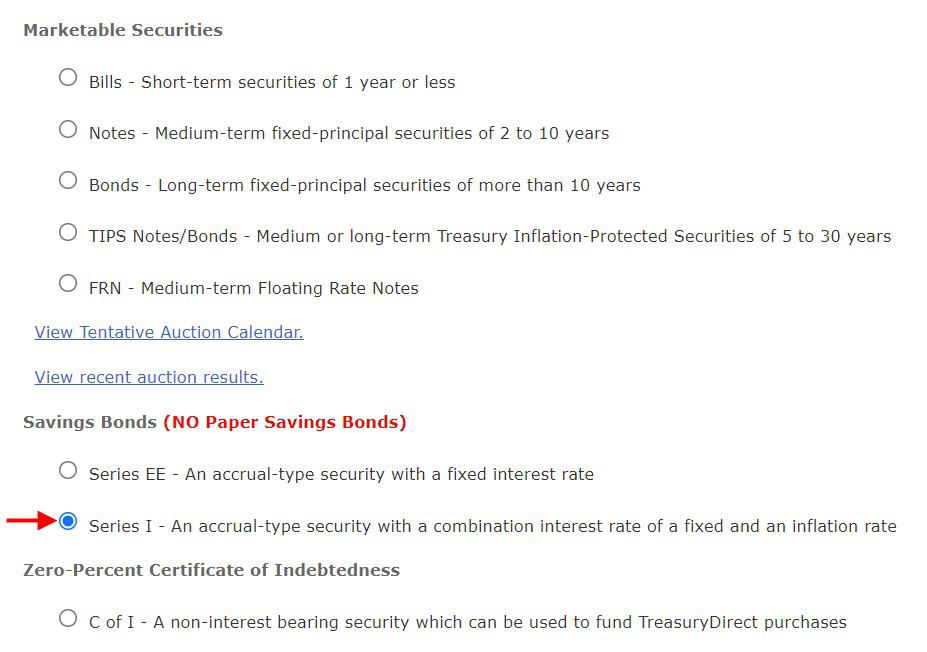 If you're buying I Bonds for the first time in a personal account, you need to create a Registration, which means whether you want the bonds to have:
Just yourself as the only owner; or
You as the primary owner and another person as the second owner; or
You as the owner and another person as the beneficiary.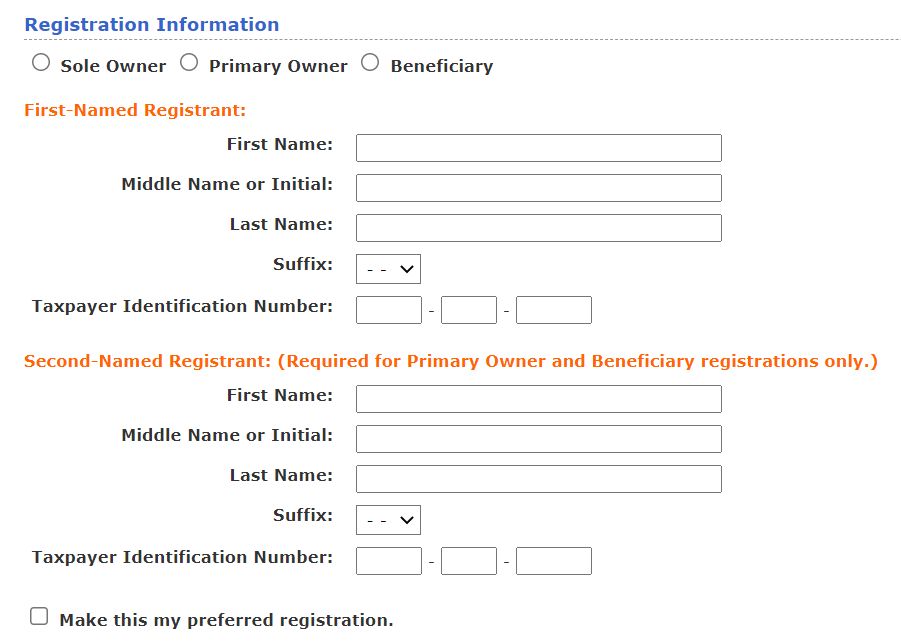 See I Bonds Beneficiary vs Second Owner in TreasuryDirect for the difference between a second owner and a beneficiary and How To Grant Transact Right on I Bonds to the Second Owner if you decide to have a second owner. Enter yourself as the "first-named registrant." Enter the second owner or the beneficiary as the "second-named registrant." Your second owner or beneficiary has to be a person. It can't be a trust or a charity.
Trust accounts and business accounts can't have a second owner or a beneficiary. The trust or the business will be the only owner.
Enter your purchase amount.

Choose the purchase date. Make sure you have money available in the linked bank account. They send out the debit the night before your scheduled purchase date. The debit will hit your bank account on the scheduled date first thing in the morning. They may lock your TreasuryDirect account if the debit bounces. It'll be difficult to unlock it. Important: Don't cut it too close to the end of the month, or else you may miss a month worth of interest. I give it a lead time of at least a week before the end of the month.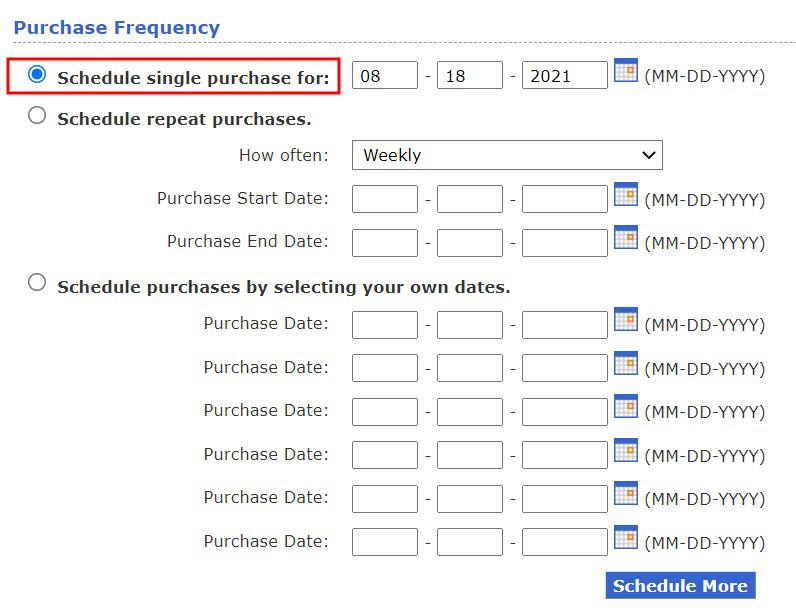 Check Balance
TreasuryDirect doesn't send any account statements. You check your balance on the website. Your total balance is displayed on the home page after you log in.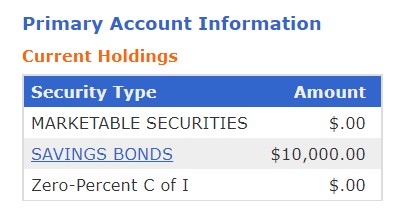 You'll see a list broken down by the Issue Date when you click on the Savings Bonds link.

If your bonds are still within 5 years from the Issue Date, the Current Value automatically excludes interest earned in the last three months. If you cash out today, you'll receive the Current Value. That's why you won't see any interest in the current value during the first three months.
The interest rate on your bonds doesn't necessarily change right away when a new rate is announced. Each bond stays on the previous rate for the full six months before it moves on to the next rate. The rates change in different months depending on when your bonds were originally issued. See When does my bond change rates?
Cash Out (Redeem)
Because I Bonds are better than other bonds and there's a purchase limit, you should hang on to your I Bonds as much as you can until you have better choices. If you need to cash out some of them (called "redeem" in the government lingo), you use the ManageDirect menu.

The option isn't really obvious unless you know what to look for.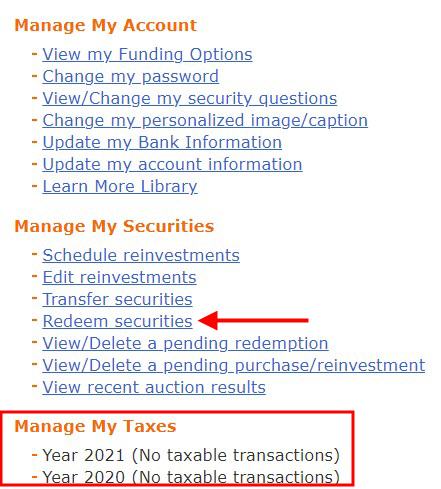 You don't have to cash out/redeem the full purchase. Redeeming only part of it is just fine. If you redeem $2,000 from a $10,000 original purchase, the accumulated interest on the $2,000 will be paid out. The money will be sent to your linked bank account.
Tax Forms
If you don't cash out (redeem) any I Bonds in any year, you won't get a 1099 form for the interest earned. You pay taxes only in the year you cash out.
If you do cash out (redeem) any I Bonds in any year, TreasuryDirect will generate a 1099 tax form for the accumulated interest since your original purchase. They don't send paper tax forms. You'll come back to the ManageDirect part of the website at tax time to get the tax form (see the screenshot above).
Say No To Management Fees
If you are paying an advisor a percentage of your assets, you are paying 5-10x too much. Learn how to find an independent advisor, pay for advice, and only the advice.