One limitation of buying I Bonds is the annual purchase limit. Each person can buy a maximum of $10,000 per calendar year as the primary owner. See How to Buy I Bonds.
If you see I Bonds as an investment, it's true you can't dump $500,000 into I Bonds in one shot. However, if you see I Bonds as another account, the $10,000/person limit is higher than the annual contribution limit for an IRA. You never hear people say you shouldn't bother contributing to an IRA because the limit is only $6,000 or $7,000 per year. People go to great lengths to contribute to their IRA with a backdoor Roth.
In addition, if you have a trust, you can buy another $10,000 per year under the name of the trust. A lawyer created a revocable living trust for us back in 2018. It was surprisingly easy when I opened an account for the trust at TreasuryDirect last month. It took only 15 minutes to open a new trust account and buy another $10,000 of I Bonds.
Entity Account
When you open a new account for the trust, you open an Entity Account with the type Trust. A trust account is one type of entity account. The other types include corporation, partnership, LLC, PLLC, and sole proprietorship. Please read Buy I Bonds for Your Business if you have a business.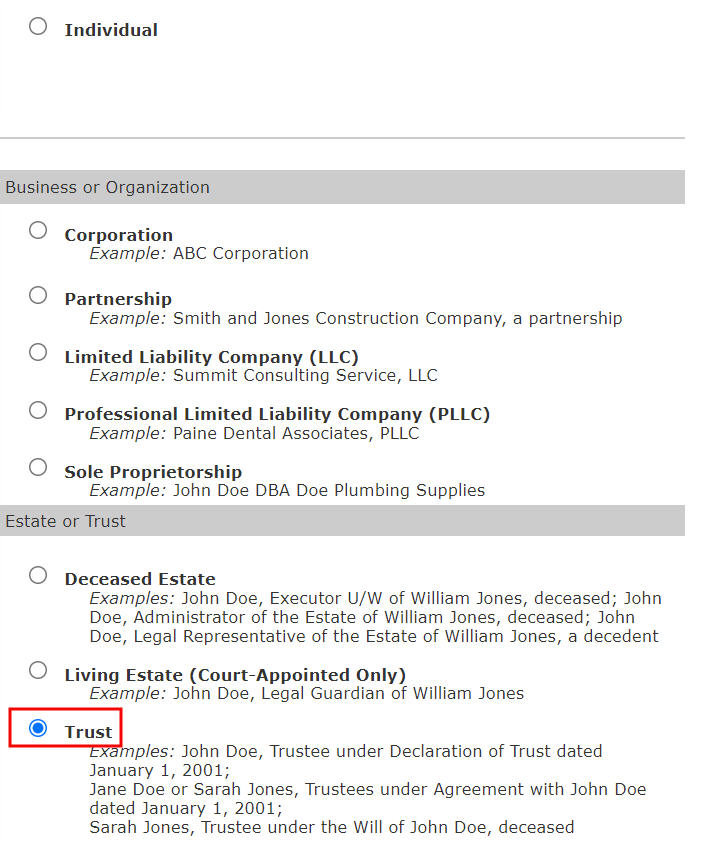 Registration Name
TreasuryDirect has instructions for opening an entity account. The instructions look complicated but it's not that bad if you read closely. The most tricky part is the name of the trust account. If your revocable living trust is created by a trust agreement, they want the registration to include both the trustee(s) and the grantor(s). If it's created by a declaration of trust, they want only the trustees.
My wife and I have a joint trust. We are both trustees and grantors. The trust document says "Trust Agreement" at the top. So the name of our registration becomes:
Person A or Person B, Trustees, [Name of the Trust] U/A with Person A and Person B dated [Month Date, Year]
The second trust we created using software says "Declaration of Trust" at the top. So the registration of this second trust is:
Person A or Person B, Trustees, [Name of the Trust] U/D/T dated [Month Date, Year]
The instructions include a list of approved abbreviations. "U/A" stands for Under Agreement. "U/D/T" stands for Under Declaration of Trust. They allow 150 characters in the registration. Although the registration looks long, it fits within 150 characters. TD FS Publication 0049 also has more examples for trust registrations.
Tax ID
A revocable living trust typically uses the grantor's Social Security Number as its Tax ID. The trust account at TreasuryDirect can still use the grantor's Social Security Number even though the grantor also has a personal account with TreasuryDirect under the same Social Security Number.
Email Address
The trustee acts as the manager of the trust account. TreasuryDirect wants an email address for sending one-time passwords and notifications. You can use the same email address if you'd like when you also have a personal account at TreasuryDirect.
Bank Account
The new trust account needs a linked bank account. The bank account doesn't have to be under the name of the trust. It can be the same personal bank account linked to the grantor's personal account at TreasuryDirect.
Between the personal account and the trust account, the Tax ID, the email address, and the linked bank account can all be the same if you'd like. The account number and the account type are different.
As in personal accounts, it's easy to link a bank account when you first open the account but it'll require paperwork and a long wait if you need to change the linked bank account. Be sure to link a bank account that you'll keep using forever. TreasuryDirect doesn't do any random deposits to verify the bank account. You can enter an order to buy as soon as you create the trust account. Make sure you give the correct bank account. If the debit bounces, your account will be locked and it'll take effort to unlock it.
Joint Trust or Separate Trusts
Some married couples have separate trusts for each spouse. If you have two trusts, you can open a separate account for each trust and buy another $10,000 of I Bonds every year in each account.
It's also not uncommon for a married couple to have a joint trust, in which they are both the trustees and the grantors. Although the trust can use either grantor's Social Security Number as its Tax ID, I don't think it can use two different Tax IDs simultaneously. If you have one joint trust, the trust can open only one account under one Tax ID and buy $10,000 per year in that one account. If you'd like to buy another $10,000 per year, you need a second trust. We used to have only one joint trust. We created a second trust with software (see below).
In addition, if the joint trust has two trustees and the trust has the word "AND" between the trustees, TreasuryDirect wants to be sure that the trust allows either trustee to act alone on behalf of the trust (versus requiring the consent of both trustees). They want documentation to demonstrate that's the case. Please read the official instructions for what they need and where to send them.
Multiple Trusts
Some people have multiple trusts, with different beneficiaries, funded with different assets, etc. As long as each trust has its own signed and notarized formal trust document, it's a separate trust from the other trusts even if all the trusts use the same tax ID for tax purposes. Each trust can open a TreasuryDirect account and buy up to $10,000 in I Bonds each calendar year (see comment #36 for a confirmation from TreasuryDirect customer service).
Create Trust by Software
If you don't have a trust and you don't otherwise need one, you can still create a trust just to buy more I Bonds. It may not be worth it if you have to go to a lawyer but if you make it really simple, you can do it with software. See Create a Simple Revocable Living Trust with Software for I Bonds.
Keep Them Separate
A trust can't be the beneficiary or the second owner on I Bonds. The beneficiary or the second owner has to be a person (see the previous post I Bonds Beneficiary vs Second Owner in TreasuryDirect).
Although there's a way to transfer existing bonds held in a personal account to a trust account, TreasuryDirect doesn't like it. They allow you to do either one of the following but not both:
Buy $10,000 per calendar year in a personal account and another $10,000 per calendar year in a trust account; OR
Transfer existing bonds from a personal account to a trust account (for example after you set up a trust) or transfer existing bonds from a trust account to a personal account (for example right before you revoke a trust).
You'll get a stern warning if you buy the maximum in both accounts and transfer from one account to the other in the same year because a transfer counts against the annual purchase limit of the destination account. So if you're buying the maximum in both a personal account and a trust account, you should just keep your personal account and your trust account separate. Designate a second owner or a beneficiary on the bonds in your personal account and grant the necessary rights. See the previous post How To Grant Rights on I Bonds to the Second Owner or Beneficiary.
When you're done with buying the maximum in both accounts and you wish to only use one account going forward, you can consolidate your holdings into one account in a year when you're not buying I Bonds in the destination account. Go to ManageDirect and then "Transfer securities." It may ask you to use FS Form 5511 and get a signature guarantee.
After You Die
The trust account has only one Account Manager. After the designated Account Manager dies, a co-trustee or a successor trustee must take over as the new Account Manager. The co-trustee or successor trustee needs to fill out FS Form 5446 to make the change and attach the required documentation.
Say No To Management Fees
If you are paying an advisor a percentage of your assets, you are paying 5-10x too much. Learn how to find an independent advisor, pay for advice, and only the advice.