The recent upticks in inflation made Series I Savings Bonds ("I Bonds") the best bonds you can buy, if only you can buy more of them. Because they're indexed to inflation, if inflation goes to 20%, I Bonds will earn 20%. Other than getting I Bonds using your tax refund, the only way to buy them is through a website from the federal government. See How to Buy I Bonds: Soup to Nuts.
My wife and I have been buying I Bonds through TreasuryDirect for many years now. When we buy, we always give both our names and our social security numbers: a primary owner WITH a second owner. I'm the primary owner and my wife is the second owner of the bonds I buy in my account. She's the primary owner and I'm the second owner of the bonds she buys in her account.
No Automatic Visibility
I only learned recently that when you're the second owner of the electronic I Bonds issued through TreasuryDirect, you don't automatically see those bonds in your account. The bonds have the second owner's name and Social Security Number in the registration but they're not automatically matched to the second owner's TreasuryDirect account. By default, only the primary owner can see the bonds and cash out. If the second owner wants to see them or cash them out, the primary owner has to specifically grant View or Transact rights on those bonds to the second owner's account.
The same also applies to beneficiaries. If you designated someone as the beneficiary of your I Bonds, they don't know what those bonds are and how much they're worth unless you specifically grant View rights on your I Bonds to the beneficiary.
TreasuryDirect describes how to do this in an FAQ: How do I grant View and Transact Rights to securities held in my TreasuryDirect account? Unfortunately, the rights are granted at the level of each bond in the account, not at the account level as a whole. Because we already own multiple bonds, we had to go through the steps one bond at a time in our respective accounts. We also have to remember to go through these steps every time we buy a new bond.
ManageDirect
After logging into TreasuryDirect, go to ManageDirect, and then click on Assign View or Transact rights under Manage My Securities.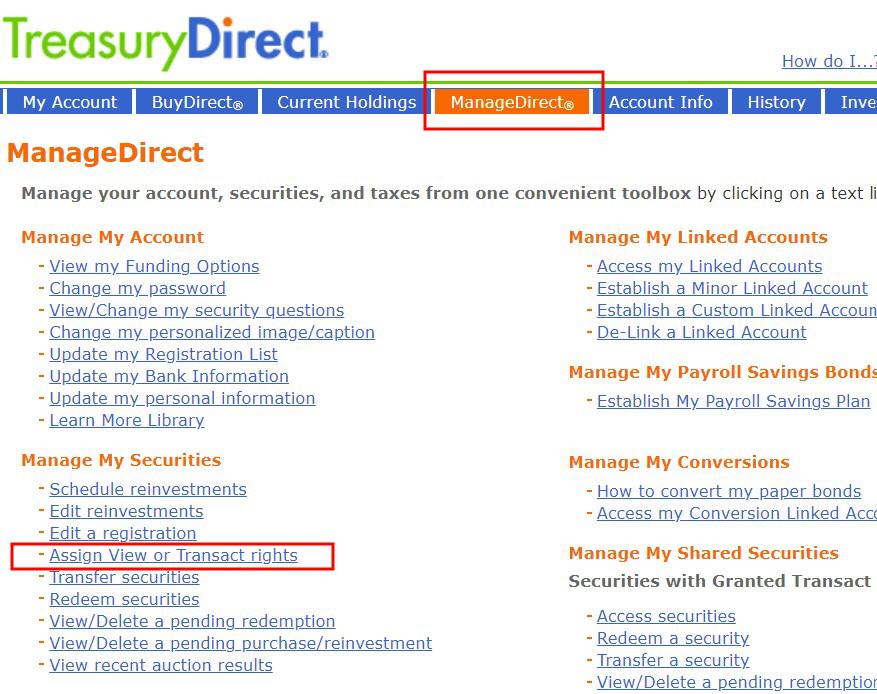 Grant View or Transact Rights
Select one of the bonds in your account.

If you have a second owner or beneficiary on the bond, the second owner's or the beneficiary's name and Social Security Number will show up automatically. You need to enter their TreasuryDirect account number. If your second owner or beneficiary doesn't have a TreasuryDirect account yet, they need to open an account even if they're not buying any I Bonds for themselves. They will exercise the rights you grant to them through their account.
If you choose "View rights only" the second owner or the beneficiary can only see the bond but can't redeem it. If you choose "Transact rights" the second owner can both see and redeem the bond. Transact rights only apply to a second owner. A beneficiary can be granted only View rights.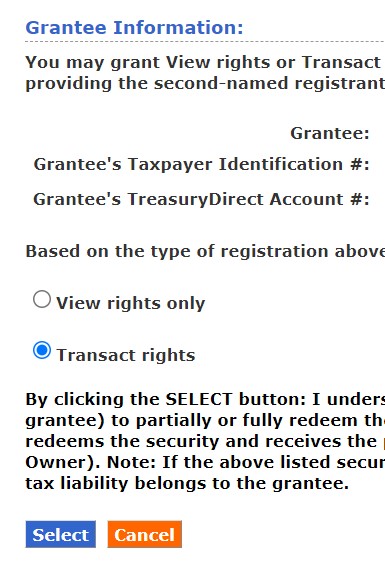 If the Transaction rights option isn't available, that means this bond isn't registered with a second owner. You need to change the bond's registration to you with a second owner. See How to Add a Joint Owner or Change Beneficiary on I Bonds.
After you grant the rights for one bond, you go back to the list of your bonds, choose another bond, and repeat. There's no way to grant rights to multiple bonds in one pass. The list doesn't show you which bonds you have already granted rights and which bonds you haven't. You'll have to remember your progress and pick the next bond.
Shared Securities
After the primary owner grants View or Transact rights to you as the second owner or beneficiary, you still don't see those bonds in the same view as the bonds of which you're the primary owner. To see the bonds on which you've been granted rights, go to ManageDirect, and then find the links under "Manage My Shared Securities" on the right. The "Access securities" link gives you a list of the bonds you were granted rights to see. If you'd like to redeem a bond, use the "Redeem a security" link.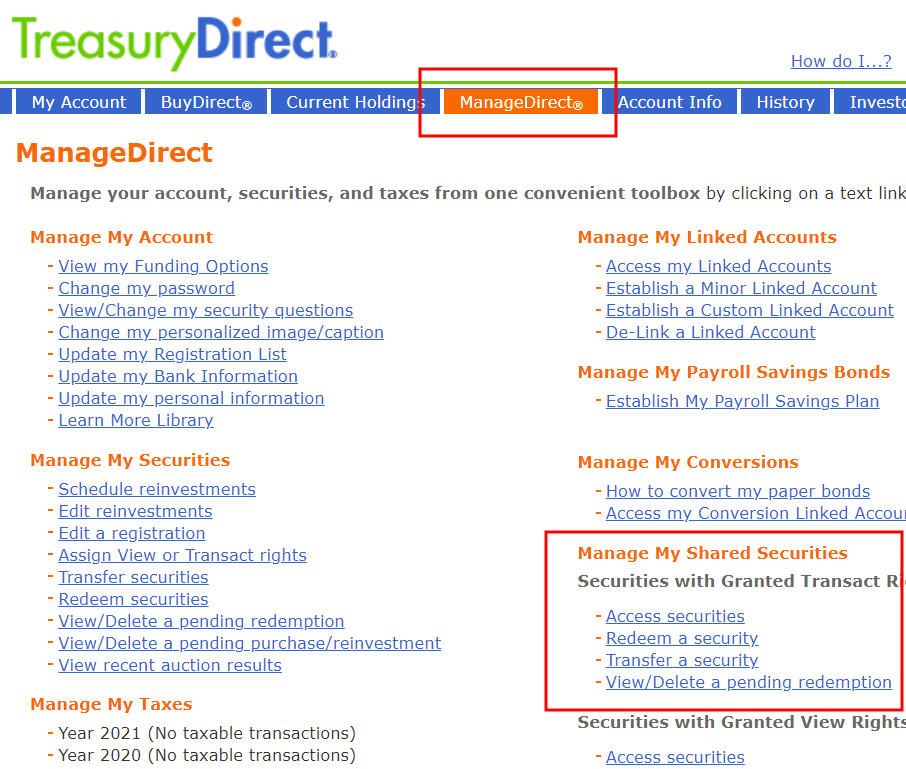 Primary Owner Rules
Another quirk in TreasuryDirect is that the primary owner can revoke the rights or remove the second owner or beneficiary altogether at any time. It's something to be aware of if your relationship with the other owner changes.
If you granted a second owner the Transact right and that second owner cashes in the bond, you still pay tax on the interest because you're the primary owner. Remember to look for the 1099 form in your account when that happens.
Say No To Management Fees
If you are paying an advisor a percentage of your assets, you are paying 5-10x too much. Learn how to find an independent advisor, pay for advice, and only the advice.