As recent as two weeks ago, the federal funds rate was still 1.5%. In two big moves, the Fed dropped the rate to zero.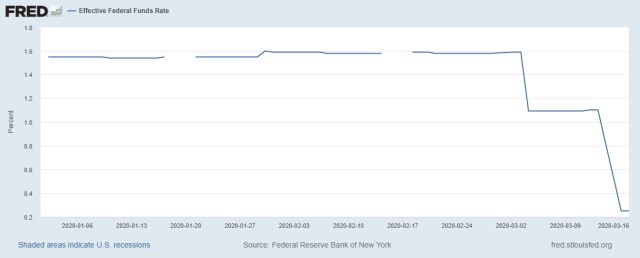 Short-term Treasury yields followed suit. The yield on six-month Treasury bills went from 1.5% a month ago to 0.08% yesterday.

Banks and credit unions are also dropping their rates on savings accounts and CDs but they aren't reacting as fast as the bond market. Some banks and credit unions are still offering the same rates as they did last year. Because those rates are more likely to go down, you may want to catch them now. Being able to get higher rates after the market conditions already changed dramatically is a unique advantage to retail investors.
I put $50 in a 17-month 2.25% add-on CD with Navy Federal Credit Union. Because the CD allows add-on deposits of up to $75,000, opening the CD now locks in the rate. If you opened a 5-year 3% add-on CD with GTE Financial when I posted about it last year (see Add-On CD As A Hedge For Lower Interest Rates), aren't you glad you will be able to get that 3% rate on new deposits for another four years?
I also signed up for the Ally Bank promotion, which gives an extra 1% for depositing up to $25,000 of new money. I will put the money in Ally's 11-month no-penalty CD. Even though the 1.55% rate on $25,000 isn't much higher than the current rate on their online savings account, the rate on the no-penalty CD is guaranteed not to drop during the CD's term, whereas the rates on savings accounts and money market funds can go down and down. With the 1% bonus, the total annualized yield on the no-penalty CD over 11 months is about 2.6%. Compare that to the 0.21% yield on 1-year Treasury!
If you have accounts with other banks or credit unions, you may find their rates also haven't dropped nearly as much as the bond market. Consider locking in some good rates before they disappear.
Say No To Management Fees
If you are paying an advisor a percentage of your assets, you are paying 5-10x too much. Learn how to find an independent advisor, pay for advice, and only the advice.