When you roll over a 401k from a previous employer, most 401k providers will sell all your investments and send a check to your new 401k or IRA provider. Some 401k providers will make the check payable to "[new provider] FBO [your name]" but they will send the check to you. You then forward the check to the new provider, together with any forms the new provider requires. See my experience in Fast and Easy Rollover From Schwab 401k to Fidelity IRA.
Either way, your money will be out of the market from the time the old provider liquidates your investments to the time your new provider receives the check and you reinvest the money. Although I haven't heard much talk about missing the best 10 days lately, when the stock market is going gangbusters, some understandably don't want to miss a beat, even for just a week or two for the rollover to complete.
How do you roll over a 401k without going out of the market? If you must go out of the market, how do you make the time as short as possible? Note I'm using 401k as a shorthand for employer-sponsored retirement plans. This applies equally to 403b and 457 plans as well.
In-House IRA
Some 401k providers such as Fidelity or Schwab also offer IRAs. If you roll over to an IRA "in house" they're often able to roll over the 401k assets in kind — moving the shares instead of selling them for cash. I know Fidelity can do that for sure. When they move the shares, your money stays in the market at all times.
Once you have the assets in an IRA, you can transfer the IRA to your desired destination, again in kind.
This two-step process keeps your money in the market.
The outgoing IRA custodian may charge you an account closing fee. The new custodian often reimburses you for the fee. Some even give you a good bonus for bringing money over. If you are going this route, be sure to ask about the account closing fee, any reimbursement, and bonus.
Once the assets arrive at your new account, you can take your sweet time in reallocating to the investments you want.
Fill With Bonds
If the account you're trying to roll over is relatively small, you can exchange the stock funds in it for bond funds while simultaneously exchanging bond funds for stock funds in your other accounts. Because bond fund prices don't fluctuate as much as stock funds, you will be less affected when your bond funds are out of the market during the move.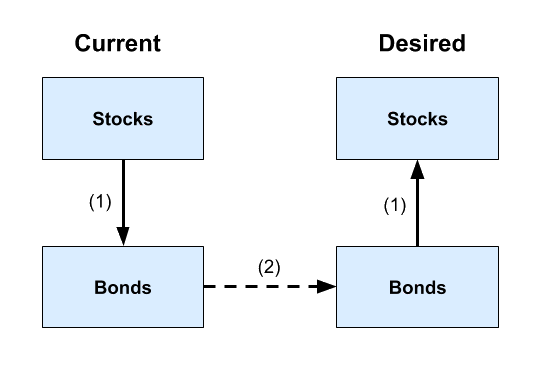 This only works if you currently have more money invested in bonds in your other accounts than the amount in stock funds in your 401k.
Say No To Management Fees
If you are paying an advisor a percentage of your assets, you are paying 5-10x too much. Learn how to find an independent advisor, pay for advice, and only the advice.