More and more people are on high deductible health insurance these days. Most people on high deductible insurance don't meet their annual deductible when the deductible is $3,000, $5,000, or sometimes over $10,000 a year. In such case you are responsible for 100% of the healthcare cost unless there's a catastrophe. When you have to pay 100% of the cost, having insurance feels like not having insurance.
On one hand we can argue that's way it should be with insurance. Insurance should be only for catastrophes. After all homeowner's insurance works this way. You don't file a homeowner's insurance claim for normal maintenance. Most people never filed any homeowner's insurance claim in their life. On the other hand, having high deductible health insurance works quite differently than when you only have to pay a $20 copay or 10% co-insurance. A new situation requires learning new tactics.
I included this article in New York Times in a weekly digest email a few weeks ago: Shopping for Health Care Doesn't Work. So What Might? The tag line for the article said "It's often too complicated. And even when it isn't, almost no one does it." My comment was that we shouldn't give up too easily. With something as complex as healthcare, we can't expect something to "work" 100% of the time for 100% of the people. There is no magic wand. Every bit helps.
Shopping doesn't work when you are unconscious in an ambulance, but it can work when you are not in a hurry. Even if "almost no one does it" you can still do it and tell others how you did it. Then more people will do it. Even if you did it once and it didn't quite work, you can still do it again in a different situation and it may work the second time, or the third time, or the fourth time.
A shopping "opportunity" came up for us recently. My wife hurt her shoulder in doing sports. She went to physical therapy. It helped somewhat but not completely. She was concerned there might be a tear. Maybe she needed an MRI. If she did, we would be on the hook for 100% because our health insurance through ACA has a $9,600 annual deductible, which we don't expect to meet.
Our doctor works at a clinic owned by a large integrated health system. This health system has doctors, labs, urgent care centers, hospitals, … everything. Through mergers and acquisitions, they occupied a large footprint in our area. As a result, they have huge power over insurance companies. Even though they are not-for-profit, their prices are much higher than others. In a strange way, not-for-profit in healthcare often means higher prices, not lower prices.
In the ACA marketplace, this health system contracted with only one insurance company. No other insurance companies can list their doctors and facilities as in-network. In exchange, the insurance company that had exclusive access agreed to the high prices charged by this health system. Of course the insurance company just charges a higher premium to the policyholders. It's a win-win for the insurance company and the health system, and a lose-lose for the citizens (higher premium and higher out-of-pocket before meeting the deductible).
We are OK with paying a higher price for office visits. Normally we don't go to the doctor that much. However, if my wife needed an MRI, the easiest thing for the doctor to do would be to order one at their in-house facility, which would cost much more than an MRI done at an outside, independent facility.
Fortunately the insurance company offers a cost estimator tool that can give us an idea ahead of time how much more it would be if it's done in-house versus outside.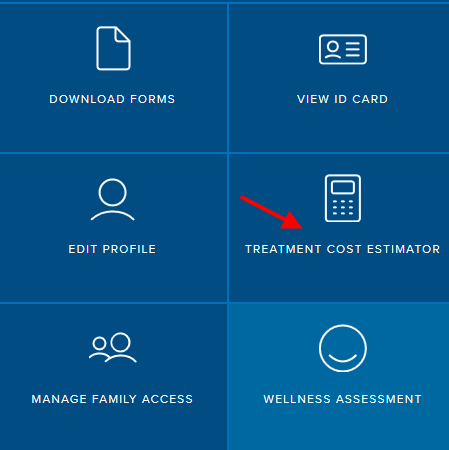 When I logged in to the insurance company's website (Blue Shield of California), I saw a graphic of a treatment cost estimator on the right hand side. It links to a site run by a third-party contractor.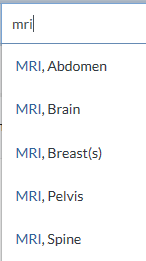 When I typed in 'mri' as a treatment, I saw it further divided into MRI for different parts of the body.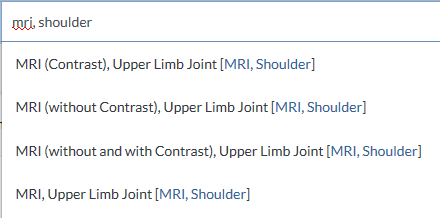 When I continued with 'mri, shoulder' I saw different types of MRIs, with contrast or without. I didn't know which type she would need but that wasn't important. I only needed to see the relative cost difference. If I wanted, I could also explore each option, with contrast, without contrast, both with and without, etc.

I just picked without contrast. It gave me an average cost of $952 and a cost range between $174 and $3,166. Wait, for the same service, you can spend $174 or you can spend $3,166. Do you think you should shop?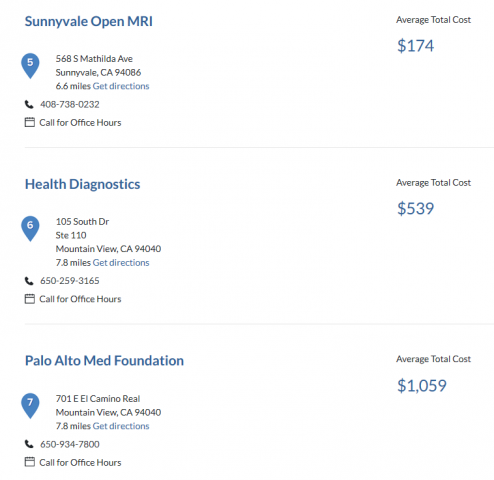 The treatment cost estimator listed the average total cost by each specific provider in the network, in the same fashion as when you look for airfare on Expedia or Kayak. I printed out the list. My wife took it to the doctor. When the doctor said she needed an MRI, she asked the doctor to order it at one of the lower-cost facilities as long as the doctor's assistant was able to confirm that the facility could do what the doctor wanted. It turned out the $174 place couldn't but the $539 place could. So the order was sent to the $539 place. Although $539 wasn't the lowest on the list, it was lower than the $952 average, lower than the $1,059 price you see above, and far lower than $3,166 at the high end.

She did the MRI. The provider billed insurance. The in-network price came out to $861.48 – $348.64 = $512.84. It was close enough to the $539 estimate.
There, that was how shopping worked. Spending 15 minutes before going to the doctor saved us at least $500 versus just going with the flow and letting the doctor order it at their in-house facility.
When you are about to spend $500, $1,000, or $3,000, you would normally shop around, right? Why should healthcare be any different? The doctor's assistant had to make a few phone calls. That's part of the service we are paying for with the office visit. It's our right to select the imaging facility. We are not obligated to use the in-house facility. The doctor didn't mind at all. The doctor was only interested in getting good images for an accurate diagnosis. Extra money earned by the in-house facility doesn't flow to the doctor anyway.
It probably won't work every single time, but every time it works it's a win.
I didn't know my insurance offered this very useful cost estimator tool before I looked for it. Your insurance may already offer a similar tool but you don't know either. Here are some links for the major health insurance companies:
If your insurance company isn't on this list, Google the name of your insurance company plus "cost estimator." It may be tucked away somewhere.
Say No To Management Fees
If you are paying an advisor a percentage of your assets, you are paying 5-10x too much. Learn how to find an independent advisor, pay for advice, and only the advice.