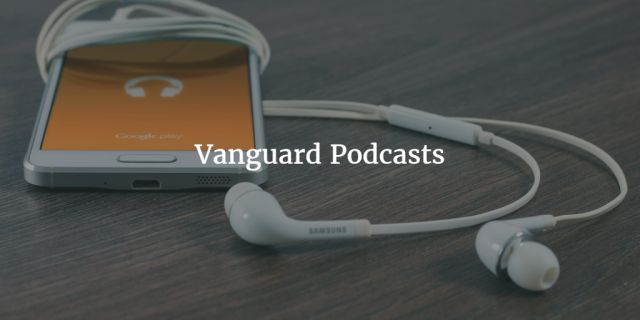 I listen to podcasts on the way to and from work. I just found out Vanguard offers two good podcasts.
Vanguard Perspectives®
This one is in video but you can turn off the screen and just listen to the audio part. It covers some macroeconomic topics as well as topics of interest to individual investors. Here are the titles of some recent episodes:
Considerations for combining active and passive in a portfolio
Asset allocation in retirement
Learn about tax efficient withdrawals in retirement
Market projections: What's on the horizon?
How to control your emotions as an investor
Sub-zero rates: Has monetary policy reached its limit?
Is "global policy divergence" a misnomer?
Vanguard Investment Commentary
I like this one better. It's more relevant to the individual investors and less punditry. Here are the titles of some recent episodes:
What's driving strong flows into fixed income?
A new approach to retirement spending
Should investors care about the BRICS in 2016?
The allure of alternative investments
Social Security: Getting the most benefit
Portfolio rebalancing: Why it's important, what to consider
Smartphone or Computer
You can listen to these podcasts on your smartphone or download them using podcast software on a computer. On an iPhone or an iPad, just launch the built-in Podcasts app and search for Vanguard. On Android, I use the free Player FM app. Again, just search for Vanguard after you launch the app.
On a computer, you can use iTunes or the free open source gPodder software. In iTunes, go to the Podcasts section and search for Vanguard. If you use gPodder, you will need these feed links:
Enjoy!
Say No To Management Fees
If you are paying an advisor a percentage of your assets, you are paying 5-10x too much. Learn how to find an independent advisor, pay for advice, and only the advice.