Over the Thanksgiving holidays a friend asked me whether he should buy whole life insurance. He said an acquaintance had been pitching him this whole life insurance policy as a better way to invest in fixed income. The idea is it has no risk from the stock market and it's tax free.
I told him he shouldn't buy it but he still asked me to look at the details in the illustration he received from the life insurance agent. The illustration is for a Whole Life Legacy 10 Pay with Life Insurance Supplement Rider (LISR) from MassMutual. It runs over 30 pages, full of numbers and unfamiliar terms to my friend. I really don't understand why anyone wants to torture him- or herself with such a document. Maybe that's the point of the document. When there are so many numbers, you don't know which ones to look at. You are left with the agent's narrative: tax free and no risk from the stock market, which are both true and misleading at the same time.
Because my friend doesn't really need extra life insurance, he's only interested in using it as a tax-free investment vehicle. The policy is structured as a blend of whole life and declining one-year term life insurance. As far as I can tell, it's designed that way to get around the IRS limit on how much money you can put into a life insurance policy up front and not make it a Modified Endowment Contract.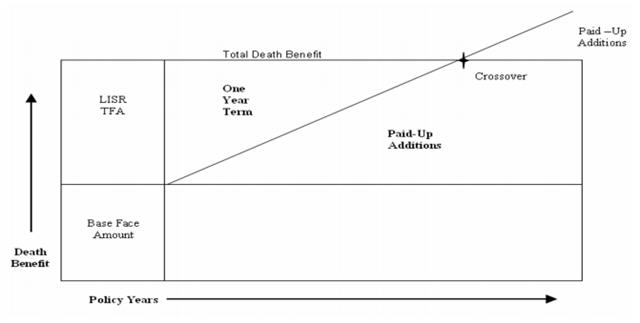 I was able to point out to my friend that the "total cash value" column was the most relevant numbers to him among pages and pages of numbers in the illustration. The most revealing number is the total cash value after one year. After he pays $30,000, if he decides to get out at the end of one year, he would get back only $24,000. What would cause the insurance company to suffer such a loss to the tune of 20% in just one year? It doesn't cost $6,000 to insure against death for only one year. That $6,000 for the most part goes to the insurance agent. No wonder the insurance agent was pestering him to buy the whole life policy!
Low Returns
An Internal Rate of Return calculation using a spreadsheet shows the 10-year average rate of return would be 0.9% per year guaranteed and 2.9% per year non-guaranteed. Non-guaranteed is just an estimate. The actual return could be higher or lower. Considering that my friend can buy a 7-year CD at a 3% yield from Andrews Federal Credit Union with government insurance, I don't see any point in locking in the money longer AND earning less.
Holding the policy longer gets a little better. The 20-year average rate of return would be 2.5% per year guaranteed and 4.5% per year non-guaranteed. Nowadays even simply buying a 20-year Treasury would get you a return of 2.7% per year. It makes the 2.5% guaranteed return from the whole life policy a moot point. Corporate bond yields are higher than Treasury yields. Fidelity shows me several AA-rated 20-year corporate bonds with yields at about 4%. Who knows whether the 4.5% non-guaranteed return from the whole life policy will materialize or not.
Source of Low Returns
How come you are getting only bond-like returns even when you invest with the insurance company for 20 years? Just take a look at the balance sheet of the insurance company. After all, money does not grow on trees. The insurance company can only give you what they make from investing your money after taking out their expenses. This chart from MassMutual's annual report shows the breakdown of its invested assets: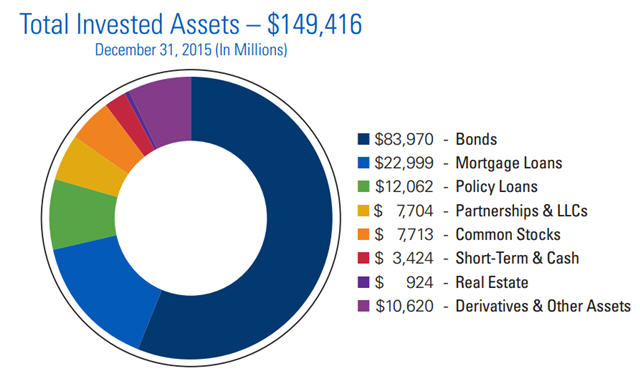 If you add up bonds, mortgage loans, policy loans, and short-term & cash, they make up 82% of the total invested assets. You are getting bond-like returns at best because the insurance company itself invests in bonds for the most part.
Tax Free
A major selling point from the insurance agent is that the whole life policy is tax free. It's true, but it's not what you think. The increase in cash value is tax free, but you can only stare at it. If you get satisfaction from only looking at larger and larger numbers but you never use the money in your life, it's indeed tax free. Your beneficiaries will get the money. It's not that simple if you yourself actually want to use the money.
You can take tax-free loans from the insurance company using the cash value as your collateral. Taking loans isn't free. Instead of paying taxes to the government, you pay interest to the insurance company. You pay taxes only once when you get the money. You pay interest every year when you have a loan. If you take loans and you pay interest year after year, you may be worse off than just paying taxes.
The illustration shows a scenario with taking out tax-free loans. The rates of return with tax-free loans are worse than the rates of return without loans.
| | Without Loans | With Loans |
| --- | --- | --- |
| 10-year non-guaranteed average annual rate of return | 2.9% | -1.7% |
| 20-year non-guaranteed average annual rate of return | 4.5% | 1.9% |
What does -1.7% per year return for 10 years mean? It's equivalent to investing $10,000 at the beginning and getting back only $8,400 after 10 years. You are supposed to grow your money and beat inflation. Now you are losing money even before inflation. One must be crazy to want to do that. Even the -1.7% is non-guaranteed. It could be worse. If you invest for 20 years, is 1.9% per year with tax-free loans really better than 4% taxable from just buying a corporate bond?
Tax free is good, but not if you get a worse return than just paying taxes.
At this point insurance agents will come out and say this policy isn't structured properly or it isn't sold properly. Somehow the improperly sold policies are always done by other agents but they themselves have the magical properly structured policies that do wonders.
Come think of it, thinking there is magic led my friend down this path of getting pitched the whole life policy. We need to stop looking for magic. See Why Do People Buy Snake Oil?
Say No To Management Fees
If you are paying an advisor a percentage of your assets, you are paying 5-10x too much. Learn how to find an independent advisor, pay for advice, and only the advice.