The age of majority is 18 in most states in the U.S. Kids under 18 are allowed to work for pay but they aren't allowed to open an account with a financial institution unless an adult is either a joint owner or a custodian. This is because kids under 18 can't legally sign a contract and agree to the terms.
When a kid works for pay, the kid is eligible to contribute to a Roth IRA based on their earnings, up to the kid's income from their job or the annual Roth IRA contribution limit, whichever is less.
The money doesn't have to literally come from the kid. If the kid spent their money on something else, a parent can open a Roth IRA for the kid and fund the Roth IRA with the parent's money. It'll be the same as the kid contributed their income to the Roth IRA and the parent gave the kid money to spend on something else.
However, an IRA by definition has only one owner; there's no joint IRA. Because the kid under 18 can't open the account themselves, an adult has to do it as the custodian. This type of account is called a custodial Roth IRA. The kid is the owner. The adult is the custodian. When the kid becomes an adult, the account turns into a regular Roth IRA.
A custodial Roth IRA is different from a UGMA/UTMA account. Earnings in a custodial Roth IRA are tax free. Earnings in a UGMA/UTMA account are still taxable. But funding a custodial IRA has an upper limit up to lesser of the kid's work income or the annual contribution limit. If the kid doesn't work for pay, you can't fund a custodial Roth IRA. A UGMA/UTMA account doesn't have such limit.
Vanguard, Fidelity, and Schwab all offer custodial Roth IRAs.
Vanguard
[Hat tip to reader always_gone in comment #14 for how to do it online.]
With Vanguard, after you log in, click on Forms in the top menu. The more intuitive "Open an Account" menu item doesn't work for custodial IRAs.

Expand the second item in the list – "Open or Transfer a Retirement Account." Click on "Open personal IRA" and then "Open or upgrade a retirement account."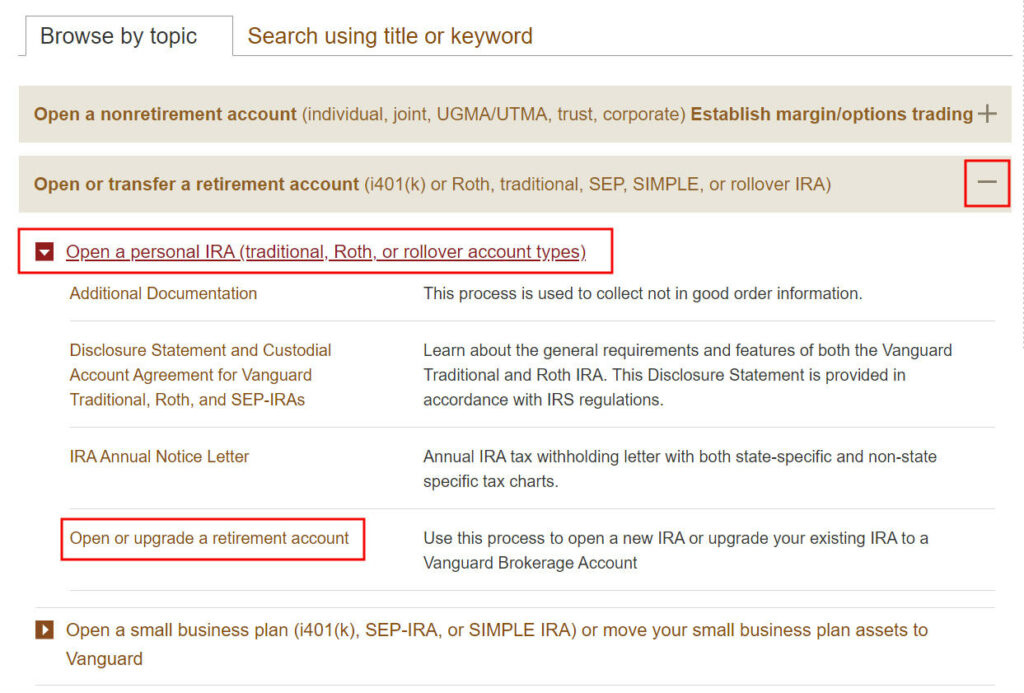 You will answer a series of questions from there. The critical part is in Step 3, where you choose to have a minor as the owner of the new Roth IRA.

You will DocuSign a form after you answer all the questions.
Buying an all-in-one Vanguard Target Retirement Fund requires a $1,000 minimum investment. You can buy ETFs with less money but because you can buy only whole shares, it's not as easy to invest small amounts. Vanguard charges a $20 annual maintenance fee for small accounts but it can be waived if you sign up for e-delivery of statements and documents.
Fidelity
You can open a custodial Roth IRA at Fidelity online with no minimum balance and no annual maintenance fee. A Fidelity Freedom Index Fund would be a good all-in-one option. It doesn't require any minimum investment. See Fidelity Freedom Index Funds: Hidden Gems For Your IRA and 401k.
Charles Schwab
Charles Schwab also offers a custodial Roth IRA with no minimum balance and no annual maintenance fee. They ask you to download a paper application and mail it in. A Schwab Target Index Fund would be a good all-in-one option there. The minimum investment into a Schwab Target Index Fund is only $1. See Schwab Target Index Funds: Hidden Gems For Your IRA and 401k.
***
If your kids work, seize the opportunity to open a custodial Roth IRA for them. Among these three brokers, I would choose Fidelity, because they make it easy to open an account online and you can invest in an all-in-one fund with no minimum investment and no annual maintenance fee.
Say No To Management Fees
If you are paying an advisor a percentage of your assets, you are paying 5-10x too much. Learn how to find an independent advisor, pay for advice, and only the advice.