I had my credit frozen at big three credit bureaus after the burglary event two years ago (see Lessons After A Burglary: Physical Security). I don't subscribe to any credit monitoring service like Credit Karma. Two banks that I have a credit card with — Bank of America and Barclays — give monthly updated FICO scores for free. I only look at them very infrequently.
When I checked my credit score last week, I saw a large drop in November 2018. That was when I paid off my mortgage (see I Paid Off My Mortgage But My Housing Cost Didn't Go Down). The graph below was from Bank of America. My FICO score dropped 24 points from 829 to 805 right after I paid off the mortgage. It stayed around there since then. The latest score was 811.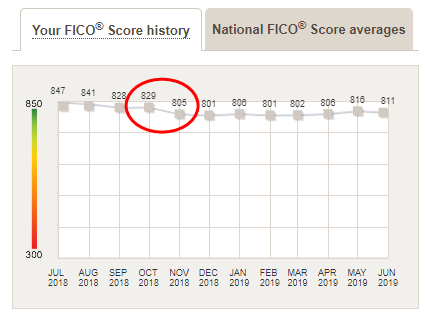 I also checked on Barclays. The FICO score history graph there showed the same thing. My score dropped 29 points from 828 to 799 after I paid off my mortgage. The score also stayed there since then.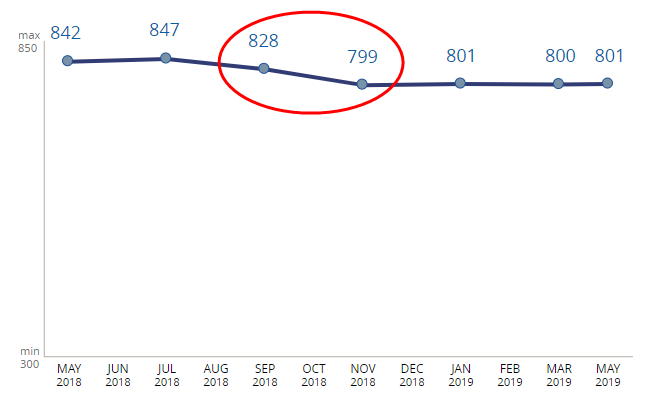 Both places also showed a drop of about 20 points between July and September 2018. I made large principal payments toward the mortgage during that time. If I also include that effect, the total drop from paying off the mortgage would be 42 points and 48 points from my two sources.
The banks also gave the reasons for why my credit score wasn't higher. The No.1 reason given was:
Proportion of loan balances to loan amounts is too high

FICO® Scores weigh the balances of mortgage and non-mortgage installment loans (such as auto or student loans) against the original loan amounts shown on a person's credit report. Your score was impacted because your proportion of installment loan balances to the original loan amounts is too high.
When you read reasons like this, you can't read them too literally. It's not saying my current loan balance is really "too high." It just means if the proportion of my loan balances to the original loan amounts was lower, my credit score could be higher. After I paid off my mortgage, I still have a 0% car loan (see Buy a New Car Easily Without Using a Service). The 5-year loan was taken out in December 2017. So I still have a balance of 70% of the original loan amount. This is now flagged when that 70% number looks high. It wasn't an issue when my outstanding balance on the mortgage was low relative to the original loan amount.
Altogether I would call it drop of 20-50 points from paying off the mortgage. It doesn't bother me because I'm not looking for more credit. Because my credit score is still good afterwards, it doesn't affect anything. The credit score should really be called a credit grade. As long as your score still belongs to the excellent grade, it makes zero difference whether the score is 801, 829, or 847. It matters only when the drop kicks you below a cutoff. Usually any score above mid-700 will be considered as good credit.
Say No To Management Fees
If you are paying an advisor a percentage of your assets, you are paying 5-10x too much. Learn how to find an independent advisor, pay for advice, and only the advice.