Although every financial institution would like to have us use them for everything, most people have accounts at multiple places. It helps to consolidate, but no one institution does the best in everything. Vanguard has some good funds not available anywhere else. Fidelity has good customer service. Bank of America has a good credit card rewards program; the best way to qualify for it is through a Merrill Edge account.
It's helpful to have a holistic view of all your investments in different accounts at different places. Some brokers offer functionality to track investments held elsewhere. I use the Full View feature from Fidelity.
Many bloggers recommend Personal Capital because Personal Capital pays bloggers for referrals. I'm not paid by Fidelity to write this. I'm only writing as a Fidelity customer.
Hosted by eMoney
Fidelity's Full View feature is hosted by eMoney. eMoney is a popular financial planning software used by financial advisors, with the highest market share according to one survey. Because financial advisors need to see the full picture of a client's investments in multiple accounts before they give advice, eMoney has built features to pull in account and holdings information from a wide array of sources. It analyzes the aggregated data for financial advisors.
Fidelity bought eMoney some years ago. When you activate the Full View feature in your Fidelity online account, Fidelity basically creates a limited account for you on the eMoney platform through single sign-on. Because eMoney already has the account aggregation and portfolio analysis functionality and eMoney maintains it on an ongoing basis for financial advisors anyway, Fidelity gets the features for retail investors at no additional cost.
Full View is hosted by eMoney but the financial planning features of eMoney aren't accessible in Full View unless you work with a Fidelity advisor.
If you don't have a Fidelity account, you can open a small account or register a guest login to use Full View.
Activate Full View
To activate or access Full View, click on Accounts & Trade in the top menu and then Full View.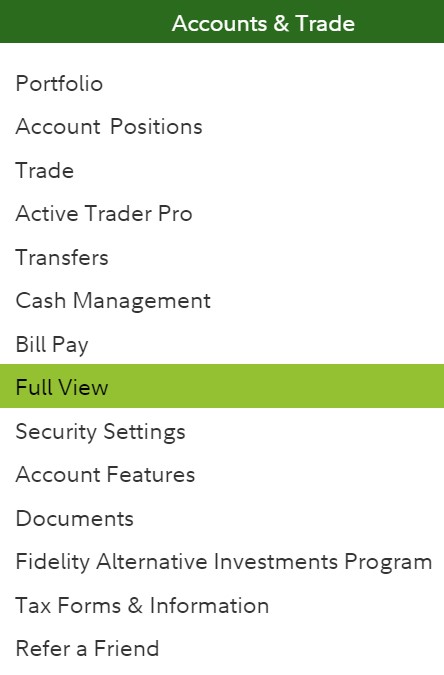 You'll be asked to agree to the terms and conditions. You can unsubscribe from Full View in Settings on the top right if you don't like it after you try it.
(Optional) Add Spouse
If you're married, you can choose to add an entry for your spouse in Full View. This way you can differentiate accounts owned by you, your spouse, and joint accounts (see the Net Worth Statement section below). Skip this part if you don't care to differentiate account ownership.

Click on Organizer in the menu and then click on your name.

Click on Edit next to Basic Info and change your Marital Status to Married. Then you'll see a link to add your spouse.
Link Account
Fidelity accounts are automatically populated in Full View, including accounts that you're authorized to access. If you're married and you'd like to track accounts owned by both of you, it's best to get authorization from your spouse in Fidelity first. See How to Manage a Family Member's Fidelity Accounts.
You can link non-Fidelity accounts or you can add them manually. Linking accounts is the most convenient but it depends on where you have your other accounts.
Some financial institutions treat eMoney as an approved application to pull information through a secure read-only interface. Because eMoney is widely used by financial advisors, these financial institutions have vetted eMoney's security and they're comfortable providing special access to eMoney.

Choose "I have an online login to this account" to link an account.


When you search for the name of the financial institution, if it says "via Direct Web Service" or "via Direct Web API" it means the accounts can be linked through a special back channel. Charles Schwab and Vanguard fall into this camp. I linked my Vanguard accounts in Full View.
You enter your username and password once in Full View. eMoney pulls data through a secure special channel. Vanguard and Charles Schwab don't require two-factor authentication (2FA) from eMoney because they treat eMoney as a trusted aggregation service.
When your non-Fidelity accounts are linked in Full View, any changes in the accounts are automatically reflected in Full View. Try linking your accounts first. eMoney has built connections to many financial institutions.
Add Account Manually
If you only see "via Direct Web Access" when you search for the financial institution for linking, it means the institution doesn't provide a special back channel to eMoney.

In that case eMoney logs in online with your username and password. This is problematic when your account requires a security code. It works once but it stops working the next time because eMoney can't get your security code.
Merrill Edge falls into this camp. I had to add my Merrill Edge account manually.
You can also choose to always add your account manually if you aren't comfortable entering your password in eMoney.

Choose "I don't have an online login to this account" when you add an account manually.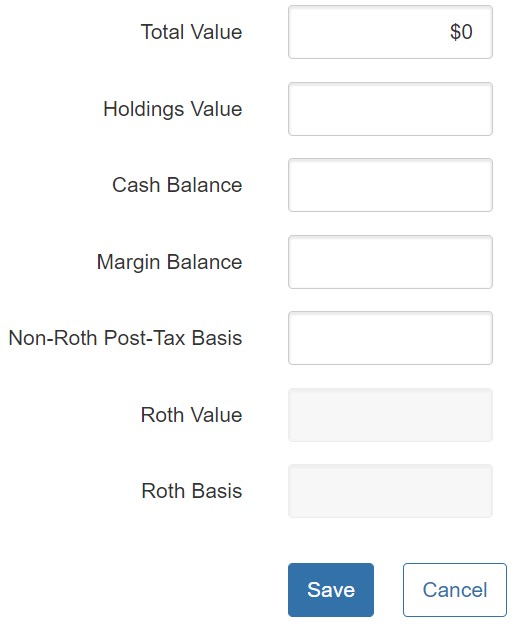 Leave these values blank if you want to use the portfolio analysis feature to look into the holdings in this account.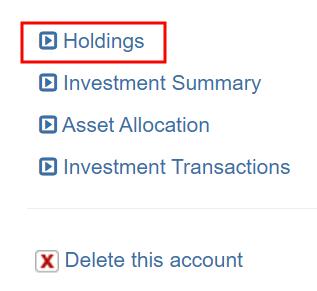 Click on the account you just added and then click on Holdings. Now you can add holdings with the ticker symbols and the numbers of shares. eMoney will update the account values with daily share prices but if the holdings and the numbers of shares change, you'll have to update them manually, whereas linked accounts are automatically updated daily.
(Optional) Link Spending Accounts
Full View also supports linking bank accounts and credit cards to track spending. Because most people don't go to a financial advisor for advice on budgeting and spending, I suspect these features aren't a high priority in eMoney. It works better if your spending accounts are at large banks such as Chase or Bank of America, but don't expect bells and whistles.
I linked my credit cards from Bank of America just to see how it works. Full View pulls in my credit card transactions and puts them into spending categories (groceries, gas, travel, …). Sometimes it categorizes correctly; sometimes it doesn't. You can correct the category for a transaction and define a rule to help it categorize correctly next time.
You get a pie chart and a list of how much you spent in each category in a set time period. The spending transactions only live in eMoney. Fidelity personnel can't see your spending data.
Linking spending accounts is completely optional. It doesn't affect the portfolio tracking part.
Net Worth Statement
After you add all your accounts, head over to Reports in the menu.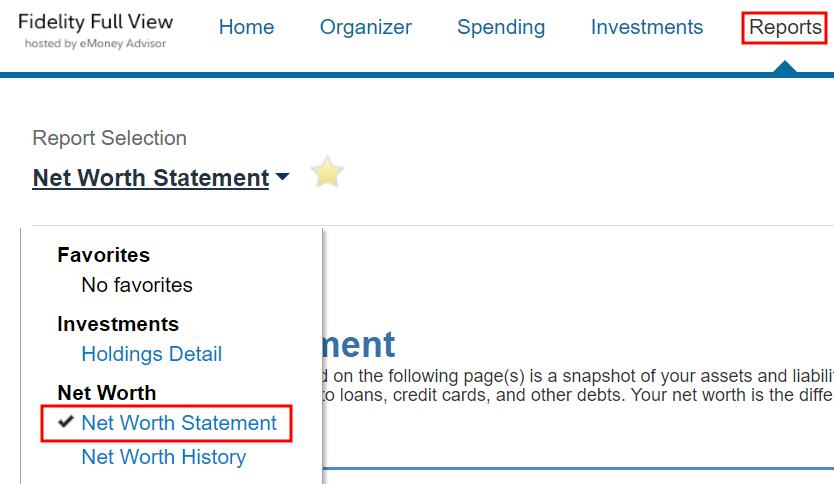 The Net Worth Statement report shows the values of all your accounts grouped by account type (taxable, pre-tax, Roth, HSA) and by ownership (you, spouse, joint).
| | | | |
| --- | --- | --- | --- |
| | You | Spouse | Joint |
| Taxable | | | |
| Account 1 | | | xxxxx |
| Pre-tax | | | |
| Account 2 | xxxxx | | |
| Account 3 | | xxxxx | |
| Roth | | | |
| Account 4 | xxxxx | | |
| Account 5 | | xxxxx | |
| HSA | | | |
| Account 6 | xxxxx | | |
| Account 7 | | xxxxx | |
| Total | xxxxx | xxxxx | xxxxx |
This report gives a good summary of your accounts. If some accounts aren't categorized correctly, you can go back to the list of accounts and edit the account type and ownership.
You can also add real estate and loan accounts in Full View to have them included in this Net Worth Statement report.
I print this report to give my wife a global view of our accounts.
Asset Allocation
Now go to Investments in the menu.

The Summary tab shows the total portfolio value and a breakdown by account.

eMoney categorizes each of your holdings into one or more asset classes. The Allocation tab shows a pie chart and a table of your asset allocation by asset class.
I print the asset allocation page to show my wife how our money is invested.
Fidelity GPS
The limited analysis features exposed in Full View are good for a broad view. You get a summary by account type and ownership, and you get your asset allocation by asset class. More portfolio metrics are back in Fidelity proper, which reads from Full View.
Click on Accounts & Trade -> Portfolio to get back to your Fidelity online account.
Click on the Analysis tab to the right of Summary, Positions, … If you're using the Beta view, Analysis is under the More tab.

This sends you to Fidelity GPS, which stands for Guided Portfolio Summary. Fidelity GPS analyzes all investment accounts you have in Full View. This makes it worthwhile to add your non-Fidelity accounts in Full View.
The analysis is only based on holdings. It doesn't include personal investment performance.
Stock Analysis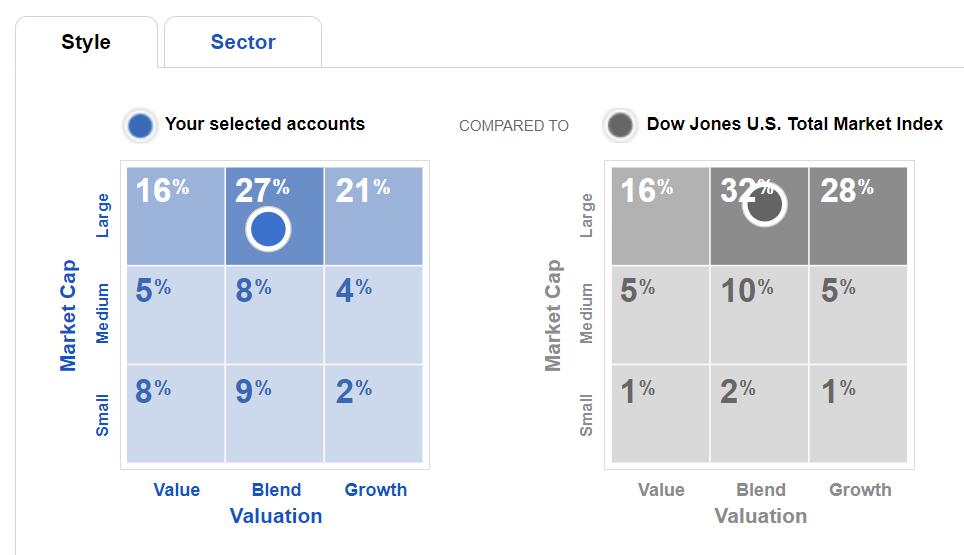 Stock Analysis shows you a Morningstar Instant X-Ray type of style box breakdown compared to the total stock market.
Fixed Income Analysis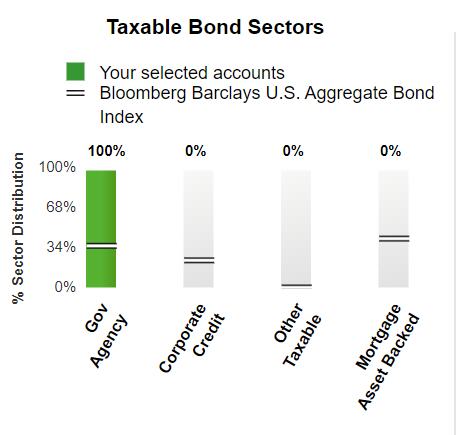 Fixed Income Analysis shows your bond holdings by sector.
GPS Report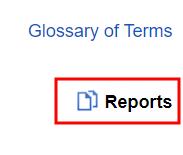 There are a number of other metrics in Fidelity GPS. You can click on the different menu items for more analysis or you can click on Reports on the right to generate a 30-page PDF report that includes all the analysis.
Review the report at your leisure and share it with your spouse.
***
It's great to have a global view of all your accounts. If your accounts can be linked, having them automatically updated in Full View saves time. Fidelity GPS provides a more in-depth analysis of your entire portfolio, including both Fidelity accounts and non-Fidelity accounts you have in Full View.
Having all accounts in Full View also feeds into Fidelity's retirement planning tool. I wrote about that tool three years ago. I'll provide an update shortly.
Say No To Management Fees
If you are paying an advisor a percentage of your assets, you are paying 5-10x too much. Learn how to find an independent advisor, pay for advice, and only the advice.