I came across the Fidelity retirement planning calculator three years ago when I met with a Fidelity employee at their branch office. Her title was Vice President, Financial Consultant. She explained to me that, at the VP level, she didn't have a requirement of having clients use Fidelity's paid wealth management services. A part of her role was to help clients with financial planning.
Retirement Planning Tool
Her primary tool was the retirement planning tool in Fidelity's Planning and Guidance Center, which is available for free to all Fidelity customers. Non-customers can also register a guest login and use it for free.
You can run the tool on your own without working with someone at a Fidelity branch office. Fidelity employees there help people run the tool and look for up-selling opportunities.
Fidelity's Planning and Guidance Center also has tools for other goals such as saving for college and buying a home. I only used the retirement planning tool. The basic idea is that you have some income, some investments, and some expenses, and the tool tells you how well your income and investments will cover your planned expenses.
I played with the retirement planning tool three years ago. I used it again recently, and here's an update on how well it works.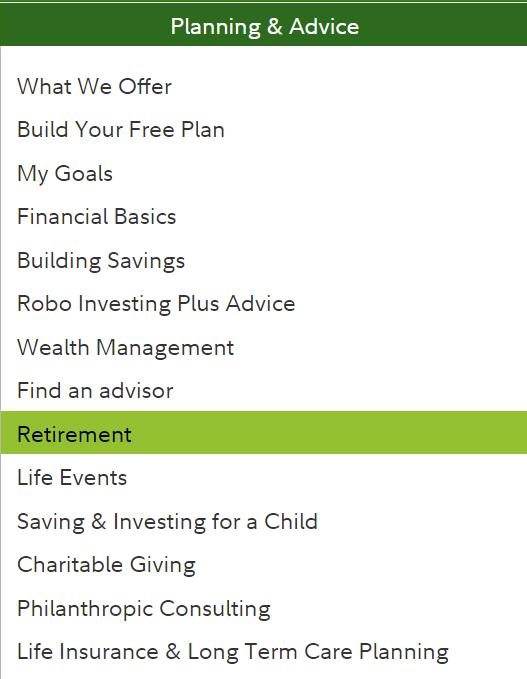 To get started, click on "Planning & Advice" at the top, and then "Retirement."

Find the "Get started" button in the middle of that page.
If it's the first time you're using the tool, it'll ask you a series of questions: age, gender, when you plan to retire, life expectancy, income, expenses, etc. It jumps into your existing plan after you use it once.
Income
If you're still working, the employment income is assumed to continue until your planned retirement age. If you're self-employed, reduce your income by 1/2 of the self-employment tax to account for the higher taxes.
You can also add one-time and episodic income sources such as an inheritance, downsizing your home, part-time work, rentals, etc.
If you aren't receiving Social Security yet, you need to tell the calculator when you'll claim Social Security and what your benefits will be in today's dollars. See Retiring Early: Effect On Social Security Benefits for how to get your earnings data from Social Security and feed them into other tools to calculate your benefits.
Investments
All the investment accounts you have in Fidelity Full View are automatically populated in the retirement planning tool. See the previous post Fidelity Full View & GPS: Track Your Portfolio Across All Accounts on how to use Full View. You can exclude some accounts by unchecking them if they're not intended for retirement.
You can add non-Fidelity accounts manually in the retirement planning tool itself without using Full View, but it's better to add them in Full View because Full View updates them automatically. If you add accounts manually in the retirement planning tool, you must refresh them one by one to the current value when you run the retirement planning tool next time.
These accounts should only be financial assets that can be liquidated partially. If you're planning to sell a rental or a business to fund your retirement, enter the anticipated sale in the income section.
Expenses
If you give just one number as your estimated expenses in retirement, the planning tool assumes it'll be that number every year adjusted for inflation. It's adequate if you're far away from retirement but it's probably too simplistic when you're close to retirement or already retired.

Choosing "Detailed Expenses" opens up a worksheet.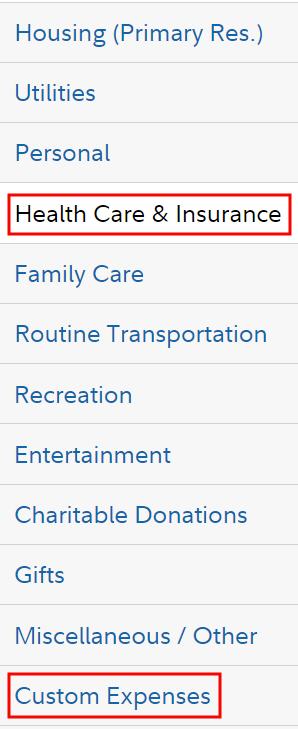 The detailed expense worksheet is broken into too many categories in my opinion. You lose sight of the big picture when you're bogged down by whether your utilities are really $200 a month or $250 a month.
I suggest only using the healthcare portion and then going to "Custom Expenses."
You still fill out the healthcare portion because the planning tool gives healthcare expenses a higher inflation adjustment than it does for other expenses.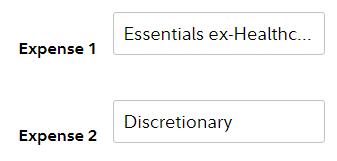 I would put in just two custom expenses besides healthcare: Essentials ex-Healthcare and Discretionary Expenses. These are the base expenses that will last throughout retirement.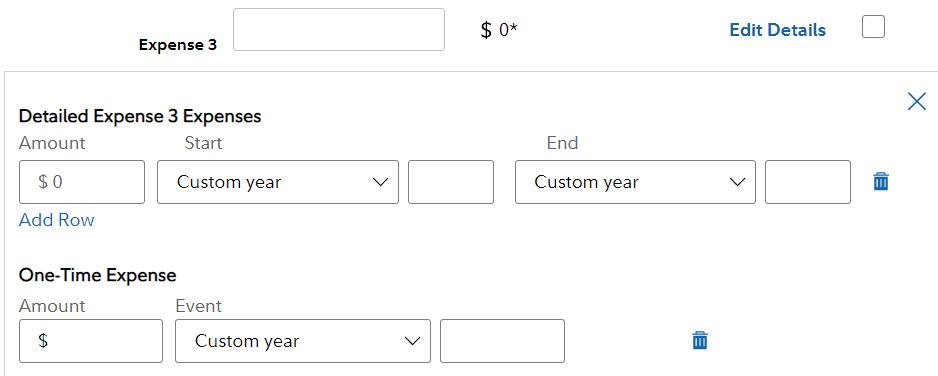 Then you can add your spike and one-time expenses, such as home improvement, college tuition, extra budget for travel in the initial years of retirement, helping children with a down payment, etc. These expenses have a start year and an end year.
Taxes
This planning tool only uses an estimated tax rate based on the projected gross taxable income for a given year, your tax filing status, and your state of residence. It doesn't perform detailed tax calculations. Nor does it perform Roth conversions to take advantage of low tax years.
There's an input field for local taxes, which you can repurpose to model higher taxes.
Projections
After you enter all the information, the retirement planning tool runs 250 simulations based on historical returns. By default, it uses the current asset allocation in your accounts.

The Hypothetical Assets chart is more interesting to me. It gives three scenarios for market returns: Significantly Below Average, Below Average, and Average. Significantly Below Average says 90% of historical returns will end up above this number. Below Average is 75%, and Average is 50%.
The tool suggests you look at the Significantly Below Average scenario for conservative planning. If your income and assets are sufficient to cover your planned expenses when the future returns are above the bottom 10% of historical returns, your income and investments have a good likelihood to cover your planned expenses.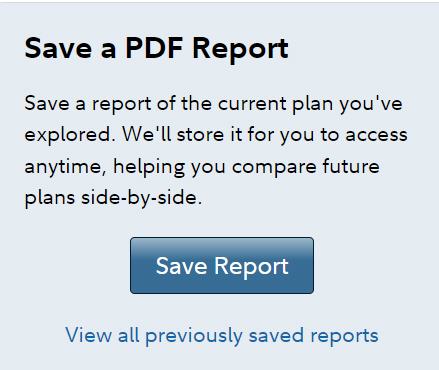 You should save a report now before you explore further. This serves as your baseline scenario.
Explore What-If's
Whether your baseline says you'll end up with $15 million when you die or you'll have a shortfall, you should explore some what-if's to see how different inputs affect your outcome.
What if you work longer or retire sooner?
What if your expenses are higher or lower?
What if the spike and one-time expenses are higher or lower?
What if you buy a second home? What if you sell that second home?
What if you claim Social Security earlier or later?
What if taxes are higher? Use the local tax field to dial up taxes.
The point of the exercise is to understand how much leeway you have in each input. If you see you have a lot of leeway in one area, you can relax a bit and not worry too much about it. If you see you have very small leeway in another area, that's where you should pay close attention.
You reach a happy medium by trial and error in altering your inputs. Your goal is not to leave too much money behind when you die but also to have sufficient money to cover your expenses when you live long.
I suggest using age 100 as the time horizon but only looking at the asset value at a more reasonable old age, say 88. Investment returns compound exponentially over a long time horizon. The end asset value easily grows to a huge number at age 100. The value at age 88 is more realistic.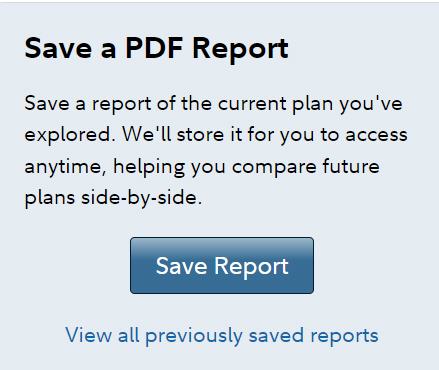 You save another PDF report when you find your happy medium. That's your improved plan over your initial baseline.
Asset Allocation
By default, the planning tool uses your actual asset allocation from the holdings in your accounts. You can also make it use one of nine model portfolios ranging from 100% short-term investments to 100% stocks.
This becomes another what-if variable. You observe how investing differently affects your retirement. If it doesn't make that much difference whether you invest 50% in stocks versus 60% in stocks, maybe you won't need to obsess about your exact asset allocation.
Soft Sell on Annuity
The last section of the retirement planning tool suggests using a portion of your portfolio to buy an income annuity.
The theory is that when more of the planned expenses are covered by guaranteed income streams, a portfolio can handle more withdrawals when returns are low. The theory isn't necessarily wrong but an automated recommendation based on only rough estimates looks like a soft sell to me.
I would ignore the Income Strategy section at the end.
What It Doesn't Do
I would call this a retirement modeling tool. It's useful to model different inputs but don't treat the output as a tactical action plan that guides your retirement year-by-year.
It doesn't tell you when you can retire if you're still working. You can't say I'd like to cover 120% of my planned expenses (giving some margin for error), tell me when I can stop working. You'd have to do trial-and-error to derive it.
It doesn't tell you how much you can spend. If your planned expenses are low, the tool will show that you'll have a lot of money left at the end. You'd have to dial your expenses up and down by trial and error and see how much you can spend without leaving too much money behind or risking running out of money.
It doesn't suggest an asset allocation. You can change the target asset allocation and see what difference it makes but the tool won't tell you that given your income and assets, this asset allocation will cover the highest expenses when future returns are significantly below average.
It doesn't change the asset allocation over time. This planning tool assumes that the asset allocation will stay the same for all years. It doesn't apply a glide path to reduce your risk as you move along.
It doesn't model inflation. The planning tool assumes 2.5% annual inflation for all expenses except healthcare. You can't change that assumption.
It doesn't model dynamic spending. The planning tool will use the given expenses adjusted for inflation regardless of the market condition. It won't reduce your withdrawals when the market is down.
It doesn't manage withdrawals for taxes. The tool follows a preset order of withdrawals from different account types (taxable first, then pre-tax, and finally Roth). It doesn't manage the withdrawals to smooth out taxes.
It doesn't model Roth conversions. You can't tell the tool to add an amount for Roth conversions between age X and age Y.
To the extent that you can withdraw less when the market is down or manage your taxes better through withdrawal sequencing or Roth conversions, your result will be better than the tool shows.
Conclusion
This free retirement modeling tool from Fidelity can be useful in showing you how much leeway you have and what moves the needle and what doesn't. Integrated with Full View saves you time in updating your asset values.
Through some rounds of trial and error, you can make it show you when you can retire for a given expense budget or how much expense your assets can cover for a given retirement date in different market conditions. You can also see the effect of portfolio asset allocation by picking different target allocations. It's useful to establish some high-level boundaries.
It isn't designed to give you year-by-year tactical guidance in structuring your retirement withdrawals or Roth conversions.
Say No To Management Fees
If you are paying an advisor a percentage of your assets, you are paying 5-10x too much. Learn how to find an independent advisor, pay for advice, and only the advice.