[Originally published in 2018. Updated on January 5, 2023.]
My wife and I have been 100% part-time self-employed since 2018. As things stand now, and for the foreseeable future, we don't expect that our self-employment income will be sufficient to cover our expenses.
Spending more than we make is quite a change from living below our means. We know the open secret in early retirement is to maintain a positive cash flow outside the investment portfolio, but we don't have that luxury. We'll actually start withdrawing from our investments.
Many say managing portfolio withdrawals is much more difficult than saving for retirement. I disagree. It's just different, something you're not used to, which requires some planning, a different setup, and some finetuning as you go along. Saving for retirement was also confusing for us in the beginning until we figured it out after some stumbles. Now we already have a lot more knowledge and years of experience in managing our money. Not everything is new.
I came up with this plan in 2018. We've been using it since then. I'm sharing our setup here. It's not going to be the best for everyone. Only we are going with it. As you'll see, it's not hard at all, and many parts are still familiar.
Self-Employment Income To Roth Accounts
We continue maxing out all eligible retirement account contributions from our self-employment income.  Because we don't make much from self-employment, nearly 100% of that income goes into our solo 401k and Roth IRAs. To the extent we can, we make Roth contributions because we're in a lower tax bracket. These Roth contributions help fund our retirement in the future.
Because we have a choice between making traditional or Roth contributions, these contributions also become a lever we can use to make our AGI higher or lower. We'll make Roth contributions if we want our AGI higher. If we want it lower, we'll make some traditional contributions. For this reason, we delay making our IRA contributions to between January 1 and April 15 in the following year when we have a better picture of our income tax situation, whereas we used to make the IRA contributions early in the current year. It's possible to go ahead with contributing to Roth IRAs early in the year and then recharacterize as needed, but it's too much hassle for too little gain.
Retirement contributions will also possibly qualify us for the saver's credit when our income is low enough to reach into its 10% tier (AGI $73,000 for married filing jointly in 2023).
We will invest 100% of the retirement account contributions in bonds, for reasons that I will explain later in this post.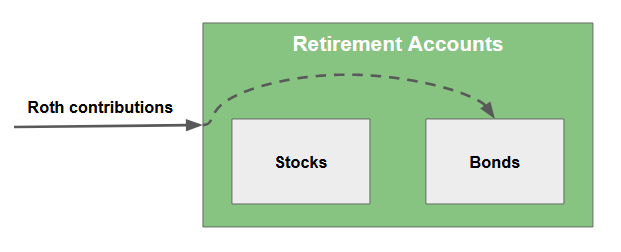 Other than delaying the IRA contributions to the following year, this part isn't much different than before. Maxing out all eligible retirement account contributions is still the modus operandi.
For those without employment income, this part can be replaced by Roth conversions to take advantage of lower tax brackets.
Spend From Cash Accounts
We have a conceptual spending account for paying bills. This can be a combination of a checking account plus a savings account or a checking account plus a money market fund. Before the year starts, we fill this up with the anticipated spending in the upcoming year. Money for spending later in the year will go to the savings account or the money market fund, or very short-term, 3-month or 6-month, Treasury bills (see How To Buy Treasury Bills & Notes Without Fee at Online Brokers).
Interest and dividends from our taxable investments also drop into the spending account. Any money left unspent at the end of the year rolls over to the following year. It reduces the required fill-up for next year.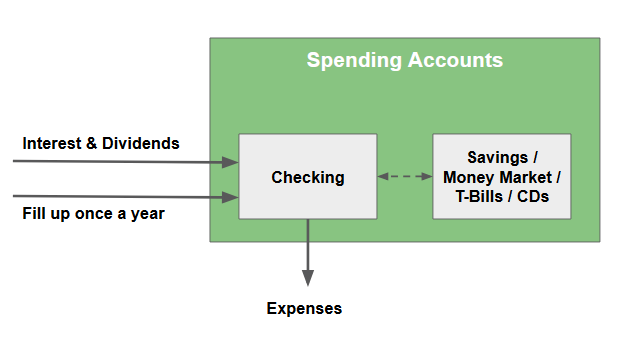 Other than filling up once a year versus twice a month from paychecks, the spending part also isn't that different than when we were working full-time. As an alternative, we can set up automatic withdrawals from our investments on a schedule once or twice a month to mimic the "paychecks" behavior. We choose not to do that because we think that's too rigid for us. Filling up once a year works just fine.
Variable Percentage Withdrawal (VPW)
"How much can you safely spend?" is a question with no precise answer, because we don't know how the future will play out. We follow the Variable Percentage Withdrawal (VPW) method collectively developed by a group of Bogleheads.
We like the adaptable nature of this method. Every year you take a look at the total portfolio value and then you multiply it by a percentage you look up in a table based on your age and your asset allocation. That's the amount you can spend this year. When your portfolio value is up, the amount you can spend goes up. When it's down, the amount you can spend goes down. You don't automatically ratchet up your spending by inflation every year.
For instance, a 40-year-old using an asset allocation of 70% stocks and 30% bonds can spend 4.4% of the portfolio value next year. A 50-year-old using an asset allocation of 60% stocks and 40% bonds can also spend 4.4% of the portfolio value next year. A 60-year-old using an asset allocation of 50% stocks and 50% bonds can spend 4.5% of the portfolio value next year.
The tradeoff of this method is that the amount you can spend will fluctuate with the portfolio value. It can go down in consecutive years. It can also stay down for many years when your portfolio value stays down. We're OK with this fluctuation. It's intuitive that when the portfolio performs poorly you should cut back. You just make your budget fit under the calculated amount. It's just Living Below Your Means — the same way we always did.
Because we will spend the interest and dividends from our taxable investments, they count as part of the amount withdrawn.
Annual Fill-Up To Spending Account = Portfolio Value * VPW % – interest & dividends not reinvested – money left over from previous year
Withdraw From Bonds In Taxable Accounts
We're not taking any money out of our retirement accounts. We won't do any Roth conversion ladder (convert traditional to Roth, wait 5 years, withdraw from Roth) because we'd like to reserve the money in retirement accounts for years after we're 59-1/2. In my opinion, if you have to touch the retirement accounts money before 59-1/2, you don't have enough money saved.
Our taxable investments are in stock funds and Vanguard Short-Term Inflation-Protected Securities Index Fund (VTAPX, a short-term TIPS fund). The short-term TIPS fund is the source of the annual fill-up to the spending account.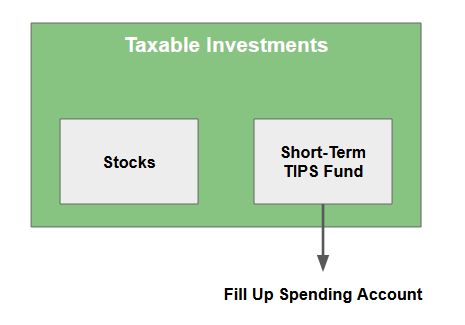 We use a short-term TIPS fund because we want inflation protection and the lower risk of a short-term bond fund. A ladder of short-term TIPS can also be a good option. See Two Types of Bond Ladders: When to Replace a Bond Fund or ETF.
We chose a bond fund over a TIPS ladder because our spending can vary greatly from year to year based on the Variable Percentage Withdrawal method. A ladder would only deliver a fixed amount. Of course we can also use a ladder plus a bond fund — the ladder for basic needs and the bond fund for discretionary spending — but we choose the simplicity of just a bond fund. I don't think this choice makes a big difference. If you are more comfortable with the predictability of a ladder over a fluctuating bond fund, go for it. If you prefer a different bond fund over a short-term TIPS fund, that works too.
The stock funds in our taxable accounts are for growth. Eventually, the short-term TIPS fund will be nearly exhausted after some years of draining. At that time we will sell shares from the stock funds to refill the short-term TIPS fund.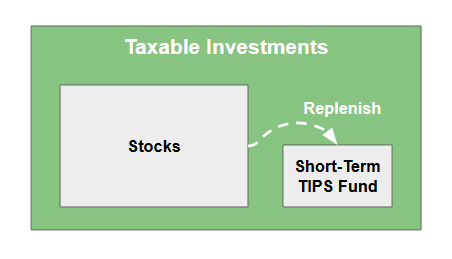 This setup can be described as a bucket strategy. Stock funds, a bond fund, and cash spending accounts form three buckets that cascade down. Although mathematically it can be shown that withdrawing only from bonds followed by rebalancing is equivalent to withdrawing proportionally from both stocks and bonds, withdrawing only from bonds in taxable accounts allows us to control the timing of realizing capital gains. If we withdraw proportionally from both stocks and bonds in the taxable accounts every year, we will have to realize capital gains every year.
Because we don't have a series of guaranteed payments earmarked by a ladder of instruments such as TIPS, Treasuries, CDs, or annuities, our approach belongs to the probability-based school as opposed to the safety-first school. We chose the conventional probability-based approach because we're comfortable with variance in the amount we can spend. We're not too concerned about having a level of spending guaranteed to us.
Rebalance In Tax-Advantaged Accounts
Because we're depleting bonds in our taxable accounts by the annual fill-ups to the spending account, we invest 100% of our new contributions to retirement accounts in bonds to partially counter-balance it.
Just doing that isn't enough. Under normal market conditions, as bonds are drawn down more than the retirement accounts contributions, and as stocks grow, the percentage of stocks in our portfolio will go up. We will rebalance by selling stocks and buying bonds in the tax-advantaged accounts.

This rebalancing part also isn't much different than when we were working full-time.
When Stocks Crash
Stocks don't always go up. Sometime they crash, as they did in 2022. When that happens, we sell stocks in taxable accounts to buy bonds. Yes, you read that right. Sell stocks when stocks are down.
Selling stocks when they're down makes the realized capital gains lower. We do the opposite in our retirement accounts: sell bonds to buy stocks. That maintains our exposure to stocks.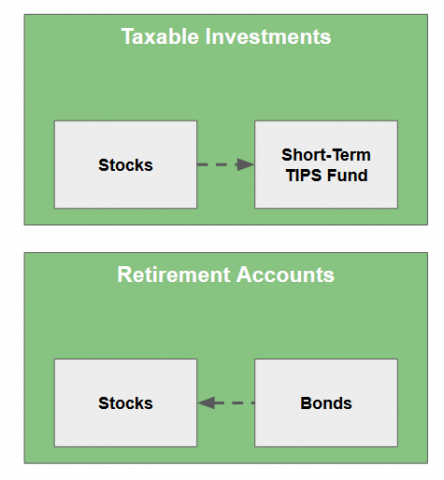 This is just rebalancing. Other than the accelerated replenishment of the short-term TIPS fund, it's also not that different than when we were working full-time.
***
Many parts of our portfolio withdrawals setup are familiar. There are a few new wrinkles here and there, but they are really not too complicated. A summary can easily fit on an index card:
Continue maxing out all eligible retirement account contributions. Favor Roth over traditional. Fine-tune after the end of the year.
Spend from cash. Fill up once a year by the Variable Percentage Withdrawal method. Count interest and dividends not reinvested as part of the withdrawal.
Don't touch retirement accounts before we're 59-1/2. Withdraw from bonds in taxable accounts. Replenish when low or when stocks crash.
Rebalance in retirement accounts.
Say No To Management Fees
If you are paying an advisor a percentage of your assets, you are paying 5-10x too much. Learn how to find an independent advisor, pay for advice, and only the advice.