[Completely rewritten with changes from the American Rescue Plan Act of 2021.]
I have been buying health insurance on an exchange under the Affordable Care Act (ACA) since 2018. Before the ACA, getting health care coverage was one of the biggest challenges for becoming self-employed. Forget about the cost — just getting a policy was a challenge by itself. ACA changed all that. Now self-employed people and others who don't get health insurance through their jobs can buy health insurance on the exchange.
Not only are you able to buy health insurance, but the coverage is also made affordable by the premium subsidy in the form of a tax credit. How much tax credit you get is calculated off of your modified adjusted gross income (MAGI) relative to the Federal Poverty Level (FPL) for your household size.
Your MAGI for the purpose of ACA is basically:
your gross income;
minus pre-tax deductions from paychecks (401k, FSA, …)
minus above-the-line deductions, for example:

pre-tax traditional IRA contributions
HSA contributions
1/2 of self-employment tax
pre-tax contribution to SEP-IRA, solo 401k, or other retirement plans
self-employed health insurance deduction
student loan interest deduction

plus tax-exempt muni bond interest;
plus untaxed Social Security benefits
Wages, interest, dividends, capital gains, pension, withdrawals from pre-tax traditional 401k and IRAs, money you convert from Traditional to Roth accounts all go into MAGI. Otherwise-not-taxed muni bond interest and Social Security benefits also count in MAGI.
400% FPL Cliff Converted To a Slope
Your tax credit goes down as your income increases. Up through the year 2020, the tax credit drops to zero when your MAGI goes above 400% of FPL. If your MAGI is $1 above 400% FPL, you pay the full premium with zero tax credit. People had to be very careful in tracking their income to make sure it doesn't go over the cliff.
For a household of a single person in the lower 48 states, that cutoff was just shy of $50,000 in 2020. For a household of two people in the lower 48 states, the cutoff was $67,640 in 2020. See Federal Poverty Levels (FPL) For Affordable Care Act for where 400% of FPL is at for your household size.
Now thanks to the American Rescue Plan Act of 2021 (also known as President Biden's COVID stimulus package), for two years only — 2021 and 2022 — this cliff becomes a slope. The tax credit will continue to drop as your income increases but it won't suddenly drop to zero when your income goes $1 over the cliff.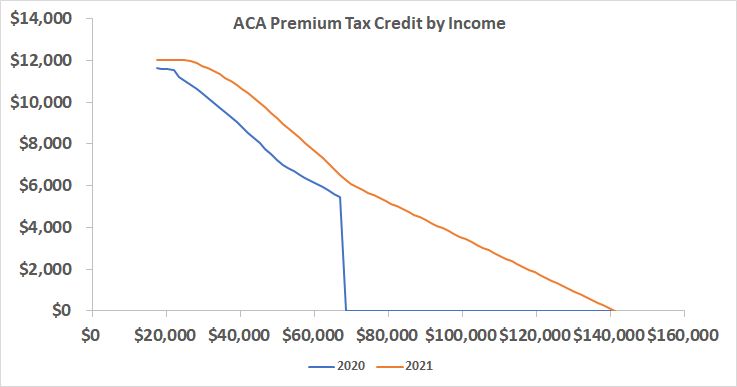 The chart above shows the ACA premium tax credit at different income levels for a household of two people in the lower 48 states where the second lowest cost Silver plan costs $1,000/month. The blue line is for 2020. The orange line is for 2021. The gap between the two lines represents the change between 2020 and 2021. The new law also increased the tax credit before the old cliff but the increase was much more significant after that point. The tax credit was zero at $70,000 income in 2020, but it will be about $500/month in 2021.
Because health insurance premium is higher for older folks and health insurance costs more in some areas of the country, the tax credit is also higher for someone older with the same MAGI and in areas where health insurance is more expensive.
Not having to watch out for the cliff is a huge relief to people closer to the edge of the old cliff, but the new law is only effective for two years in 2021 and 2022. Unless another law extends it, the cliff will come back in 2023.
Re-Enroll for 2021
If you didn't buy an ACA policy on the exchange because you didn't qualify for a subsidy when you enrolled for 2021, it's time to move onto the exchange now. You only get the subsidy if you buy your policy on the exchange.
If you already enrolled for 2021 on the exchange, you can edit your application and choose the same plan or a different plan now. That will trigger the recalculation of your subsidies. If you chose a free Bronze plan when you enrolled initially, maybe a Silver plan doesn't cost much more now with the subsidy increase. Or maybe you'll decide to convert some money from a Traditional IRA to Roth and use the subsidy increase to partially offset the tax on the Roth conversion.
It's better if you take the initiative and force the recalculation now. If you don't, some exchanges will recalculate the subsidy for everyone at a later time. You'll have to wait longer that way. If your exchange doesn't automatically recalculate for everyone, you still have another chance to claim the higher subsidy when you file your taxes next year.
Subsidy Repayment Waived in 2020
Besides turning a subsidy cliff into a slope, the American Rescue Plan also made some other temporary changes. If you received an Advance Premium Tax Credit in 2020 based on your income estimate at the time of your enrollment and it turned out that your income in 2020 was higher than you originally estimated, you aren't required to pay back any difference between the subsidy you already received and what the subsidy should've been based on your actual income. This repayment waiver applies only to 2020.
There's no income limit for this waiver of subsidy repayment. If you estimated your income at $30,000 when you enrolled for 2020 and your income turned out to be $300,000 (maybe from trading GameStop or crypto?), you will still keep 100% of the subsidy as if your income was $30,000.
Although there may be some good intentions, the implementation of the repayment waiver is horrible. This helps people who estimated their income really low when they enrolled. You simply lose out if you were more accurate in your estimate.
Unemployment In 2021
The American Rescue Plan also said for anyone who receives at least one week of unemployment benefits in 2021, they're treated as if their income is 133% of FPL, which qualifies them for a free Silver plan, regardless of their actual income in 2021.
There's no income limit for this special deal. If you receive one week of unemployment in 2021, even if you go on to earn $3 million during the year, you will still receive a free Silver plan as if you're poor. Again, although there may be some good intentions, the implementation is just horrible. It practically encourages everyone on an ACA plan to get unemployed for a week in 2021.
When the Cliff Comes Back
The ACA subsidy cliff is scheduled to come back in 2023. People will have to manage their income and watch out for the cliff again. The most critical part is to project your income before the end of the year and not realize income willy-nilly before you do the projection. If you find yourself close to the cliff before you realize income, you can still adjust. Many people are caught by surprise only when they do their taxes in the following year. Your options are much more limited after the year is over.
Fortunately, it's relatively easier to stay under the cliff for those who rely on an investment portfolio for income. When you are before 59-1/2, you are primarily spending money from your taxable accounts. A large part of the money withdrawn is your own savings; the rest is interest, dividends, and capital gains. Spending your own savings isn't income. If you withdraw $60k to live on, your MAGI isn't $60k. It's probably less than $30k.
When you supplement your income with part-time self-employment, you still have the option to contribute to pre-tax traditional 401k, IRA, and HSA. Those pre-tax contributions lower your MAGI, which helps you stay under the 400% FPL cliff when necessary.
100% and 138% FPL Cliff
There is another cliff on the low side, although that one is easily overcome if you have retirement accounts.
In order to qualify for a premium subsidy for buying health insurance from the exchange, you must have income above 100% FPL. In states that expanded Medicaid to 138% FPL, you must also not qualify for Medicaid, which means you must have MAGI above 138% FPL.
These are checked only at the time of enrollment. Once you get in, you're not punished if your income unexpectedly ends up below 100% or 138% of FPL. If you see your income next year is at risk of falling below 100% or 138% FPL when you enroll, tell the exchange you're planning to convert some money from your Traditional 401k or Traditional IRA to Roth. That'll raise your income.
Say No To Management Fees
If you are paying an advisor a percentage of your assets, you are paying 5-10x too much. Learn how to find an independent advisor, pay for advice, and only the advice.