The beginning of a new year creates a large demand for cash. I needed cash to contribute to our IRAs and HSA and to buy I Bonds in multiple accounts. I could sell from our brokerage account to generate cash but both stocks and bonds weren't doing too well in January.
I thought of tapping security-based lending for cash before I read this blog post from Karsten on Early Retirement Now: Low-Cost Leverage: The "Box Spread" Trade. I decided to look into it and see how it works.
What Is a Box Spread
A box spread is a specifically constructed option trade with a guaranteed outcome on a preset date no matter how the underlying market moves. The trade is typically implemented as options on a stock index such as the S&P 500 index (SPX) because options on the S&P 500 index can't be exercised early ("cash-settled European options"). This guarantees a predictable result on the option expiration date.
You can either sell ("short") a box spread or buy ("long") a box spread. We only look at the short box spread in this post. We cover the long box spread in Long Box Spread Trade vs Buying Treasury Note or CD.
Short Box Spread
When you sell ("short") a box spread, you —
(a) receive a sum of cash upfront; and
(b) are guaranteed to lose a known larger sum on a specified future date.
When you receive cash upfront and you must lose a larger sum on a future date, you're effectively taking out a loan with a balloon payment at the end. The difference between the amount you receive and the amount you must pay back in the future is your effective interest payment for having the cash upfront.
How Does It Help?
Getting your effective loan from selling a box spread helps because the implied interest rate is quite low. It's also independent of the broker you use.
Low Fixed Rate
The effective interest rate from a short box spread is about 0.3% – 0.5% above the Treasury yield of a comparable term.
The implied interest rate is also fixed for the term whereas the interest rates in securities-based lending programs are typically variable rates. As the Fed raises the short-term interest rate, those variable rates will likely go up in tandem. If you do a short box spread that expires in two years, you'll have the rate locked in for two years.
Use Any Broker
You're getting the money from the market participants when you sell a box spread. Your broker doesn't control your effective interest rate. The broker only receives a small commission for facilitating the trade.
You don't have to transfer your account to Interactive Brokers only to access their low margin rates. You don't have to have a large balance with your broker and beg for an unpublished rate in their securities-based lending program. You can still do it even if you use Vanguard, which doesn't offer special low margin rates or a separate securities-based lending program.
Favorable Tax Treatment
Another advantage of a short box spread is that the effective interest payment is an investment loss in Section 1256 contracts, which is treated as 60% long-term loss and 40% short-term loss. The investment loss can offset your capital gains. You don't have to itemize deductions to use your investment loss.
If you borrow from a securities-based lending program, the interest is often effectively not tax-deductible when you don't itemize deductions.
What Are the Downsides?
The biggest downside is that you may make a mistake in entering the trade and screw it up. If you accidentally choose the wrong direction (buy versus sell), the wrong strike price, or the wrong expiration date for one part of your order, your trade as a whole won't guarantee that you'll only lose a set amount on a set date. The sky is the limit if you screw up.
If you already have a low interest rate from your broker and you don't mind that the rate is variable, getting a loan from your broker is much simpler and less error-prone.
Rule #1 if you're going to venture into box spreads: Don't screw up. I don't blame you if you decide not to do the box spread simply to avoid possible screwups.
Another downside that comes with the fixed rate is the fixed term. The date you must pay it back is fixed after you execute the trade. If you'd like to pay it back sooner, you'll have to buy back your box spread, which will be subject to the market condition at that time. If you'd like to pay it back later, you'll have to sell another box spread with a later expiration date.
If you borrow and pay back frequently for the short term, it's more convenient to use a securities-based lending program. The variable rate doesn't matter much in the short term. If you borrow a large sum for a long period of time, a short box spread can get you a low fixed rate for a fixed term.
How Much Can You Borrow?
The amount you can borrow doesn't change between securities-based lending and selling a box spread.
Although your broker isn't coming up with the money for your effective loan, they aren't going to let you get into a position such that your other investments can't cover the required balloon payment when the term ends. You're still subject to the same margin requirements. If the values of your other investments drop in a crash, your broker can still sell them at the bottom to meet margin requirements.
Treat selling box spreads the same as borrowing from securities-based lending. Don't go overboard. Limit your borrowing to no more than a small percentage of your account value. Borrow for the shortest term you need. Repay as soon as you can.
How to Do It at Fidelity
If you decide to sell a box spread, here's an example of how to do it at Fidelity. It may be similar at other brokers.
First, you need to apply for options trading in your taxable account. Fidelity categorizes options trading into three tiers by the risks. You need to apply for at least Tier 2 (or Tier 1 plus spread in an IRA). Applying for Tier 2 options trading also automatically applies for margin. Your investment objective in the application must be Growth or above.
Four Legs
You'll be able to enter option trades on an index after your account is approved for options trading Tier 2.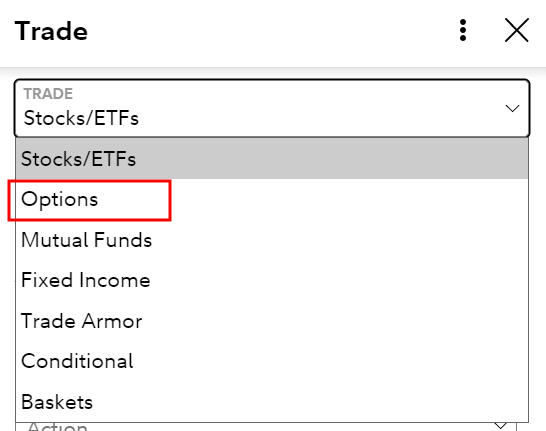 Choose "Options" in the Trade popup.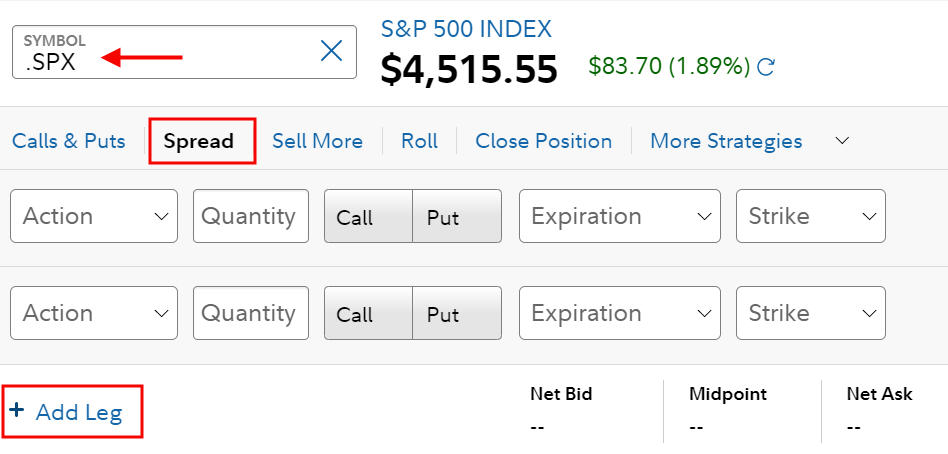 Enter ".SPX" in the symbol field. This is for the S&P 500 index. We use the S&P 500 index (SPX) as opposed to the S&P 500 ETF (SPY) because SPX options can't be exercised early, whereas SPY options can be. Your box will be knocked out of balance if one of your legs is exercised early.
Click on "Spread" as the options strategy. You automatically get two legs. Click on "Add Leg" twice to add two more legs.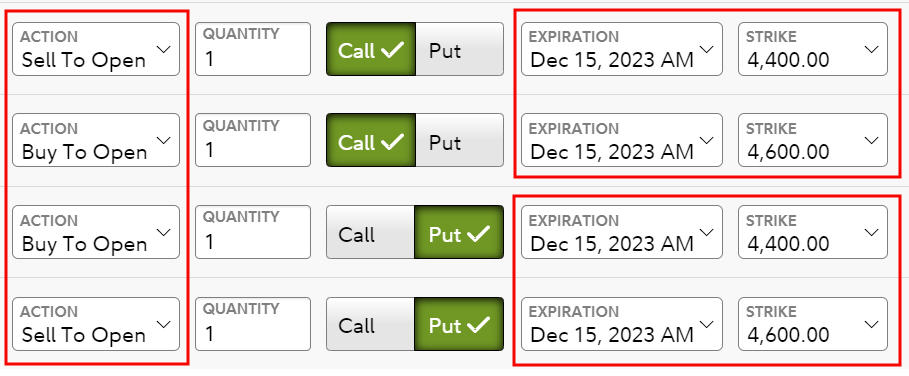 Click on the "Call" button for the first two legs and the "Put" button for the next two legs.
Select Action in this sequence for your four legs:
Sell To Open
Buy To Open
Buy to Open
Sell to Open
Remember: Sell – Buy – Buy – Sell.
Set the expiration to the same date for all four legs. This is the date you will effectively pay back the loan. As Russell suggested in comment #6, avoid expiration dates that fall on the last two business days of the year. Some brokers don't report taxes correctly for contracts expiring on the last two business days of the year.
Choose a spread around the current index value for the strike price (4,400 to 4,600 in the screenshot when the index was around 4,500). The size of the spread times 100 is the amount of your effective loan. If you need to borrow $20,000, make the spread 200-wide. The spread goes from low to high in your two calls and two puts. Match the two spreads exactly between your two calls and two puts. Finally, enter the same quantity for all four legs.
When you need to borrow $40,000, you can choose a spread of 400 (for example 4,300 to 4,700) with a quantity of 1 or you can choose a spread of 200 with a quantity of 2. All else being equal, a smaller quantity with a larger spread saves a small amount of money on commissions but a larger quantity with a smaller spread may be easier to execute. The commission at Fidelity is $2.72 for each set of four legs at a quantity of 1.
Limit Price
Now you need to enter a limit price for your order. Look up recent trades on boxtrades.com. Boxtrades.com gives you a target price when you enter a desired APR.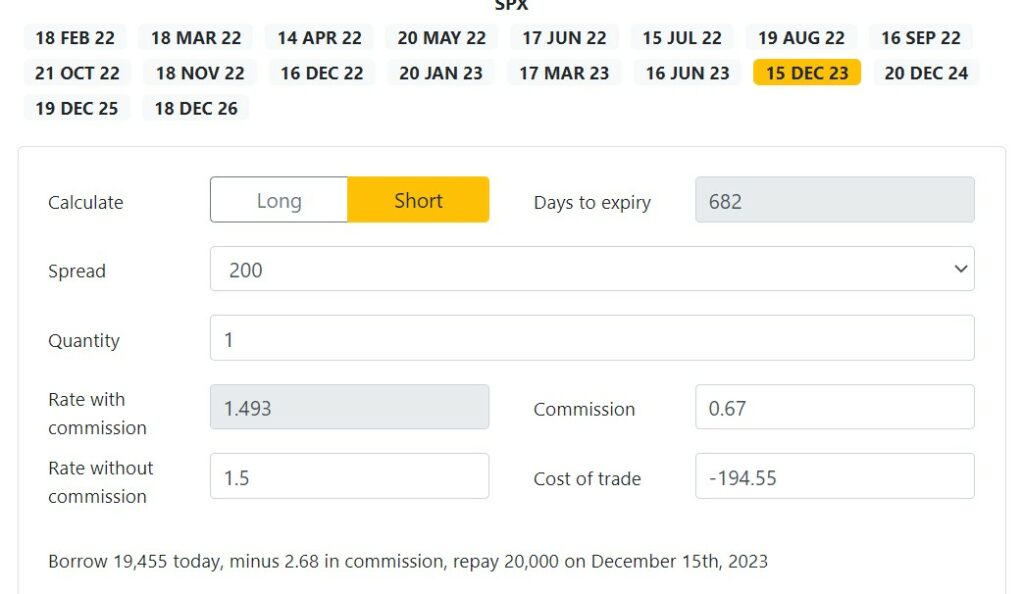 This screenshot shows when you're willing to pay 1.5% APR for a spread of 200 until December 15, 2023, you should enter a limit price of 194.55.

Make sure the order type is Net Credit. You're asking someone in the market to pay you $19,455 now for you to pay back $20,000 on December 15, 2023.
Execution
After you place the order, you wait to see if someone takes your offer. Your four-leg option trade is offered as a full package. It's not possible for someone to pick it apart and accept some legs of your trade but not the others.
It may take some time for your trade to execute. If no one is interested after an hour, you may need to lower the offering price (receive less, a higher effective APR). Or you can try another day if you aren't in a hurry. Again, you can calculate the effective APR for your new lower price at boxtrades.com.
After Execution
If your order is filled, you'll receive a sum of cash in your account. You can do whatever you want with this cash including withdrawing from your account for your cash needs.
You'll also have four option positions in your holdings. These option positions added together have a net negative value. They will turn into the predictable cash debit when you hold them to the expiration date. When you have cash in your account on the day after the expiration date, your cash will be used to offset the debit. You effectively pay off your loan at that point. If you don't have enough cash at that time, you'll have a negative cash position, which will incur margin interest from the broker.
Ignore Values in the Evening
The values of the option positions will fluctuate with the market even though they will converge to the predictable value on the expiration date. The prices used to calculate their values are especially wild when the market is closed. You'll have to learn to ignore the account balance you see in the off-hours.
Don't be alarmed when you see your balance drop by a huge sum in the evening. They'll be back to more reasonable values when the market is open.
Mark-to-Market Gain/Loss for Taxes
The year-end 1099 form you receive from the broker will include entries for your Section 1256 gain or loss. Enter the 1099 form as-is into your tax software. The tax software will handle it with the proper tax treatment.
***
A short box spread can be a good alternative to securities-based lending when you execute it correctly. This is especially helpful when you can't get a good rate from your broker. You must be super careful not to screw up in placing your order. Don't do it if there's any slight chance you'll make a mistake. The loss from your mistake can be many times your potential gain from having a low-interest loan. It's perfectly valid to avoid a possible disaster and only stick with safety in the mainstream.
Say No To Management Fees
If you are paying an advisor a percentage of your assets, you are paying 5-10x too much. Learn how to find an independent advisor, pay for advice, and only the advice.