I received the annual bonus from my employer for my work last year. I need to save this money for some planned expenses in the second half of this year.
I can just put it in a money market fund or online savings account. The going rate is about 1.5% (Vanguard Prime Money Market Fund, Alliant Credit Union). The rate can be 1.7% at some places where I don't have an account.
I can also put half in a 3-month CD and half in a 6-month CD. The going rate is about 1.5% for a 3-month CD and 1.75% for a 6-month CD. Again, to get the best rates, I'd have to open accounts at places where I don't have an account now. For the amount involved it's not worth it.
Instead I'm going to try something else: Treasury bills. Treasury bills from the U.S. government are most similar to a short-term bank CD in that you lock in a fixed interest rate for a fixed term.  I can buy Treasury bills in my existing account. Treasury bills are also state income tax free.
Yields of Treasury bills have gone up quite a bit in the last year. Banks didn't raise the rates on their CDs or savings accounts nearly as much. The yield on 3-month Treasury bills is now above 1.6%. The yield on 6-month Treasury bills is now above 1.8%. You can see the latest yields on Daily Treasury Yield Curve Rates.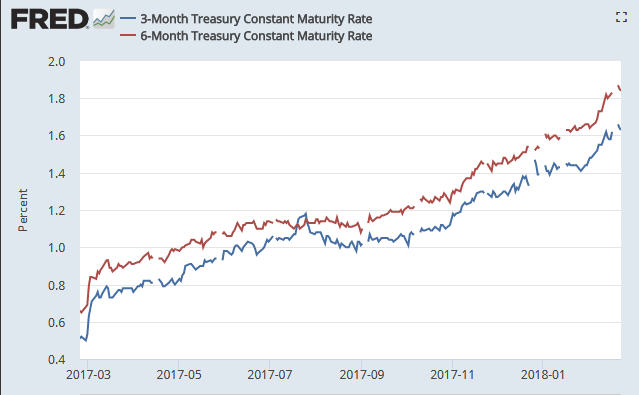 You can buy Treasury bills directly from the U.S. Treasury via TreasuryDirect, or you can buy them in a brokerage account. The top 3 brokerage firms Vanguard (on the brokerage platform), Fidelity, and Schwab all sell new-issue Treasury bills at no commission. I prefer to use Fidelity for this because they provide better customer service than TreasuryDirect.
The U.S. Treasury currently sells new 3-month and 6-month Treasury bills every week on Mondays. You never have to wait long for the next round. You will see new issues available in the brokerage account on Thursdays. You place your order between Thursday and Sunday. If you are interested in an even shorter term, they also sell a new 4-week bill every week on Tuesdays. Check on Thursday or Monday for availability. See Announcement & Results Press Releases from the U.S. Treasury.
Yields are determined by an auction. You get the same yield for your tiny $1,000 purchase as a bank buying $100 million. Treasury bills are sold at a discount. You pay slightly less than $1,000 for each $1,000 bill. When the bill matures you receive the full $1,000. The difference is your interest. When you buy in a taxable brokerage account, the brokerage firm will send you the necessary tax form for your taxes.
I took these screenshots when I placed the order with Fidelity. If you can't figure out how to do it at Vanguard or Schwab, please contact customer service. Be sure to select "new issue Treasury." You get no bid/ask spread only when you buy a new issue.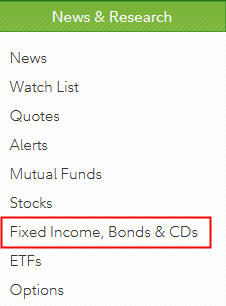 Under News & Research on the top, click on Fixed Income, Bonds & CDs.

Click on the New Issues tab.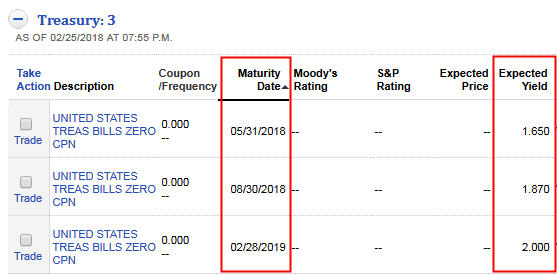 Click on the plus symbol next to Treasury to expand the upcoming issues. You will see the maturity date of each issue and the expected yield. The expected yield will be very close to the actual yield after the auction. Click on Trade to buy the issue you are interested in.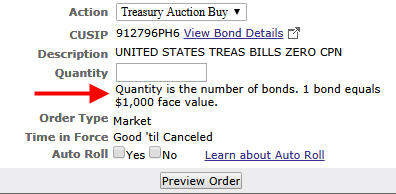 Treasury bills are sold in $1,000 increments in a brokerage account. Enter a quantity of 1 if you'd like to buy $1,000 worth of Treasury bills. It will cost slightly less than $1,000. Fidelity lets you set up Auto Roll to automatically buy another Treasury bill of the same term when your Treasury bills mature. Because I need to use the money after the bills mature, I didn't choose Auto Roll.
The auction for the bills closed yesterday. The yields were 1.675% for 3-month and 1.873% for 6-month. Considering that they are state income tax free, they are a better deal than bank CDs of the same terms.
Say No To Management Fees
If an advisor is charging you a percentage of your assets, you are paying 5-10x too much. Learn how to find an independent advisor, pay for advice, and only the advice: Find Advice-Only.