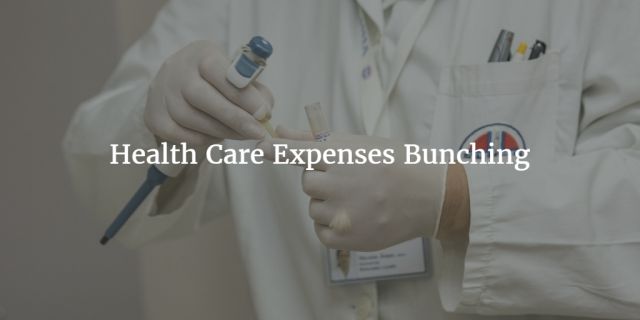 Bunching two years of property tax payments in alternate years has been a long-standing tax planning move near the end of the year. The idea is if you don't itemize your deductions every year, paying for this year's plus next year's property tax in one shot can bump you above the standard deduction. Then you get to deduct the excess.
When more and more people have high deductible health insurance, bunching health care expenses near the end of the year has a similar effect. Health plans typically run in calendar years. They go by the date of service. If you have a service you can schedule before the end of the year or in January, you can potentially save some money depending on whether you already met your deductible for the current year.
If you already met the deductible this year, having the service in the current year means most of the cost will be covered by insurance. If you do it next year, you will have to meet the deductible again.
If you haven't met the deductible this year and the cost of the service still won't make you meet the deductible, you are better off scheduling the service next year. When you are not going to meet the deductible this year anyway, you might as well have it count toward next year's deductible. It can help get some other services next year covered.
If you haven't met the deductible this year but you are close enough that the cost of the service will put you above the deductible, doing it this year will have part of the service covered by insurance, but it also means you will have a bigger hole to fill next year. Which year you do it in will depend on how close you are toward this year's deductible and how likely you will meet the deductible next year. If you are really close, or if it's unlikely you will meet the deductible next year, you should probably just do it this year.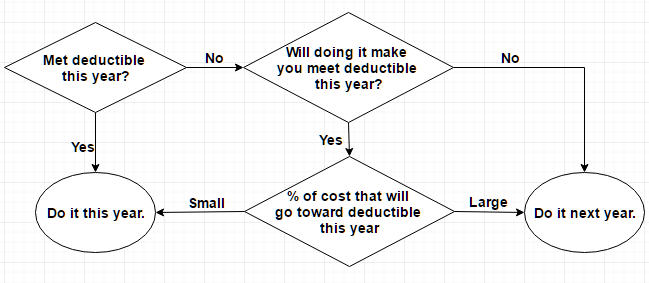 Again the idea is bunching, which helps you meet the deductible and possibly reach the out of pocket maximum in one year.
Say No To Management Fees
If you are paying an advisor a percentage of your assets, you are paying 5-10x too much. Learn how to find an independent advisor, pay for advice, and only the advice.