When I really needed a bank for my small business, I was caught without one. The government required going through a participating bank or credit union to apply for a loan under the Paycheck Protection Program. I had been using a business account from Fidelity Investments, but Fidelity isn't a bank.
Other small business owners who had accounts with major banks didn't fare much better either. They were able to apply but their applications were ignored. The large banks put their resources toward the larger, more established businesses until the program funds ran out and the small business were left out. Bloomberg reported that small businesses had a 6% success rate at Chase while nearly all the larger businesses got what they wanted.
Although large banks finally came through for small businesses in the second round after Congress provided more funding to the program, many small business owners are still angry with the large banks over how they were treated. They want to move their accounts to a small local bank. I also learned my lesson and decided to have my business checking account at a small local bank. But where?
Small local banks by definition are small, and local. A small local bank in one area isn't available or convenient to a business in another area. You can search for "bank" in Google Maps, but besides filtering out the well known brands (Bank of America, Chase, Wells Fargo, Citi, …), how do you know which ones are small and local?
FDIC Deposit Market Share Reports
The FDIC provides Deposit Market Share Reports, which show the deposits held by each bank in a specific area.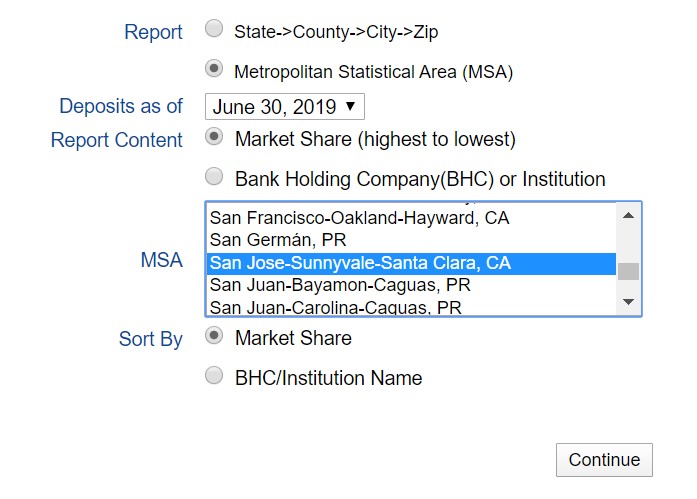 You can go by "State->County->City->Zip" and stop at any level you'd like, or you can run the report for a Metropolitan Statistical Area (MSA), which includes multiple cities in an area. I'm using San Jose, CA as an example here.

The report shows a list of banks in the local area, and their total deposits both inside and outside the local area. It's easier to work with the data if you highlight the entire table and copy-and-paste it into a spreadsheet. You can add a new column and add up the deposits both inside and outside the local area. Then you sort the rows by this "total deposits" column from low to high and delete the second half. That's your list of small banks in the area.
Then you can add another column and calculate for each bank their percentage of total deposits inside the local area. Sort the rows by this "local %" column from high to low. The banks with the higher share of deposits inside the local area are more local.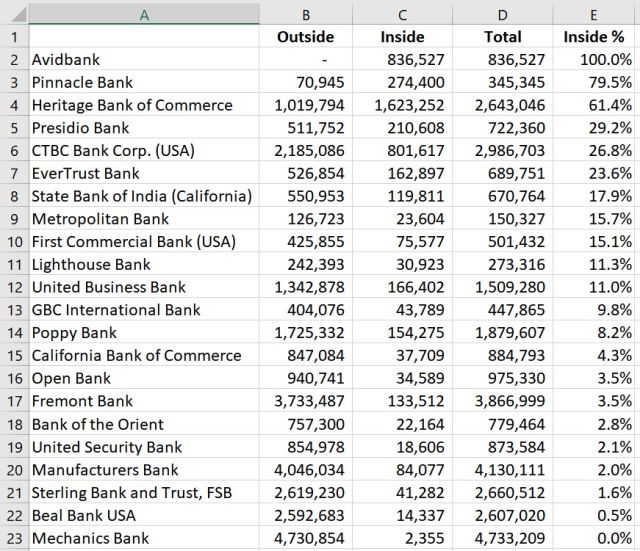 After two quick filtering and sorting steps, you will have your list of small local banks in the area. Then you can Google the names of the banks, visit their websites, and see if they offer the services you need. In my example above, Avidbank, the first one on the list, is more for large corporate customers, not small businesses. Pinnacle Bank and Heritage Bank of Commerce look like good candidates for small businesses.
Independent Community Bankers of America (ICBA)
Independent Community Bankers of America (ICBA) is an association of community banks. They offer a community bank locator, which lists their members near you. It can serve as another source.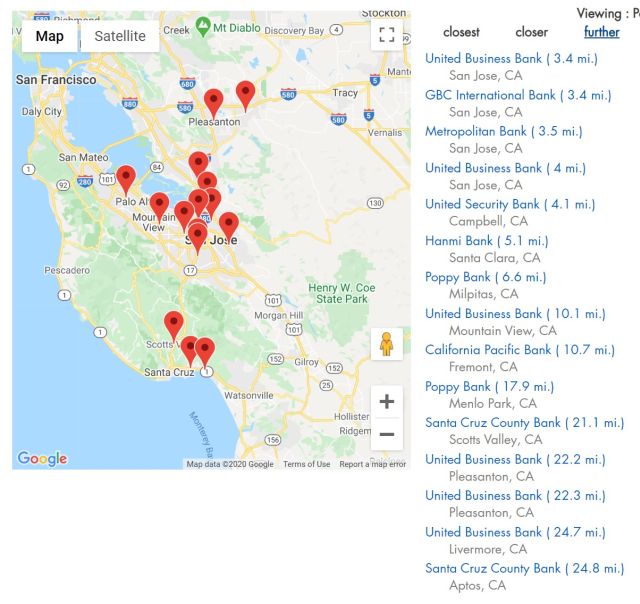 A map shows where the branches are, which can be a factor if you need in-person deposits and withdrawals. Because they only show their members, not all small local banks show up on their list. For example, neither Pinnacle Bank nor Heritage Bank of Commerce from the FDIC report appeared on the map when I searched for San Jose, CA.
Credit Unions
What about credit unions? Credit unions tend to be local, and even a large credit union isn't that big compared to a national bank. However, not all credit unions offer business accounts. Credit unions in general are more for consumers and personal accounts. To find credit unions near you that also lend to small businesses and offer business accounts, find the SBA District Office near you and look for credit unions in the SBA Lenders List in the resource guide for the local district.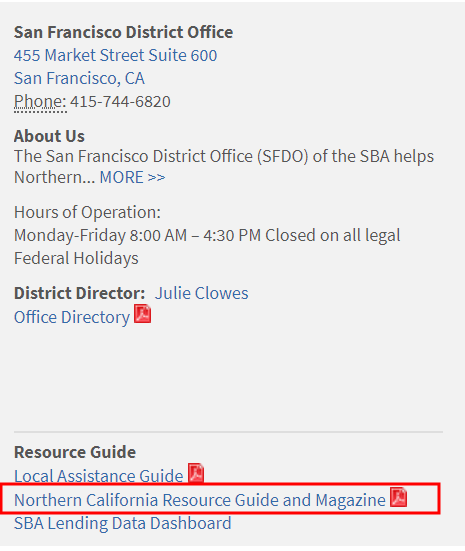 For example, these credit unions are on the list near San Jose:
I ended up choosing a small local bank near me. The business checking account there requires $2,000 minimum balance to waive the monthly maintenance fee and it doesn't pay interest. I'm OK with that. This bank has only one branch in our city. The next branch is in another city 30 miles away. Because I don't deposit or withdraw cash, I'm OK with that. When I visited the branch to sign paperwork, I saw the bank branch has no teller counters, just offices and desks. All businesses are conducted sitting down. I loved the old school know-your-name atmosphere.
Say No To Management Fees
If you are paying an advisor a percentage of your assets, you are paying 5-10x too much. Learn how to find an independent advisor, pay for advice, and only the advice.