While I'm currently traveling in Spain, every time I buy something, I'm asked whether I'd like to transact in Euros or U.S. dollars. This happens when I buy tickets to attractions online, on the credit card terminals at supermarkets, and on ATMs when I withdraw cash. Every. Single. Time.
Here's an example when I was buying tickets to an attraction: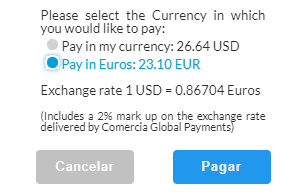 They are trying to catch people who don't know what the going exchange rate is. The going exchange rate is 1 Euro = 1.11 U.S. dollars, but they proposed to charge me at 1 Euro = 1.15 U.S. dollars. The small print said it was a 2% markup. It's actually more like a 3.6% markup. On one ATM I saw the rate proposed was 1 Euro = 1.28 U.S. dollars, a 15% markup!
At least on this web page it said something about the markup. At the supermarket and on ATMs, the machines don't say anything. They just list two amounts: one in Euros or another in US dollars. If I pick the wrong one, they profit.
How do they know you are from the U.S.? The card you use gives you away. The first few digits of a credit card or debit card identifies the bank that issued the card. Their database can tell that your card is from a bank in the U.S. They then impose dynamic currency conversion, hoping to catch people not paying attention or accidentally hitting the wrong button. Although they must offer both the local currency and the home currency, they can engineer the screen to make it confusing and make you choose the home currency more easily.
The currency conversion prompt on ATMs is new to me. Sometimes the language on the screen also switches (in my case to Spanish) even if I selected English at the beginning. Some ATMs only have the local language, which makes it even more challenging to say no to the currency conversion prompt. From Wikipedia:
The screen on an ATM announces the exchange rate that will be used and asks whether the customer accepts or refuses that rate. It appears to be "take it or leave it." There is NO explanation that refusal will not end the transaction, but rather means the exchange will be done without charging the commission.
So you have to remember this rule when you travel to another country: always transact in the local currency. Do what locals do. Forget that you even have U.S. dollars in your account. Pay in the local currency. Withdraw in the local currency. If you even see a mention of U.S. dollars, look for No or Cancel. Of course also use a card with no foreign transaction fee for purchases and a card that rebates ATM fees. When the charge comes in a foreign currency, your bank will convert it using a more favorable rate from Visa or Mastercard.
Say No To Management Fees
If you are paying an advisor a percentage of your assets, you are paying 5-10x too much. Learn how to find an independent advisor, pay for advice, and only the advice.