By now it's obvious I botched our relocation last year. The decision to relocate was correct but I executed it poorly due to my lack of experience. I also didn't think through all the options when I only relied on some "rules" that were either outdated or didn't apply to our situation. In the end, my poor execution cost us $300,000.
Many people may be considering relocation for remote work or retirement. I'm writing down the lessons I learned from my mistakes.
Rent First In a New City?
We thought we should rent because we heard the rule that you should rent first when you move to a new city.
The reason behind this rule is that if you jump directly into buying, you may buy in the wrong place when you're not familiar with the new city. Renting gives you time to figure out where exactly you'd like to settle in.
That's all good but it introduces two problems.
The first problem is availability. It may be easier if you're willing to rent an apartment, but if you'd like to live in a single-family home as you're used to, far fewer single-family homes are available for rent than the number of single-family homes for sale.
These two maps from Zillow show the single-family homes for rent and for sale in my zip code. You see a big difference in available choices.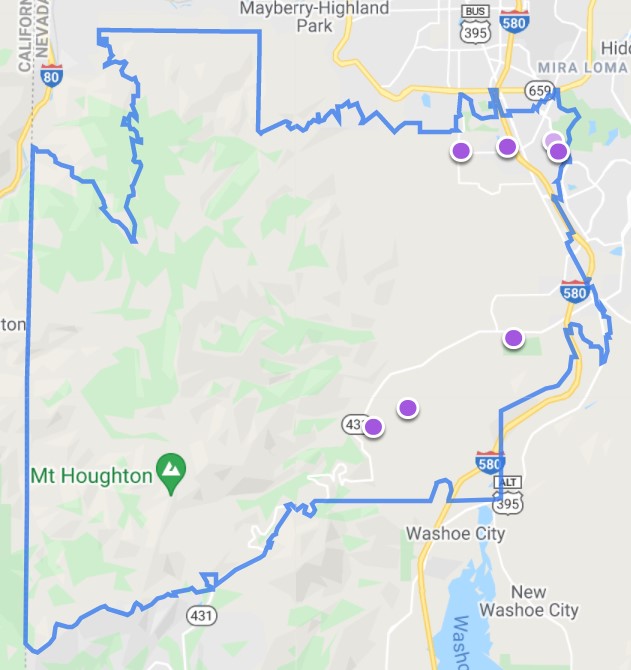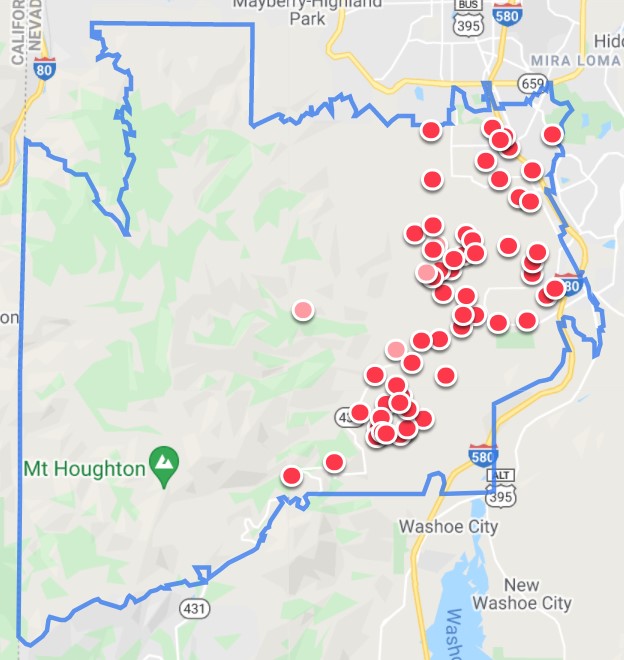 This isn't a new phenomenon due to the COVID pandemic. It was like this when we were looking for rentals in 2019.
The second problem of insisting on renting first is quality. The average qualify of the homes for rent is a step lower than the average qualify of the homes for sale. If you want to rent a single-family home you actually like, in terms of its location, cleanliness, ages of the appliances, etc., you have even fewer choices.
Because we only looked for rentals, it took us a full year to finally find one we liked. If we also considered buying, we could've moved and enjoyed our life in the new area much sooner. So:
Old Rule: Rent first when you move to a new city.
New Rule: Consider both buying and renting.
Research Remotely
What about the worry of buying in the wrong part of the town?
That old rule of renting first probably came out before the Internet era. Now locals get their information online anyway. You can get the same information when you're remote.
You see where stores and other facilities are on Google Maps. You have satellite view and street view of neighborhoods. You see real-time traffic from DOT cameras. You see voting results, school test scores, air quality indexes, and whatever aspects you care about. You can read the local newspaper and watch the local television stations online. You can join local Facebook groups and see what's going on there. When you combine Internet research with a couple of field trips, you don't really need to live there for a year.
We've been here for a year and a half. I didn't learn anything that someone remote can't find out.
Buy a Rental and Rent It to Youself?
Another push toward renting is this other rule that says you should buy only if you'll stay in the home for a long time. A long time is defined as five years, seven years, 10 years, or longer.
Thinking you must stay in the home for a long time makes you pickier. Even though there are more homes for sale than for rent, the abundance of choices quickly disappears when you add all your requirements for staying in the home long term. This home is a one-story and you want a two-story (or vice versa). This home is too old. That home isn't in the most desirable neighborhood. This home is on a small lot. This other home requires too much work, etc., etc.
However, when you're considering renting anyway, you may also consider buying a home of similar quality to a rental. Think of it as renting it to yourself until you find your ideal home. You don't have to be too picky when it isn't long-term.
You're the best landlord in the world when you rent to yourself. You don't have to worry about breaking a lease or large rent increases. You don't have to worry about disputes over damages or the security deposit. You can stay however long or however short. When you finally buy your ideal home, you either sell your transition home or keep it as a rental, whichever makes more sense at that time.
Dropping the requirement to stay in the home for a long time opens up more choices. So:
Old Rule: Buy only if you'll stay in the home for a long time.
New Rule: Consider buying a rental and treat it as renting to yourself.
What to Do with the Money?
If you end up renting or buying a rental that's much less expensive than the home you really want, what should you do with the money from the sale of your previous home?
Another rule says you should keep the money safe if you're planning to use it in the near future, which is usually defined as five years or less.
If you sell a paid-off home, you may intend to buy your next home with all cash from your sale. You should keep the money safe if that's your only source of funds to buy your next home. What if you can borrow?
You may intend to buy it with all cash, but you don't have to. You only need the down payment when you can borrow. The rest of the money can be invested in your normal portfolio allocation. If the market is up when you buy your next home, you sell for a profit. Paying taxes on the gain still beats getting 0.5% in a savings account. If the market is down, you borrow. You pay off the loan when the market recovers.
It's a myth that you can't get a mortgage if you don't have a paycheck. Fannie Mae and Freddie Mac allow banks to qualify you for a mortgage with only assets, including retirement accounts. It's called an Asset Depletion mortgage or Asset Dissipation Underwriting. You don't have to actually sell your investments or withdraw from your IRA. The lender only uses the size of your accounts to calculate an equivalent income for the purpose of qualifying you for the mortgage.
We inquired with a lender earlier this year. They easily pre-approved us for a mortgage.
If you have a large taxable account, you can also get a loan using securities-based lending. You use your investments as opposed to the home as collateral for the loan. Because the interest rate is variable and investments are more liquid than a home, the interest rate can be in the low 1.x%. See How To Use Securities-Based Lending to Manage Cash Flow.
Having options to borrow at low rates allows you to invest the money while you wait to buy your next home. I wish I explored these options after we sold our previous home.
Old Rule: Keep the money safe at low returns if you plan to use it in the near future.
New Rule: Set up borrowing options and keep the money invested.
A Better Way
If we relocate again, we will do it this way:
If we see a home that we like for the long-term, buy it.
If a suitable home is available for rent, rent it. Set up contigent borrowing options and keep the money invested.
Also consider buying a rental home and renting it to ourselves. Keep it as a rental or sell it when we buy the next home.
If we stop at (1) and housing prices go up, great. If housing prices go down, we're in it for the long-term anyway.
If we stop at (2) and housing prices go up, the gains on the investments can keep up or at least offset some of the increase. If the investments have losses, borrow and wait for them to recover. If housing prices go down, great, buy at the lower price.
If we stop at (3) and housing prices go up, the gains on the rental and the residual investments can keep up or at least offset some of the increase. If housing prices go down, great, buy at the lower price and keep the rental as a rental.
This setup is much more robust than the old rules of renting first and keeping the money in cash. The old rules work when:
Desirable rentals are widely available.
Home prices more or less track infation.
Returns on safe money keep up with inflation.
Under these assumptions, you can rent a year and take your sweet time to figure things out. If any one of the assumptions isn't true, the old rules fail.
Say No To Management Fees
If you are paying an advisor a percentage of your assets, you are paying 5-10x too much. Learn how to find an independent advisor, pay for advice, and only the advice.