Many self-employed business owners buy health insurance from the Affordable Care Act (ACA) exchange. Self-employed health insurance premiums are tax-deductible. When your income is low enough, you can also receive a subsidy in the form of a premium tax credit. The tax deduction and the subsidy form a circular relationship. The math is difficult to do by hand but tax software easily handles it for most people.
Here's how to do it in H&R Block Deluxe downloaded software. I'm using this simple example:
You are single, self-employed, with no dependent. You had health insurance from the ACA exchange for all twelve months in the year. The second lowest cost Silver plan was $600/month. The full unsubsidized premium for the plan you chose was $500/month. Based on your estimated income, you got a $150/month advance credit. You paid net $350/month out of pocket. After deducting your business expenses, your income from self-employment was $45,000 for the year. You don't have any other income or deductions.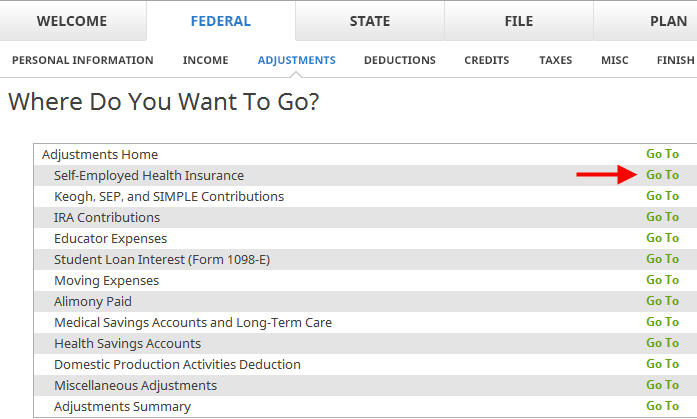 Go to Federal -> Adjustment -> Self-Employed Health Insurance.

Enter the full unsubsidized premiums you paid in the year. You find this number on the 1095-A form you receive from the ACA exchange (line 33, column A). Include both what you paid out of pocket and the advance premium credit. You will reconcile the advance credit later. If you also paid premiums for dental and vision insurance, include those as well. We don't have dental and vision premiums in our simple example.

Go to Federal -> Taxes -> Health Care Coverage.

Everyone had insurance in our example.

Check the box for a plan from the ACA marketplace.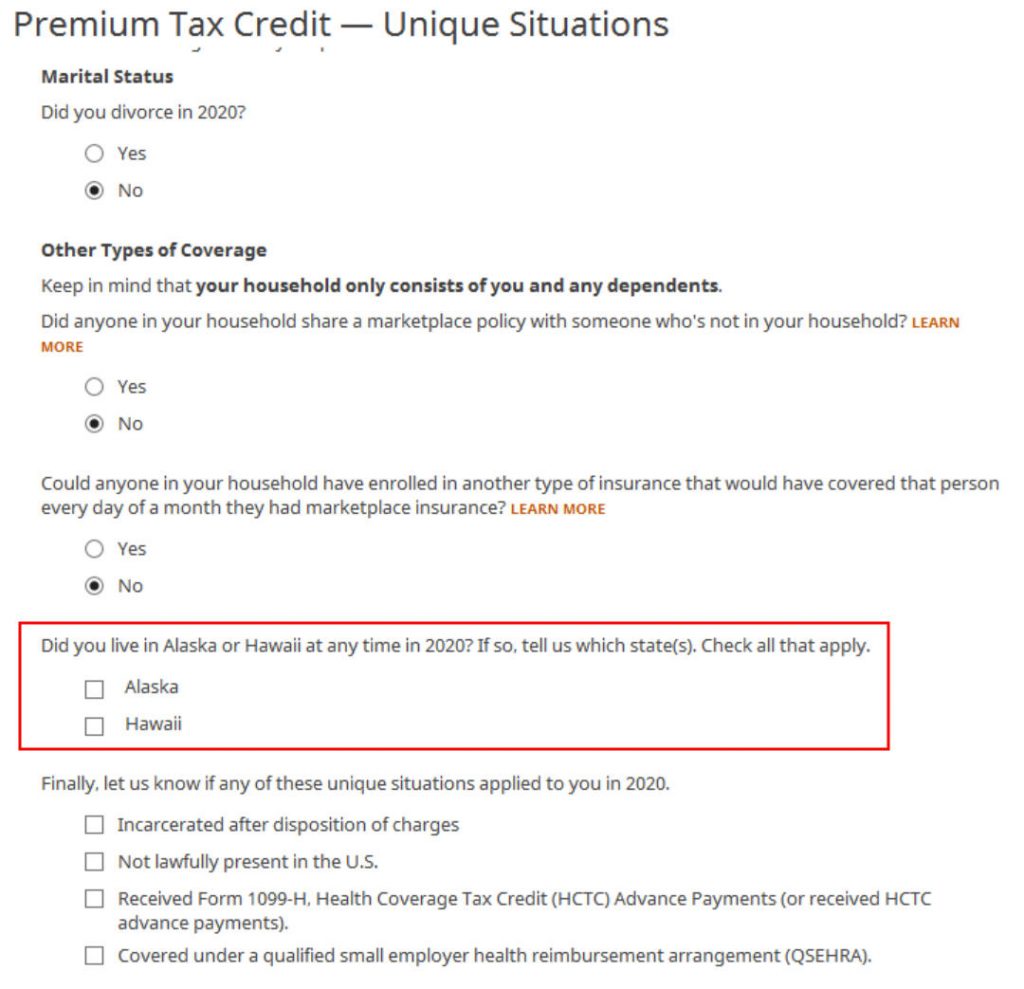 We don't have any of these unique situations here. Check the box for Alaska or Hawaii if you lived there.

We need to add the 1095-A from the marketplace.

Enter the information as requested. Scroll down to Part III. In our simple example, you had the same plan for all 12 months and the numbers on the 1095-A are all correct. If your plan changed mid-year, choose 'No' and enter the month-by-month numbers from your Form 1095-A.

Enter the monthly amounts from the 1095-A. The full unsubsidized premium was $500/month. The full unsubsidized premium for the second lowest cost Silver plan was $600/month. The ACA exchange paid $150/month in advance subsidy to the insurance company on our behalf.
We only have one 1095-A form in our simple example. If you have more than one, repeat and add them all.

Which months you were self-employed determines how much counts as deductible self-employed health insurance. We were self-employed in all 12 months in our example.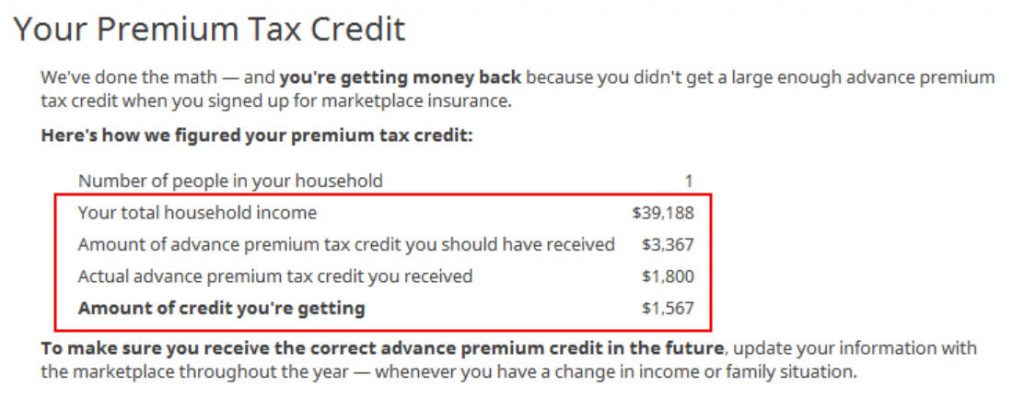 The software crunches the numbers. It says we are eligible for more premium tax credit than the advance subsidy the ACA exchange paid to the insurance company.

You can verify you are also receiving a tax deduction. Click on Forms at the top. Double-click on Form 1040 and Schedules 1-3. Scroll down to Schedule 1 and look at line 16. That's your self-employed health insurance deduction.

Close Form 1040 and Schedules 1-3 and find Form 8962 in the forms list. Double-click on it.

Scroll down to Line 24 on Form 8962. There is our premium tax credit based on our actual income. Because we received less in advance subsidy, we're getting the difference in our tax refund. If you received more in advance subsidy, normally you'll have to pay back the difference (subject to a cap, see Cap On Paying Back ACA Health Insurance Subsidy Premium Tax Credit), but for 2020 only, you'll get to keep the difference, thanks to President Biden's COVID-19 stimulus package.
$2,633 in self-employed health insurance deduction plus $3,367 in premium tax credit equals $6,000. That's the total unsubsidized premium for our health insurance (plus any dental and vision insurance premium, which we didn't have in our example). The numbers add up! The software figured out the split between the tax deduction and the tax credit. It also matched the result from TurboTax for the same example. This is where software does its best. If you take this to a tax professional, they will have to use their software to calculate the split anyway. I bet they are not able to do it by hand.
Edge Cases
Tax software works for most cases but it doesn't work for everyone. You know you're running into one of the edge cases for which the tax software doesn't work when the numbers from the software fail this equation (except for a small difference due to rounding):
Self-Employed Health Insurance Deduction + Premium Tax Credit = Unsubsidized Health Insurance Premium (including any dental and vision premiums)
When this happens, you need a better calculator. See When TurboTax and H&R Block Give Self-Employed Wrong ACA Subsidy.
Say No To Management Fees
If you are paying an advisor a percentage of your assets, you are paying 5-10x too much. Learn how to find an independent advisor, pay for advice, and only the advice.