When you're self-employed, you can deduct your health insurance premium on your tax return. When you buy health insurance through the ACA exchange, you can also get a premium subsidy when your income qualifies. The circular relationship between the self-employed health insurance deduction and the premium tax credit creates an interesting math problem.
Tax Software
After the IRS provided an iterative method for this math problem in 2014 (see IRS Guidance On Circular Reference in ACA Premium Subsidy and Deduction), tax software vendors such as TurboTax and H&R Block implemented the calculation in their software. It solved the problem for most people. For a step-by-step walkthrough of how to make the software calculate the subsidy and the deduction, please see Self-Employed ACA Health Insurance Subsidy and Deduction In TurboTax and Self-Employed ACA Health Insurance Subsidy In H&R Block Tax Software.
However, the iterative method from the IRS doesn't work for everyone for 2020. If your income falls close to either end of the spectrum for receiving the premium subsidy, your tax software may give you wrong numbers. Worse yet, the software doesn't warn you that the numbers are wrong. If you don't know the numbers are wrong, you may miss out on possibly several thousand dollars worth of tax credits and deductions!
The American Rescue Plan Act of 2021, also known as President Biden's COVID-19 stimulus package, removes the ACA subsidy cliff in 2021 and 2022. This likely will make the IRS method in the tax software work for everyone for 2021 and 2022, but the problem remains for 2020, and it will start again in 2023 unless a new law extends the provision beyond 2022.
Here's a simple example for which the IRS method as implemented by the tax software doesn't work for 2020:
Diane, single, earned $60,000 in self-employment income after all business expenses in 2020. She didn't have any other income or deductions. After subtracting one-half of the self-employment tax, Diane's MAGI before health insurance was $55,761. As a Texas resident, Diane paid $600/month for a health plan from the ACA exchange ($7,200 total). That plan was also the Second Lowest Cost Silver Plan in her zip code. Diane received no advance subsidy from the ACA exchange.
Both TurboTax and H&R Block tax software calculated $4,749 in self-employed health insurance deduction (Schedule 1, Line 16) and $0 in premium tax credit (Form 8962, Line 24). We know this result makes no sense because if Diane doesn't get any premium tax credit she should be able to deduct 100% of her health insurance premium ($7,200). In other words, this equation should hold true:
Self-Employed Health Insurance Deduction + Premium Tax Credit = Unsubsidized Health Insurance Premium (including any dental and vision premiums)
You know the tax software is giving you wrong numbers when the numbers fail the equation (except for a small difference due to rounding). To be clear, the wrong numbers aren't TurboTax's or H&R Block's fault. Tax software can only follow the IRS method. When the IRS method fails, it fails everywhere.
A Better Calculator
Mathematician Sam Ferguson heard this problem from a self-employed Uber driver when he was a Ph.D. student at NYU. He studied the math angles and found out why the IRS method didn't work in all cases. He wrote an alternative method in his paper Obamacare and a Fix for the IRS Iteration. When he spoke to the person in charge at the IRS, the IRS personnel acknowledged the problem but they didn't treat it as a high priority when the existing method already worked for most people, just not for the edge cases.
Dr. Ferguson developed an online calculator with a software engineer. He authorized me to host it and keep it updated. Here's the link:
Using this better calculator with our example shows:
Appropriate subsidy amount: 1,398

With this subsidy, your net health insurance cost to be deducted on your tax return is: 7,200 – 1,398 = 5,802

With this net health insurance cost, your modified adjusted gross income is: 55,761 – 5,802 = 49,959
This result makes sense because $5,802 in self-employed health insurance tax deduction plus $1,398 in ACA premium tax credit equals $7,200, which is her unsubsidized health insurance premium (we didn't have any dental or vision premiums in our simple example).
Also, after deducting $5,802, Diane's MAGI is $55,761 – $5,802 = $49,959. 400% of the Federal Poverty Line for a household of one person in the lower 48 states for 2020 coverage is $49,960. When Diane's MAGI is just shy of the 400% FPL cut-off, she's eligible for the premium tax credit. If Diane's unsubsidized premium was higher she'd be eligible for more premium tax credit, but because she's already deducting $5,802, her tax credit is capped to $7,200 – $5,802 = $1,398.
| | Tax Software | Calculator |
| --- | --- | --- |
| Tax Deduction | $4,749 | $5,802 |
| Subsidy | $0 | $1,398 |
If Diane simply goes with the wrong numbers from the tax software, she will miss $1,398 in tax credit plus another $1,053 in tax deduction. That's a big difference.
Overriding Tax Software
After getting the correct numbers from the calculator, you still need to find a way to have your tax software use those numbers. I couldn't figure out how to override the wrong numbers in TurboTax Deluxe downloaded software. I'm not sure whether a different edition allows manual entries. I was able to override the wrong numbers in H&R Block software. If you use TurboTax and you run into this problem, consider switching to H&R Block software.
Overriding may prevent you from e-filing, but the inconvenience of having to file your return by mail sure beats missing out on thousands of dollars. In H&R Block downloaded software, click on Forms on the top, and then find "Self-Employed Health Insurance" in the forms list.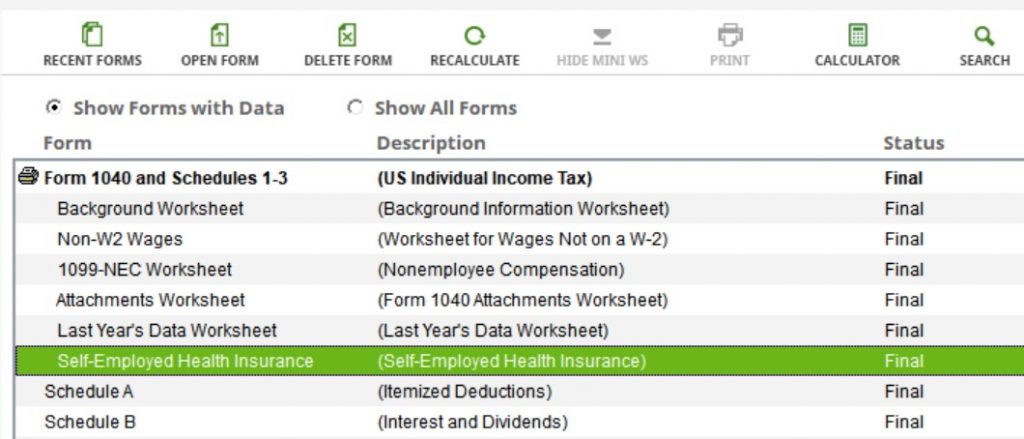 Double-click to open that form. Scroll down to Part VI. Right-click on Box a1 and click on Override. This will allow you to enter your manually calculated deduction.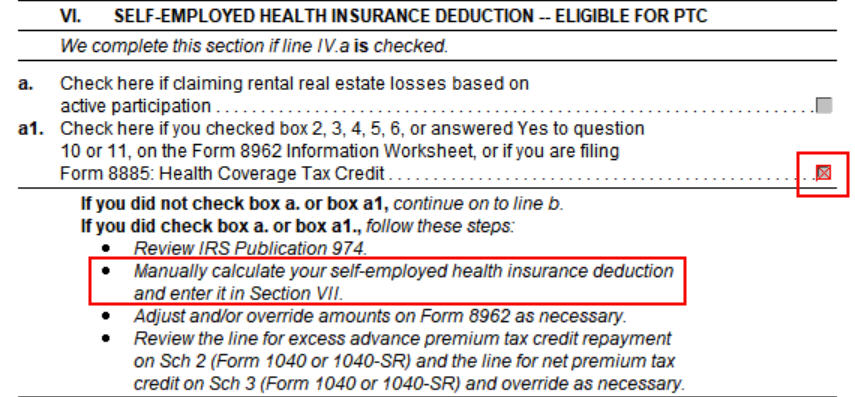 Scroll further down to Part VII. Right-click on Box a and click on Override. Enter the deduction from the online calculator in the box below (in our example, $5,802).

Close this form. Find Form 8962 in the forms list.

Double-click to open Form 8962. Scroll down to Line 11. If the number in column E is different than the number from the online calculator, right-click on Line 11 column E and click on Override. Enter your manually calculated subsidy (in our example, $1,398). If you must use monthly numbers in Lines 12-23 as opposed to the annual totals in Line 11, do the override in Lines 12-23 column E.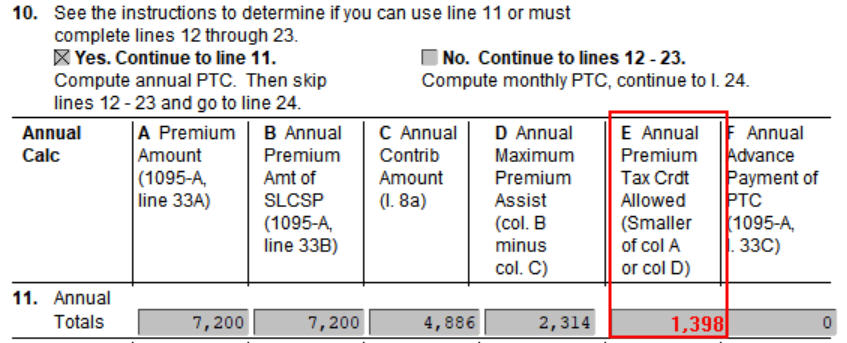 That'll do it. You should double-check that your Schedule 1 Line 16 shows the correct deduction and your Form 8962 Line 24 shows the correct subsidy.
Say No To Management Fees
If you are paying an advisor a percentage of your assets, you are paying 5-10x too much. Learn how to find an independent advisor, pay for advice, and only the advice.