Updated on February 6, 2022, with new screenshots from TurboTax Deluxe downloaded software for the 2021 tax year. If you use other tax software, see:
Many self-employed business owners buy health insurance through the ACA healthcare marketplace (healthcare.gov or a state-specific exchange). If your estimated income qualifies for a subsidy, the marketplace will pay part of the premium directly to the insurance company.
However, the advance subsidy is only an estimate based on the income estimate you provided when you signed up. As self-employed people know full well, the actual income from self-employment can vary greatly from year to year. After the year is over, you have to square up and calculate the actual subsidy you really qualify for. If your business didn't do as well as you anticipated, you may qualify for a higher subsidy. If you had a great year, you may have to pay back some of it.
If you're self-employed, you also qualify for a tax deduction for the health insurance premium. If you qualify for both a subsidy and a deduction, they form a circular relationship. The IRS prescribed a method to calculate the split between the subsidy and the deduction. It's difficult to calculate by hand but tax software will take care of it for most people.
Use TurboTax Download
The screenshots below are from TurboTax Deluxe downloaded software. The downloaded software is way better than online software. If you haven't paid for your TurboTax Online filing yet, you can buy TurboTax download from Amazon, Costco, Walmart, and many other places and switch from TurboTax Online to TurboTax download.
We will use this scenario as an example:
You are single, self-employed, with no dependent. You had health insurance through the ACA healthcare marketplace for all 12 months in the year. The full unsubsidized preimium for the second lowest cost Silver plan was $600/month. The full unsubsidized premium for the plan you chose was $500/month. Based on your estimated income, you got a $150/month advance credit. You paid net $350/month. After deducting your business expenses, your income from self-employment was $45,000 for the year. You don't have any other income or deductions.
Enter 1095-A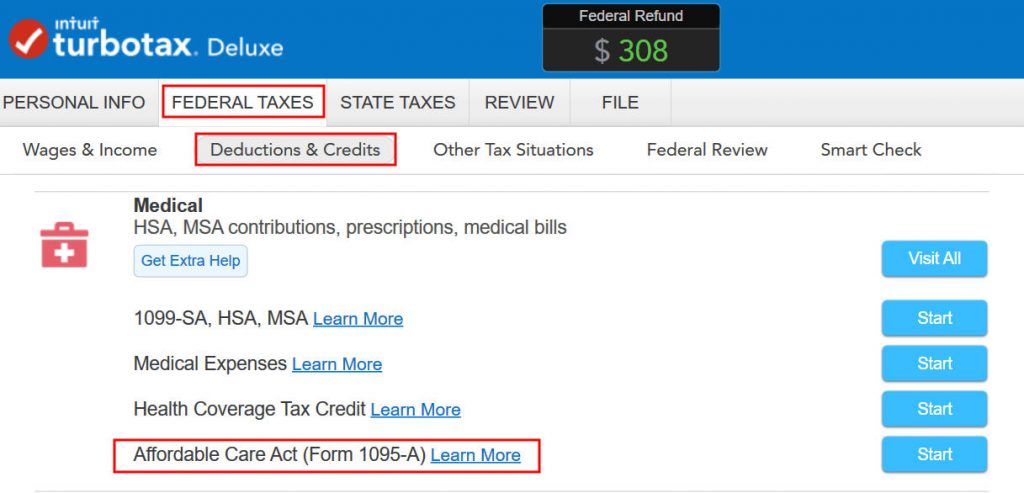 Go to Federal Taxes -> Deductions & Credits. Scroll down and find Affordable Care Act (Form 1095-A) under Medical.

This is a special deal only for 2020 and 2021. If you received unemployment benefits for one week, you get free (or nearly free) health insurance for the full year. We didn't receive unemployment in our example.

You should have a Form 1095-A from the healthcare marketplace. If you didn't get it in the mail, log in to your online account and look for a document download.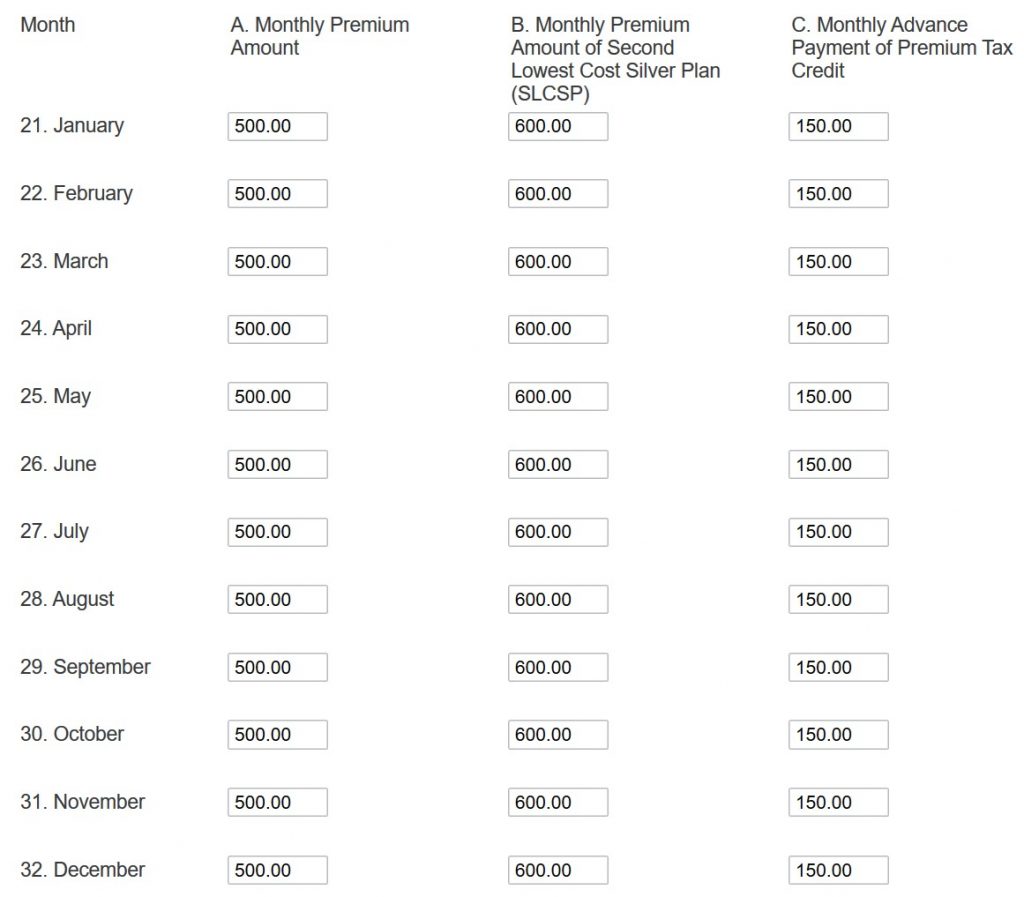 Enter the month-by-month numbers from your Form 1095-A. It's tedious to repeat for all 12 months but you have to do it. The first column is the full unsubsidized monthly premium for your plan. The middle column is the full unsubsidized premium of the second lowest cost Silver plan, which is used to calculate your subsidy. The last column is the advance subsidy the ACA exchange already paid on your behalf to the insurance company.

This is important but easy to miss. Even though TurboTax knows you're self-employed and you have the 1095-A form from the ACA healthcare marketplace, you still must check this box.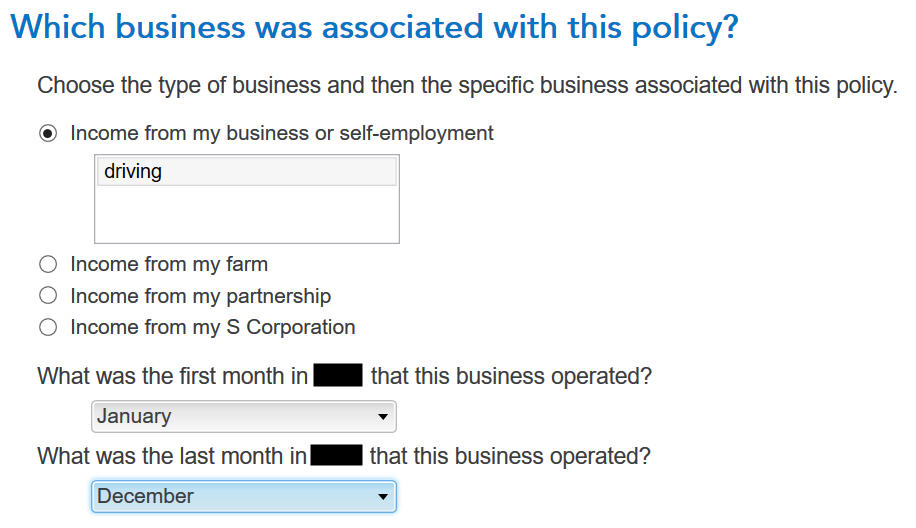 Associate the health insurance with your self-employment and say during which months it applied.
If you have more than one Form 1095-A, repeat and add them all. We only have one in our example.

TurboTax crunches the numbers in a split second. It says we're eligible for more tax credit than the ACA healthcare marketplace already paid directly to the insurance company. We'll get the difference in our tax refund. If you qualify for less subsidy than the advance already paid, you'll pay back the difference, subject to a cap (see Cap On Paying Back ACA Health Insurance Subsidy Premium Tax Credit).
Self-Employed Health Insurance Deduction
We're also eligible for a tax deduction for the portion not covered by the premium tax credit.

To see your self-employed health insurance deduction, click on Forms on the top right. Find Schedule 1 in the left navigation pane. Look at Line 17. It shows we're getting a $1,388 tax deduction for self-employed health insurance.
Premium Tax Credit

To see the subsidy you qualify for based on your actual income, find Form 8962 in the forms list navigation pane. Scroll down and look at Line 24. When you're done looking for the form, click on Step-by-Step on the top right to get back to the interview.
$1,388 in self-employed health insurance tax deduction plus $4,612 in premium tax credit equals $6,000 ($500/month), which is the full unsubsidized premium for our health plan (plus any dental and vision insurance premium, which we didn't have in our example). The numbers add up! TurboTax figured out the split between the tax deduction and the tax credit. It also matched the result from H&R Block software for the same example.
Edge Cases
TurboTax works for most cases but it doesn't work for everyone. You know you're running into one of the edge cases for which the software doesn't work when the numbers from the software fail this equation (except for a small difference due to rounding):
Self-Employed Health Insurance Deduction + Premium Tax Credit = Unsubsidized Health Insurance Premium (including any dental and vision premiums)
When this happens, you need a better calculator. See When TurboTax and H&R Block Give Self-Employed Wrong ACA Subsidy.