[Updated on January 16, 2023 with updated screenshots from TurboTax for 2022 tax filing.]
When mutual funds and/or ETFs that invest in foreign countries receive dividends or interest, they have to pay taxes to those countries. These mutual funds and/or ETFs report to your broker after the end of the year how much they paid in foreign taxes on your behalf.
Form 1116
When you invest in these mutual funds and/or ETFs in a regular taxable brokerage account, your broker will report to you the total foreign taxes you paid through all your funds and/or ETFs. The IRS allows a tax credit for the taxes you paid indirectly to foreign countries.
The foreign taxes paid is reported in Box 7 on the 1099-DIV form you receive from your broker. It's easy to handle when the total foreign taxes paid from all your 1099-DIV forms is no more than a certain amount — $300 for single and $600 for married filing jointly. You enter the 1099-DIV forms into your tax software and the software will automatically put the total on your tax form (Schedule 3, Line 1).
When your total foreign taxes paid from all your 1099-DIV forms are over the $300/$600 threshold, you'll need to include Form 1116 in your tax return. It's a complicated form. I'll show you how to do this in TurboTax.
If you use other tax software, please read:
Use TurboTax Download
The screenshots below came from TurboTax Deluxe downloaded software. The downloaded software is way better than online software because it's both less expensive and more powerful. If you haven't paid for your TurboTax Online filing yet, you can buy TurboTax download from Amazon, Costco, Walmart, and many other places and switch from TurboTax Online to TurboTax download (see instructions for how to make the switch from TurboTax).
I'll use this simple scenario as an example:
You received a 1099-DIV from your broker. Box 7 "Foreign Tax Paid" on the 1099-DIV shows $700. 100% of this $700 came from a mutual fund or ETF. You only have this one 1099-DIV that has a number in Box 7.
1099-DIV Entries

If you imported your 1099's, double-check that all the numbers from the import match your downloaded copy.
If you're entering your 1099-DIV manually, you have to check a box on the 1099-DIV entry screen to reveal the additional input fields. Then you put the foreign tax paid number into Box 7.

We don't have any of these uncommon situations.
After you're done with one 1099-DIV, continue with your other 1099-DIV forms. We only have one 1099-DIV form in our example.
Foreign-Source Income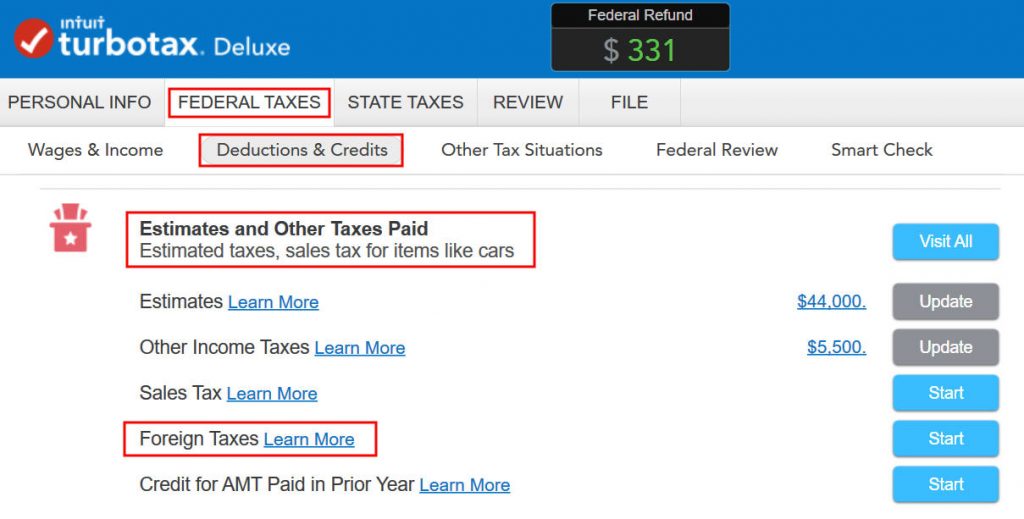 At a much later point, TurboTax will ask you about the foreign tax paid under Deductions & Credits -> Estimates and Other Taxes Paid -> Foreign Taxes.

After a brief introduction, the first question is whether you'd like to take a tax deduction or a tax credit. The "help you decide" popup says in general you're better off taking the credit. So click on "Take a Credit."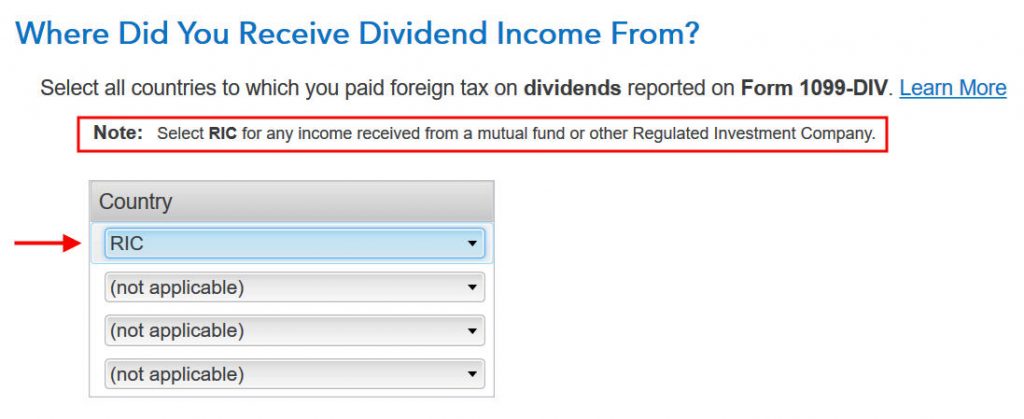 Next, TurboTax asks you which countries you received dividend income from. A small note says to select RIC for any income received from a mutual fund or other Regulated Investment Company. U.S.-based mutual funds and ETFs fall into this category.
RIC is the first item in the country dropdown.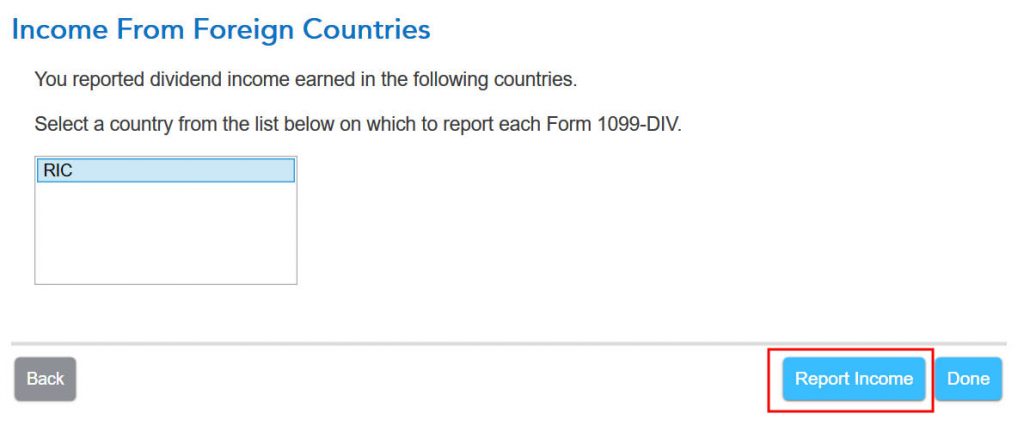 Then you report income received from the country "RIC." Click on "Report Income."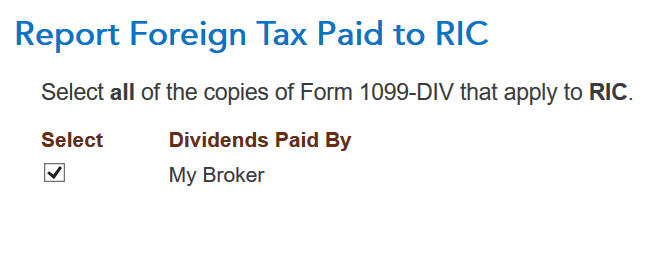 Now you say foreign tax paid from which 1099-DIVs were paid to the country RIC. If all your foreign taxes paid were from mutual funds and/or ETFs, select all your 1099-DIV's that have a number in Box 7.

TurboTax asks you how much of the dividend on your 1099-DIV was from foreign countries.
This information isn't on the 1099-DIV itself. Your broker may have included supplemental information with the 1099-DIV. For instance, Fidelity provides the breakdown of total foreign income in its 1099 package.

TurboTax asks whether you'd like to review the 1099-DIV forms you entered before. We answer "No" here because we already entered the 1099-DIV forms correctly.
Simplified Limitation for AMT

Now it asks you about a "simplified foreign tax limitation election." If this is the first year you encounter this, choose the first option.

TurboTax suggests you should elect the simplified method. Click on Elect Simplified Calculation.

If you used TurboTax last year and you already elected the simplified method, TurboTax reminds you that you should continue with the simplified method. Answer "Yes" here.
Adjustments

This is important but easy to miss. We gave the total foreign-source income in a previous screen but we didn't get a chance to say how much of the income is from qualified dividends or long-term capital gains. It makes a difference.
Click on "No" to trigger more questions.
You find the total foreign-source qualified dividends and long-term capital gains from the 1099 supplemental materials from your broker.
Go with the default "Paid."
By default all your above-the-line deductions are categorized as "not definitely related" to your foreign income. If you have a deduction that's definitely related to your U.S. income, such as the deductible 1/2 of your self-employment tax when your self-employment is 100% U.S., enter it here as a negative number to back it out.
Continue clicking through and accept the default in many screens after this one.
Foreign Taxes Paid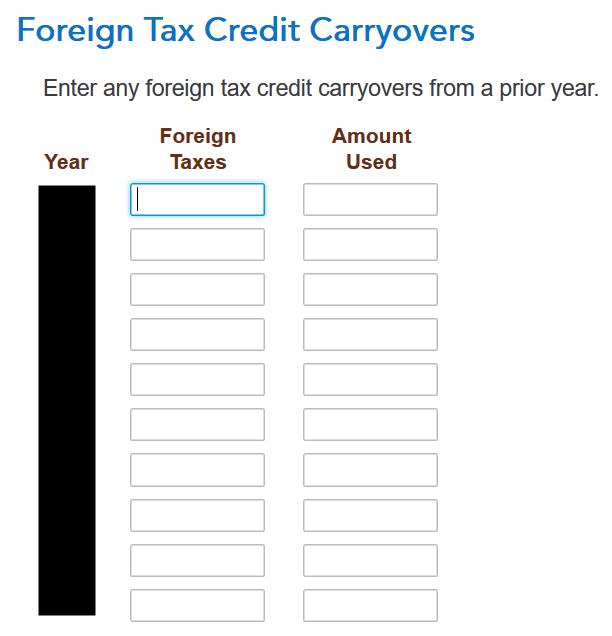 We don't have any carryover from previous years in our example. A carryover is created when you paid more in foreign tax than the tax credit you're allowed. Your leftover foreign tax paid is first carried back to the previous year and then carried over to the following year.

After going through all these, we're getting 100% credit for the $700 foreign tax paid. Woo-hoo!
Verify on Schedule 3
You can verify that you're getting the foreign tax credit by clicking on Forms at the top right. Find Schedule 3 in the left navigation pane and look at the number on Line 1. You can also look at Form 1116. It looks awfully complicated.
Excess Foreign Tax Credit
We received 100% of the foreign taxes paid as a tax credit in our example. If you paid higher foreign taxes on a lower US income, you may not be able to take 100% of the credit. TurboTax will tell you that you'll have to wait until next year to take a portion of the credit.
Carrying over part of the credit to the following year requires filing a Form 1116 Schedule B. TurboTax will automatically generate Schedule B when you need it.
Summary
TurboTax works when you paid more foreign taxes than the $300/$600 threshold that requires a Form 1116. You'll have to gather the foreign income from the 1099 supplemental information from your brokers. After it's all said and done, you're getting a tax credit for taxes you paid to foreign countries through your mutual funds and/or ETFs.
Completing Form 1116 is complicated even with TurboTax. You'll have a further complication in carryovers when you don't get to use 100% of the credit. I try to avoid this situation by putting mutual funds and ETFs that invest in foreign countries in a tax-advantaged account. See Too Much Hassle in Claiming Foreign Tax Credit on IRS Form 1116.
Say No To Management Fees
If you are paying an advisor a percentage of your assets, you are paying 5-10x too much. Learn how to find an independent advisor, pay for advice, and only the advice.