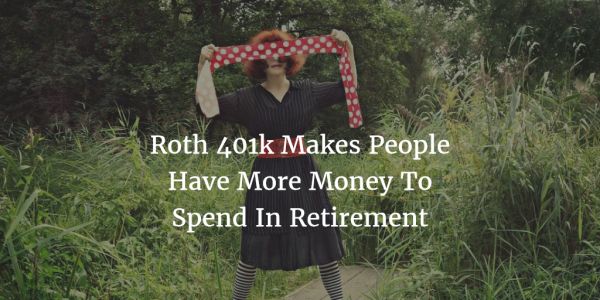 Reader Joel left a comment on my blog post The Case Against Roth 401(k) and asked about a study by Harvard and Yale professors which concluded that Roth 401k makes people have more money in retirement than Traditional 401k.
The study was done with 401(k) plan data from 11 companies from 2006 and 2010. Four professors, 3 from Harvard, 1 from Yale, published a working paper in 2015. It was finally published in an academic journal in July 2017. Here's the formal citation with a link to the full paper.
Beshears, John, James J. Choi, David Laibson, and Brigitte C. Madrian. "Does Front-Loading Taxation Increase Savings? Evidence from Roth 401(k) Introductions." Journal of Public Economics 151 (July 2017): 84–95.
I read the 43-page paper. I agree with the authors. Roth 401k makes people have more money in retirement.
However, it does not contradict with the case against Roth 401k. Roth 401k makes people have more money in retirement when people would otherwise contribute the same percentage of pay to Traditional. It does so at the cost of a lower take-home pay. When people are OK with a lower take-home pay, bumping up contributions to a traditional 401k would make them have even more money in retirement, but for some reason people find it easier to shift contributions to Roth while keeping the contribution rate the same than to increase their contribution rate to Traditional.
We are not talking about people who max out their 401k contributions. Data from Vanguard shows that only 10% of all 401k participants contribute the annual maximum set by law. The vast majority can increase their contributions to Traditional but they don't. They choose to keep the same contribution rate but shift some or all to Roth.
Between contributing 6% of pay to Traditional and contributing 6% of pay to Roth, clearly contributing 6% of pay to Roth will give you more money to spend in retirement, because withdrawals from a Roth 401k will be tax free. Even making it 3% to Traditional and 3% to Roth will give you more money to spend in retirement than doing 6% to Traditional.
Shifting all or 50:50 to Roth will lower the take-home pay. Even though doing 8% or 7% to Traditional will give people the same reduced take-home pay, the study showed that people are anchored on the contribution rate regardless Traditional or Roth. People choose to contribute 6% of pay because that's the rate that gets the full employer match, or they choose to contribute 10% because that's the rule-of-thumb they hear a responsible person is supposed to do. When some of all of the 6% or 10% is moved to Roth, they effectively increase their contribution rate without feeling they are sacrificing more of the present.
It's not rational but we don't have to fight it. We can point out that, at the same take-home pay, contributing 8% to Traditional would be better than 6% to Roth, or that contributing 13% to Traditional would be better than 10% to Roth. It will take some explanation. Or we can just accept even though it's not optimal, contributing 6% or 10% to Roth is still better than contributing 6% or 10% to Traditional. Whether it's good or bad all depends on what we compare against. If people just want to check the box they are getting the full employer match or they are saving 10% like they are supposed to, it's better to let them check the box on the Roth side.
Roth 401k is better for people who have to fool themselves into contributing more. If you are more rational, just contribute more to Traditional 401k until you max out. Then you can consider shifting some to Roth 401k, but only after you also max out the Roth IRA, whether direct or backdoor, and the mega backdoor Roth if you have one available. See Roth 401(k) for People Who Contribute the Max.
Say No To Management Fees
If you are paying an advisor a percentage of your assets, you are paying 5-10x too much. Learn how to find an independent advisor, pay for advice, and only the advice.