[Originally written in 2008. Updated in 2022. The case is still valid after all these years.]
To Roth or not to Roth, that is the question.
Many employers offer both a Traditional and a Roth contribution option in their 401(k) plan. If you choose the Traditional option, your contributions go in pre-tax but you pay tax when you withdraw after you retire. If you choose the Roth option, you pay tax first before you contribute but your withdrawals are tax-free after you retire. You can mix and match between Traditional and Roth but your total contributions between the two can't exceed the annual limit.
| | Traditional | Roth |
| --- | --- | --- |
| Contributions | pre-tax | post-tax |
| Earnings | tax-deferred | tax-free |
| Withdrawals | taxable | tax-free |
This question of whether one is better off with contributing to the Traditional 401k or contributing to the Roth 401k has been the subject of a lot of debate. Although there is no one-size-fits-all answer, I think for most people the majority, if not 100%, of the contribution should go to a Traditional 401(k). I will state my case against the Roth 401(k) in this article.
The basic premise of a Roth 401(k), and to some extent a Roth IRA, is that of prepayment. You are prepaying taxes now so you don't have to pay tax later. This prepayment concept is not uncommon. For example, buying a season ticket is prepaying for the individual events. Buying a timeshare is prepaying for vacation accommodation.
Whenever we deal with a prepayment scheme, we have to assess whether prepaying is "worth it." The same paradigm also applies to Traditional versus Roth 401(k). There are several factors that make prepaying the taxes now not worth it.
Fill In Lower Tax Brackets In Retirement
I showed in a previous post The Commutative Law of Multiplication that if the marginal tax rate at retirement is the same as it is now, the Traditional and Roth 401(k)'s are equivalent. If the marginal tax rate is higher now than in retirement, one is better off contributing to a Traditional 401k. If the current marginal tax rate is lower, one is better off contributing to a Roth 401k.
But that applies only to the marginal dollar, which is the last dollar you can shift between Traditional and Roth 401(k). It is not necessarily the case for the entire contribution or the average dollar.
The tax system in the United States is progressive and it will probably stay that way. It means that income is taxed at increasing rates as it goes higher. Even if you think the marginal tax rate in the future will be higher, there will still be lower brackets and these lower brackets should be filled with money from a Traditional 401(k).
The chart below illustrates how the tax brackets work: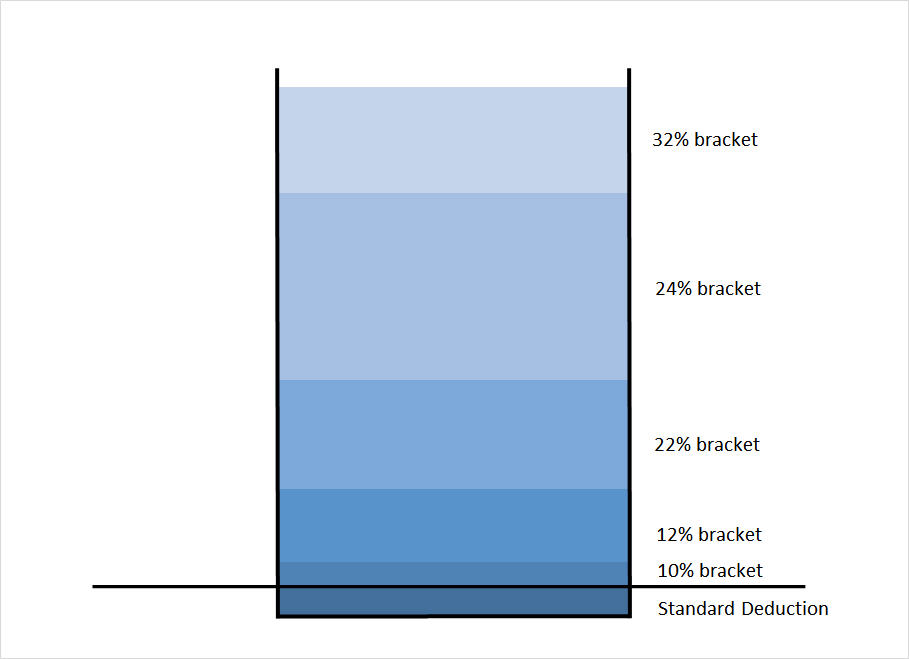 Picture a bucket with markings on the side. As you pour water into the bucket, the water goes up and crosses the marked lines. This represents how your income is taxed. The first chunk of your income absorbed by your tax deduction isn't taxable. The next chunk of your income is taxed at 10%. The next chunks after that are taxed at 12%, 22%, etc.
When you contribute to a Traditional 401(k), you are scooping up income from the top of this bucket. The dollars you contribute come from the highest tax bracket for your income.
After you retire, you're staring at an empty or shallow bucket before you pour in money from your 401(k). The money first goes through the lower brackets before it reaches the top.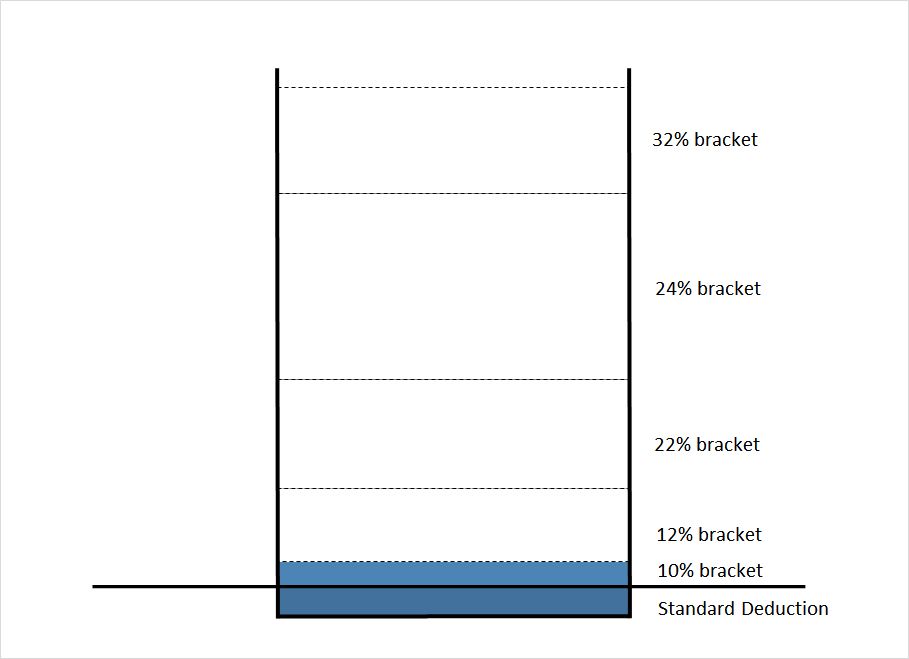 Even if you assume your marginal tax bracket in retirement will be higher due to tax increases, a large portion of the 401(k) withdrawal may still be taxed at a lower rate than what it was when you contributed the money.
Until you know you can generate from your Traditional 401(k) enough income to fill the lower brackets, it doesn't make sense to contribute to a Roth 401(k). For people without a pension, it means the majority of the retirement savings should go to a Traditional 401(k), not Roth.
If you have a pension and/or you expect to have a huge balance in Traditional 401(k)/IRA, large enough to fill the lower brackets every year, then contributing some money to Roth makes sense.
Avoid High State Income Tax
Many people work in high-tax states like California and New York today. They work there because there are a lot of good-paying jobs in those states. They won't necessarily retire there because taxes and the cost of living are high in those states.
States popular with retirees like Florida and Texas have no state income tax. If you're working in a high-tax state today but there's a good chance you will retire in a no-tax or low-tax state, contributing to a Traditional 401(k) lets you avoid paying the high state income tax on the contributions. Prepaying the high state income tax now is a dead loss.
Leave the Option Open for Future Roth Conversions
When you leave your employer, you can roll over the Traditional 401(k) to a Traditional IRA, which then can be converted to a Roth IRA at a later time when it is advantageous to you. A Roth 401k or IRA on the other hand can never be converted back to Traditional.
With a Traditional 401k, you hold the option, which has value. If you contribute to a Roth, you give up that valuable option. You can decide to convert and pay the tax whenever you are in a lower tax bracket than where you are now. Good times for conversion include:
Going back to school for a career change.
Becoming unemployed due to layoffs or burn-out.
Starting a business (not as much income in the first few years).
A two-income couple having one parent stay at home or work part-time for a few years after they have kids.
A high-income single person marrying a lower-income spouse.
Taking early retirement.
Moving from a high-tax state to a no-tax or low-tax state.
Unless you're sure that your marginal tax bracket will never be lower throughout your lifetime, you should leave the option open by putting money in a Traditional 401(k) and waiting to convert to Roth when an opportunity comes.
Avoid Triggering Phase-outs
Because contributing to a Roth 401k does not reduce your gross income, you appear to have a higher income than if you contributed to a Traditional 401k.
There are all kinds of income-based eligibility cutoffs and phase-outs in the tax code. When you exceed the income threshold, your tax benefits from those programs are either reduced or eliminated. Some of these tax breaks include:
Child Tax Credit
Child and Dependent Care Credit
American Opportunity tax credit
Lifetime Learning credit
Eligibility to contribute to a Roth IRA
Student loan interest tax deduction
Think of the stimulus payments during the COVID pandemic. If a single person earned $80,000 but contributed $10,000 to a Roth 401k, he/she wasn't eligible for the payment. If he/she contributed $12,000 to a Traditional 401(k) instead, he/she was eligible.
Easier to Get the Full Employer Match
Some people think if you contribute to Roth 401k, the employer's match will also go there, which will effectively increase your employer match. That's not true. The employer match always goes to the pre-tax account whether you contribute to the Traditional 401k or the Roth 401k.
When money is tight, it's easier to qualify for the full employer match when you contribute to the Traditional 401k with pre-tax dollars.
Who Should Use a Roth 401(k)?
With so many disadvantages, then, for whom does a Roth 401(k) make sense?
A Roth 401(k) is good for people in low-paying jobs now but expect to have high-paying jobs later. Doctors in resident programs fit that description very well. They are paid very little while they are in residency but their income is expected to rise substantially higher when they finish the program. Their income will stay high in their career and they will receive a high income after they retire. Prepaying tax now makes sense because they are prepaying at a low rate and they will avoid paying a higher rate later.
College students working part-time jobs or recent graduates working in entry-level jobs are also good examples for taking advantage of a Roth 401(k) while their income (and their tax rate) is low.
A Roth 401(k) is also good for people who are already in the top tax bracket and expect to be there forever. If they don't see any chance of being in a lower tax bracket, prepaying tax now will lock in the tax rate so they won't have to worry about future tax increases. On the other hand, people who are in the top tax bracket are in a good position to retire early, with many years of lower tax brackets to fill. So don't be too sure of staying in the top tax bracket forever.
Tax Diversification?
What about the idea of tax diversification? Some advocate both a Roth 401k and a Traditional 401k because the tax rates in the future are uncertain.
Diversification is good in general but it doesn't mean automatic 50:50. Just like investing in emerging markets provides diversification, it doesn't mean you should invest 50% of your money in emerging markets. You still have to decide how much you should allocate your retirement savings between Traditional and Roth just like you allocate a portfolio between developed markets and emerging markets.
Tax diversification also doesn't mean you have to do it right now if you are in your peak earning years. There might be better times coming up in the future.
As for me, I had contributed 100% to a Traditional 401(k) every year when I worked full-time. Prepaying taxes just wasn't worth it.
Higher Effective Contributions
Some say the Roth 401(k) is better because you can fool yourself into contributing more when you're using after-tax money. Contributing 10% of your salary post-tax effectively puts more money into your 401k than contributing 10% of your salary pre-tax. It's true but you should adjust your contribution to 12% or 15% to equalize the net paycheck when you contribute to a Traditional 401k.
A Roth 401k has a higher effective contribution limit because the annual contribution limit is the same when you max out your 401k. There is some truth to it. See follow-up post, Roth 401(k) for People Who Contribute the Max, which includes an online spreadsheet that calculates the value of having a higher effective contribution limit in a Roth 401k.
What About Roth IRA?
All arguments for and against the Roth 401k also apply to the Roth IRA when you are not yet contributing the maximum to your Traditional 401k. Instead of contributing to the Roth IRA, you can just increase the contribution to your Traditional 401k.
An additional argument in favor of the Roth IRA is that some 401k plans have higher fees. Even then the Traditional 401k can still be better when you don't expect to work there for many years. You can roll over to your own IRA for lower fees when you change jobs. See Alternatives to a High Cost 401k Or 403b Plan.
If you are already contributing the maximum to your Traditional 401k, you may still be able to take a deduction for contributing to a Traditional IRA. See The Forgotten Deductible Traditional IRA. A Roth IRA is better when you already contribute the maximum to your Traditional 401k and you don't get a deduction for contributing to a Traditional IRA anyway.
Say No To Management Fees
If you are paying an advisor a percentage of your assets, you are paying 5-10x too much. Learn how to find an independent advisor, pay for advice, and only the advice.