TaxACT used to be a low-cost alternative to the big two tax prep software TurboTax and H&R Block. However, its pricing strategy changed lately. Now TaxACT is just as expensive or sometimes even more expensive than TurboTax and H&R Block. The good news is another low-cost alternative emerged. It's called FreeTaxUSA.
FreeTaxUSA is purely online; there is no download option. It uses the freemium pricing model. Federal tax filing is free, regardless of the complexity of the return. After you are done with federal, if you need to file a state return, it costs $12.95. They also offer a deluxe upgrade for $6.99, which includes audit assist, priority support, and amended returns. All told, the total cost is under $20 and it includes e-filing for both federal and state.
Low cost is good and all, but how good is the software? I decided to test-drive it with a slightly complicated subject: reporting the Backdoor Roth. Over the years I created guides for how to report the Backdoor Roth in TurboTax, H&R Block, and TaxACT. A reader asked me to also create a guide for doing the same in FreeTaxUSA.
Just as a refresher, a Backdoor Roth involves making a non-deductible contribution to a Traditional IRA followed by converting from the Traditional IRA to a Roth IRA. Both the contribution and the conversion need to be reported in the tax software. For more information on Backdoor Roth, see Backdoor Roth: A Complete How-To.
What To Report
You report on the tax return your contribution to a Traditional IRA *for* that year and your converting to Roth *during* that year.
For example when you are doing your tax return for year X, you report the contribution you made *for* year X, whether you actually did it during year X or between January 1 and April 15 of the following year. You also report your converting to Roth *during* year X, whether the contribution was made for year X, the year before, or any previous years. Therefore a contribution made during the following year for year X goes on the tax return for year X. A conversion done during year Y after you made a contribution for year X goes on the tax return for year Y.
You do yourself a big favor and avoid a lot of confusion by doing your contribution for the current year and finish your conversion in the same year. Don't wait until the following year to contribute for the previous year. Contribute for year X in year X and convert it during year X. Contribute for year Y in year Y and convert it during year Y. This way everything is clean and neat. If you are already off by one year, catch up. Contribute for both the previous year and the current year, then convert the sum during the same year. See Make Backdoor Roth Easy On Your Tax Return.
FreeTaxUSA
Here's the scenario we will use as an example:
You contributed $5,500 to a traditional IRA in 2018 for 2018. Your income is too high to claim a deduction for the contribution. By the time you converted it to Roth IRA, also in 2018, the value grew to $5,560. You have no other traditional, SEP, or SIMPLE IRA after you converted your traditional IRA to Roth.
If your scenario is different, you will have to make some adjustments from the screens shown here.
Before we start, suppose this is what FreeTaxUSA shows: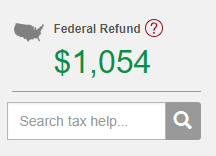 We will compare the results after we enter the Backdoor Roth.
Convert From Traditional IRA to Roth
The tax software works on income items first. Even though the conversion happened after the contribution, we enter the conversion first.
When you convert from Traditional IRA to Roth, you will receive a 1099-R. Complete this section only if you converted *during* the year for which you are doing the tax return. If you only converted during the following year and you don't have a 1099-R yet, skip this section and wait until the next year.
In our example, we assume by the time you converted, the money in the Traditional IRA had grown from $5,500 to $5,560.

Click on Yes when it asks you about the 1099-R.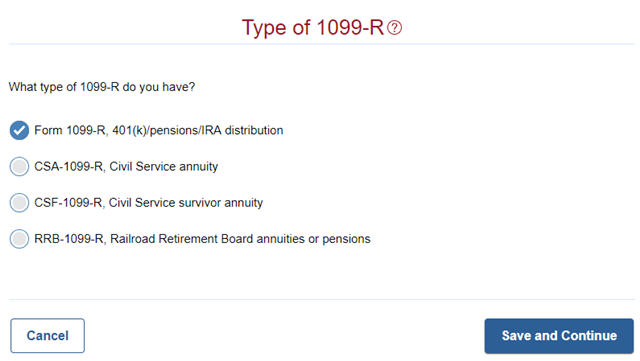 It's just a regular 1099-R.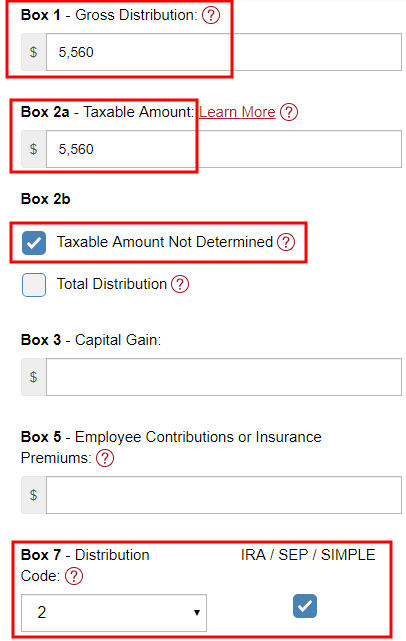 Enter the 1099-R as printed. Pay attention to the code in Box 7 and the checkboxes. Our 1099-R had Box 2b checked, code 2 in Box 7, and the IRA/SEP/SIMPLE box also checked.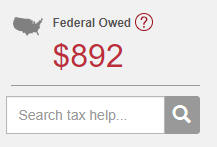 Right after you enter the 1099-R, you will see the refund meter drop. Here we went from $1,054 refund to owing $892, for a difference of nearly $2,000. Don't panic. It's normal and temporary.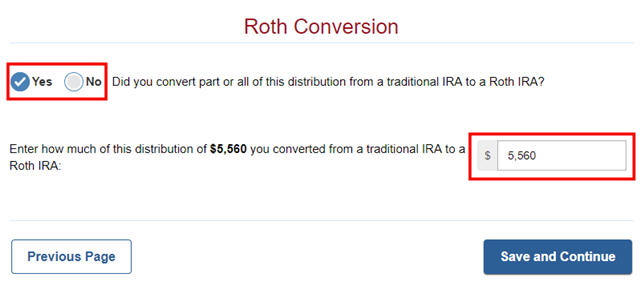 It asks you about Roth conversion. Answer Yes to conversion and enter the converted amount. This whole 1099-R is the result of a Roth conversion.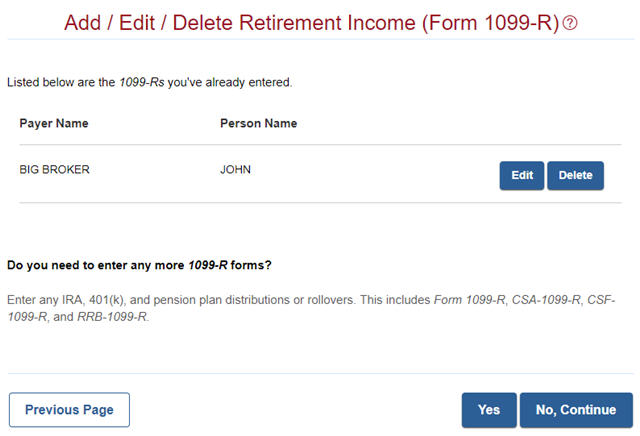 You are done with this 1099-R. Enter another if you have more than one.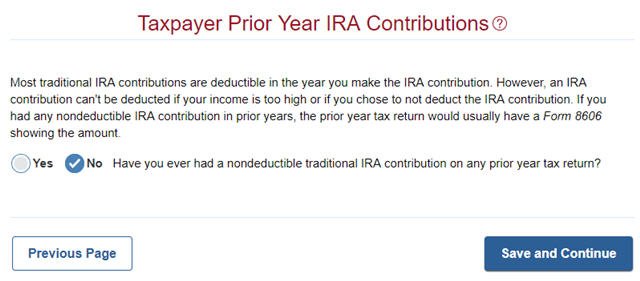 It asks you about basis carried over from previous years. In our simple example we don't have any. If you do, get the number from line 14 of Form 8606 from your previous year's tax return.

Not impacted by a disaster.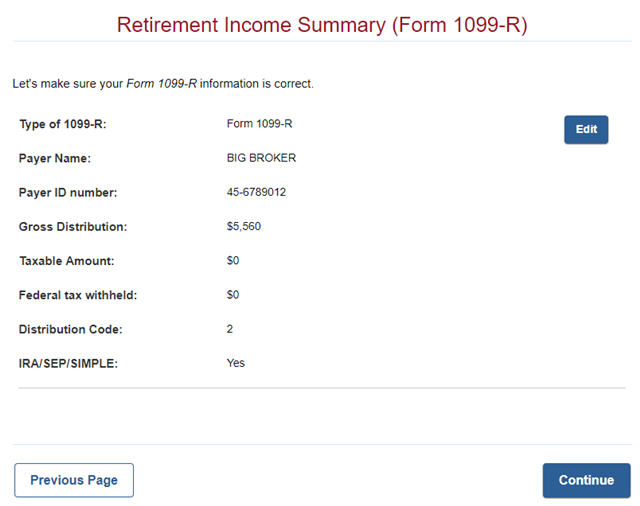 Another 1099-R summary.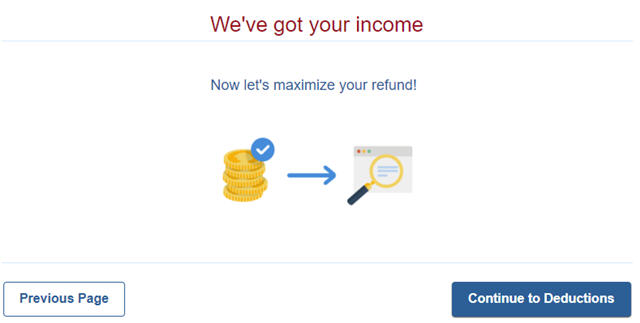 Now continue with all other income items until you are done with income. Your refund meter is still lower than it should be, but it will change soon.
Traditional IRA Contribution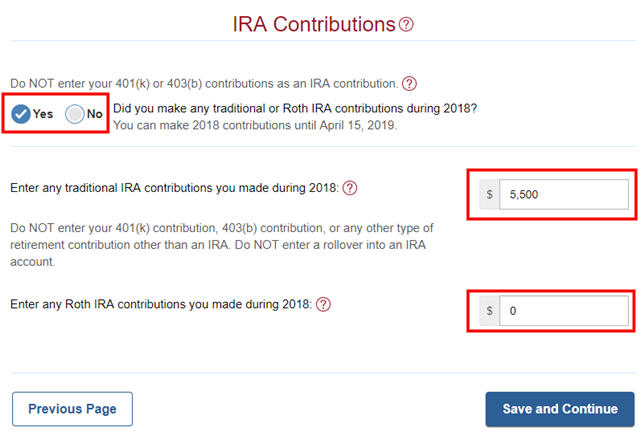 Right off the bat it asks you about your IRA contributions. Choose Yes and enter your contribution. In our example you contributed $5,500 to Traditional, nothing to Roth.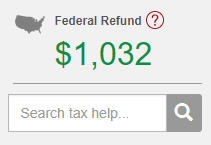 Immediately your refund meter goes up again. It was a refund of $1,054 before we entered the 1099-R. It went down to owing $892. Now it's back to a refund of $1,032. The $22 difference is due to paying tax on the $60 earnings before we converted to Roth.

Withdrawal means pulling money out of a Traditional IRA back to your checking account. Converting to Roth is not a withdrawal. Answer 'No' here.

In our example we don't have a SEP, SIMPLE, or other self-employed retirement plan.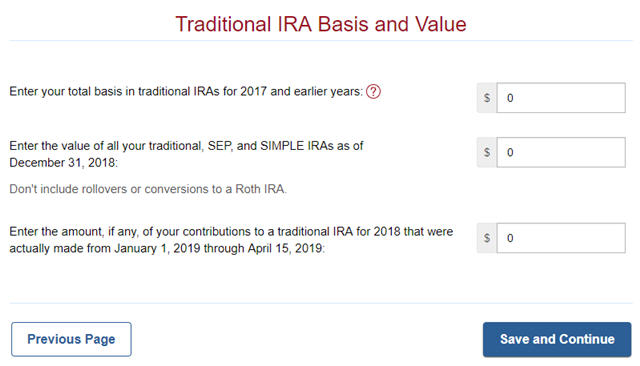 In our example we don't have any basis carried over from the previous years. We don't have any money in traditional, SEP, or SIMPLE IRAs as of the end of the year (we already converted to Roth by then). Our contribution was made during the year in question, not in the following year.

It tells us we don't get a deduction. We know. It's because our income was too high. That's why we did the Backdoor Roth to begin with.
That's all. After all these entries, we are only paying tax on the earnings in the Traditional IRA before we converted to Roth. If you had no earnings, you would pay no extra tax.
Say No To Management Fees
If you are paying an advisor a percentage of your assets, you are paying 5-10x too much. Learn how to find an independent advisor, pay for advice, and only the advice.