TreasuryDirect announced that I Bonds bought between May and October 2023 will have a 0.9% fixed rate plus a variable rate that changes every six months. This fixed rate is the highest we've ever seen in 15 years. I expect that the new fixed rate to be announced on November 1 will go up again, possibly to 1.5%.
Low Fixed Rate on Older I Bonds
If you bought I Bonds between May 2020 and October 2022, the fixed rate on those older I Bonds is 0%. This 0% fixed rate stays with the bonds for their entire life up to 30 years. If you cash out those older I Bonds to buy new ones, you will benefit from the higher fixed rate over the long run.
I Bonds bought between November 2022 and April 2023 are still in the 12-month mandatory holding period by October 2023. They can't be switched to new bonds until their mandatory holding period is over.
You see a list of your existing I Bonds by clicking on Current Holdings after you log in to your TreasuryDirect account. Then you choose Series I Savings Bond and click on Submit.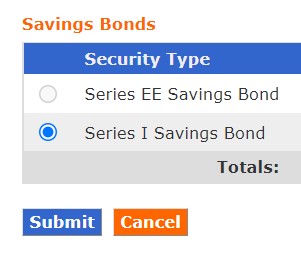 Here's a reminder of the fixed rate on existing I Bonds issued since November 2010:
| Issue Month | Fixed Rate |
| --- | --- |
| 11/2022 – 04/2023 | 0.4% |
| 05/2020 – 10/2022 | 0.0% |
| 11/2019 – 04/2020 | 0.2% |
| 11/2018 – 10/2019 | 0.5% |
| 05/2018 – 10/2018 | 0.3% |
| 11/2017 – 04/2018 | 0.1% |
| 11/2016 – 10/2017 | 0.0% |
| 11/2015 – 10/2016 | 0.1% |
| 11/2014 – 10/2015 | 0.0% |
| 05/2014 – 10/2014 | 0.1% |
| 11/2013 – 04/2014 | 0.2% |
| 11/2010 – 10/2013 | 0.0% |
I Bonds Fixed Rate
Look up the fixed rate for your existing I Bonds from the table above. If the fixed rate is 0%, 0.1%, 0.2%, or 0.3%, they're all good candidates for switching to new ones.
Early Withdrawal Penalty
You'll pay an early withdrawal penalty when you cash out I Bonds within five years but you can minimize the penalty if you time it correctly.
The early withdrawal penalty is the interest earned in the last three months before you cash out the bond. The variable rate will drop to a relatively low 3.38% annual rate in the coming months. If you wait three months after the bonds start earning 3.38%, you only give up three months' worth of interest at 3.38% per year, which comes out to about 0.85%. You'll make up for it in about a year from a higher fixed rate when you hold the new I Bonds for the long term.
I Bonds issued in the following months can be cashed out on these dates to keep the penalty low:
| Issue Month | After 3 months at 3.38% Variable Rate |
| --- | --- |
| January or July | 10/1/2023 |
| February or August | 11/1/2023 |
| March or September | 12/1/2023 |
| April or October | 1/1/2024 |
| May or November | 8/1/2023 |
| June or December | 9/1/2023 |
The 3-month period at the 3.38% annual rate doesn't end until after November 1, 2023 for some bonds. We don't know what the new fixed rate will be at that time but it doesn't look like the fixed rate will drop.
Example: Suppose you bought I Bonds in February 2022. These bonds have a 0% fixed rate. They will finish earning the 6.48% rate on August 1, 2023. You cash out on November 1 as the table shows to buy new bonds. The 3-month early withdrawal penalty will be entirely at the 3.38% annual rate. You minimize the early withdrawal penalty while it looks like the fixed rate won't drop and it may increase.
Take a look at the issue month of your older I Bonds. Set a calendar reminder to cash them out on the corresponding dates. TreasuryDirect makes the effective redemption date two business days after the date of your request. You see the redemption date and the redemption value on the review page. Double-check before you click on Submit.
New 12-Month Holding Period
The new I Bonds you buy will have a new 12-month holding period. It's not a problem when you hold them for the long term.
If there's a chance that you'll need the money from I Bonds in 12 months, don't switch. You will hardly make up for the early withdrawal penalty anyway if you hold the new bonds only for another year.
Pay Tax on Accrued Interest
You will pay federal income tax on the interest earned when you cash out I Bonds unless you chose to pay tax annually. See I Bonds Tax Treatment During Your Lifetime and After You Die.
The interest is exempt from state and local taxes. The 3-month early withdrawal penalty doesn't count as interest earned because you never received it. You won't pay tax on the early withdrawal penalty.
By default, TreasuryDirect doesn't withhold taxes when you cash out I Bonds. If you'd like to have TreasuryDirect withhold taxes on the interest, please follow the steps in Voluntary Tax Withholding on Selling I Bonds at TreasuryDirect.
You will add the interest to your tax return using the 1099 form from TreasuryDirect. Remember to download or print the 1099 form from TreasuryDirect in January. It's under ManageDirect -> Manage My Taxes.
TreasuryDirect sends an email notification when the 1099 form is available but they won't send the form by mail. Set a calendar reminder for yourself to download the 1099 form on January 31 in case you miss the email notification or the email notification is mistakenly directed to the spam folder.
Annual Purchase Limit
Buying new I Bonds after cashing out older I Bonds still counts toward your annual purchase limit. If you already bought I Bonds in 2023 or if you have more than $10,000 worth of I Bonds at 0%, you can't switch all of them to new ones by buying new bonds directly but you can still buy them as gifts and hold them for delivery in the future.
Buying I Bonds doesn't count toward the annual limit of the purchaser. It counts toward the annual limit of the recipient in the year when the gift is delivered to the recipient.
This works especially well for married couples. You can cash out all your old 0% fixed rate I Bonds, buy new ones as gifts to your spouse, and hold the gifts for delivery in the future. The new bonds start earning the higher fixed rate right away while they're being held in the gift box. Then you deliver the gifts in $10,000 chunks to your spouse in the coming years. Your spouse can do the same in the opposite direction.
See Buy I Bonds as a Gift: What Works and What Doesn't and Deliver I Bonds Bought as a Gift in TreasuryDirect for more details on how this works.
***
The 15-year high fixed rate represents a great opportunity to lock into a higher fixed rate for many years to come. If you plan to hold I Bonds for the long term, see which bonds you should switch over, when is the best time to cash out, and whether you should buy new bonds directly or via gifts.
Say No To Management Fees
If you are paying an advisor a percentage of your assets, you are paying 5-10x too much. Learn how to find an independent advisor, pay for advice, and only the advice.