[Update on November 18, 2020: My projections for 2021 matched 100% the official numbers.]
Seniors age 65 or older can sign up for Medicare. The government calls people who receive Medicare beneficiaries. Medicare beneficiaries must pay a premium for Medicare Part B that covers doctors' services and Medicare Part D that covers prescription drugs. The premiums paid by Medicare beneficiaries cover about 25% of the program costs for Part B and Part D. The government pays the other 75%.
Medicare imposes surcharges on higher-income beneficiaries. The theory is that higher-income beneficiaries can afford to pay more for their healthcare. Instead of doing a 25:75 split with the government, they must pay a higher share of the program costs.
The surcharge is called IRMAA, which stands for Income-Related Monthly Adjustment Amount.
I haven't seen any numbers that show how much collecting IRMAA really helps the government in the grand scheme. I'm guessing very little. One report said 7% of all Medicare beneficiaries pay IRMAA. Suppose the 7% pay double the standard premium, it changes the overall split between the beneficiaries and the government from 25:75 to 27:73. Big deal?
The income used to determine IRMAA is your AGI plus muni bond interest from two years ago. Your 2019 income determines your IRMAA in 2021. Your 2020 income determines your IRMAA in 2022. The untaxed Social Security benefits aren't included in the income for determining IRMAA.
As if it's not complicated enough for not moving the needle much, IRMAA is divided into five income brackets. Depending on the income, higher-income beneficiaries pay 35%, 50%, 65%, 80%, or 85% of the program costs instead of 25%. The lines drawn for each bracket can cause a sudden jump in the premiums you pay. If your income crosses over to the next bracket by $1, all of a sudden your Medicare premiums can jump by over $1,000/year. If you are married and both of you are on Medicare, $1 more in income can make the Medicare premiums jump by over $1,000/year for each of you.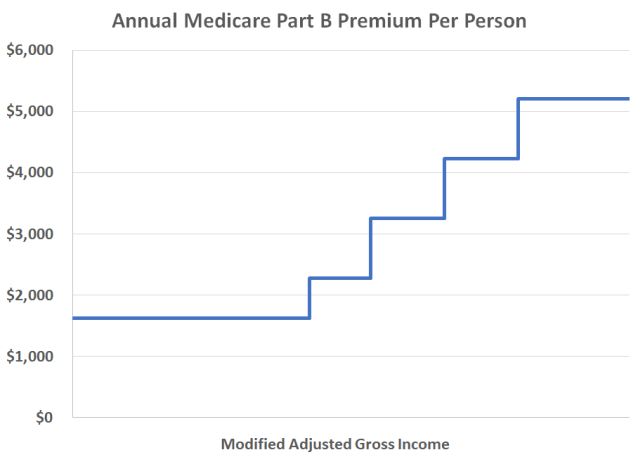 * The last bracket on the far right isn't displayed in the chart.
So if your income is near a bracket cutoff, see if you can manage to keep it down and make it stay in a lower bracket. Using the income from two years ago makes it a little harder. Now in 2020, you don't know where exactly the brackets will be for 2022. Still, you can make reasonable estimates and give yourself some margin to stay clear of the cutoff points.
2021 IRMAA Brackets
The IRMAA income brackets (except the very last one) started adjusting for inflation in 2020. Here are the IRMAA income brackets for 2020 coverage and the new brackets for 2021 coverage. Before the government publishes the official numbers, I'm able to make projections based on the inflation numbers to date. Rounding rules make it such that the inflation numbers for the upcoming months are unlikely to affect the final results. For example, when a number is rounded to the nearest $1,000, it doesn't matter whether the number is really $87,600 or $87,800 before rounding. Remember the income on your 2019 tax return (AGI plus muni interest) determines the IRMAA you pay in 2021. The income on your 2020 tax return (to be filed in 2021) determines the IRMAA you pay in 2022.
Part B Premium
2020 Coverage (2018 Income)
2021 Coverage (2019 Income)
Standard
Single: <= $87,000
Married Filing Jointly: <= $174,000
Single: <= $88,000
Married Filing Jointly: <= $176,000
Standard * 1.4
Single: <= $109,000
Married Filing Jointly: <= $218,000
Single: <= $111,000
Married Filing Jointly: <= $222,000
Standard * 2.0
Single: <= $136,000
Married Filing Jointly: <= $272,000
Single: <= $138,000
Married Filing Jointly: <= $276,000
Standard * 2.6
Single: <= $163,000
Married Filing Jointly: <= $326,000
Single: <= $165,000
Married Filing Jointly: <= $330,000
Standard * 3.2
Single: <= $500,000
Married Filing Jointly: <= $750,000
Single: <= $500,000
Married Filing Jointly: <= $750,000
Standard * 3.4
Single: > $500,000
Married Filing Jointly: > $750,000
Single: > $500,000
Married Filing Jointly: > $750,000
Higher-income Medicare beneficiaries also pay a surcharge for Part D. The income brackets are the same. The surcharges are relatively smaller in dollars.
2022 IRMAA Brackets
It's too early to project the income brackets for 2022 coverage. As of December 2020, we only have three data points out of 12 to calculate the brackets for 2022. If inflation in the upcoming months is negative enough, the brackets can go down. I don't think it's likely but it's always a possibility. If I must guess, the range for the first tier will be between $88,000/$176,000 (no change from 2021) and $90,000/$180,000, with the most likely scenario in the middle, i.e. $89,000/$178,000.
The standard Medicare Part B premium is $148.50/month in 2021. A 40% surcharge on the Medicare Part B premium is about $700/year per person or about $1,400/year for a married couple both on Medicare. In the grand scheme, when a couple on Medicare has over $176k in income, they are probably already paying a large amount in taxes. Does making them pay another $1,400/year make that much difference? Nickel-and-diming just annoys people. People caught by surprise when their income crosses over to a higher bracket by just a small amount get mad at the government. Rolling it all into the income tax would be much more effective.
Oh well, if you are on Medicare, watch your income and don't accidentally cross a line for IRMAA.
IRMAA Appeal
If your income two years ago was higher because you were working at that time and now your income is significantly lower because you retired ("work reduction" or "work stoppage"), you can appeal the IRMAA assessment. The "life-changing events" that make you eligible for an appeal include:
Death of spouse
Marriage
Divorce or annulment
Work reduction
Work stoppage
Loss of income from income producing property
Loss or reduction of certain kinds of pension income
You file an appeal by filling out the form SSA-44 to show that although your income was higher two years ago, you had a reduction in income now due to one of the life-changing events above. For more information on the appeal, see Medicare Part B Premium Appeals.
Not Penalized For Life
If your income two years ago was higher and you don't have a life-changing event that makes you qualify for an appeal, you will pay the higher Medicare premiums for one year. IRMAA is re-evaluated every year as your income changes. If your higher income two years ago was due to a one-time event, such as realizing capital gains or taking a large withdrawal from your IRA, when your income comes down in the following year, your IRMAA will also come down automatically. It's not the end of the world to pay IRMAA for one year.
Say No To Management Fees
If you are paying an advisor a percentage of your assets, you are paying 5-10x too much. Learn how to find an independent advisor, pay for advice, and only the advice.